#RealWeddings: Celebrity Bridal Designer Patricia Santos And Lester Yao's DIY Garden Wedding
Their civil wedding was celebrated with an intimate garden event inspired by Jardin du Palais Royal in Paris. In this exclusive interview, the bride shares the details of their pandemic wedding
Celebrity bridal designer Patricia Santos is now married to Lester Yao! The intimate backyard garden wedding that they DIY-ed was held last January 17. She announced this new milestone in her life via a vlog—her first-ever!—in her newly-launched eponymous YouTube Channel that was uploaded today, January 25.
Patricia Santos has established herself as a go-to bridal designer for famous celebrities and society personalities. She created the wedding gowns of the likes of Megan Young, Moira dela Torre, Dani Barretto, Karen Gallman, Sheena Halili, and Roxanne Barcelo. After years of dressing up brides and making them feel their best on their big day, Patricia also looked forward to that special day when she'd walk down the aisle wearing her own creation during the wedding of her dreams.
Life, however, had a different plan for her and Lester. The pandemic entered the picture, and totally changed what they initially dreamt of for their big day. Patricia shared that their wedding was supposed to happen in Paris, one of her favorite cities that is, of course, known as one of the most romantic destinations in the world. That wasn't possible, though, with the global health crisis situation, so they just brought the ambiance of Paris to them.
Patricia tells Metro.Style, "We have been engaged for a long time and changed our wedding plans many times as well, so just finally getting married and not having to worry anymore is the best feeling." Patricia and Lester got engaged in Mexico back in April 2019; they had their pre-nup shoot in Iceland.
They couldn't wait to become Mr. and Mrs. officially, so they decided to hold an intimate DIY backyard garden wedding instead amidst the pandemic. To give the event a semblance of the Paris wedding they had in mind, they went for a Jardin du Palais-Royal theme, a vision brought to life by Gideon Hermosa.
Unlike their pre-nup shoot, where she even had makeup artist Anthea Bueno and hairstylist Renz Pangilinan with her, the scenario was different on her wedding day—unique times call for unique circumstances. In order to limit the people at the wedding as much as possible, Patricia was her own assistant, coordinator, makeup artist, hair stylist, and of course, bridal designer that day. In her vlog, she showed what went on behind the scenes at their wedding hours before she walked down the aisle; she was doing her own hair and makeup while checking if the cocktails are ready, prompting her to comment in jest: "Do not try this at home."
Regardless of the challenges in pulling off this pandemic wedding, Patricia and Lester are happy that even though their big day was celebrated in a small way at home, they have finally found a home in each other's heart and are now husband and wife. Paris can wait—the good thing is that the long wait to start forever with each other is now over. They're now ready for the biggest adventure of their lives.
Scroll down to read more about this intimate DIY backyard garden wedding, straight from bride and bridal designer Patricia Santos:
About the couple
When and how did you meet?
"We met in a bar through a common friend."
How long have you been together?
"We have been together for four years now, but it seemed longer."
What do you enjoy doing together? Hobbies, interests?
"We like to travel and discover new places, watch my favorite K-dramas while munching on our favorite food!"
About the wedding
What is your wedding's motif, and why did you choose it?
"Our wedding is inspired by a Parisian garden. I originally wanted to have our wedding in Paris and in one of our trips, I remember walking in Jardin du Palais - Royal and saying to myself, 'It would be nice to get married in a place like this.'"
How long did you prepare for your wedding?
"2 weeks, because we couldn't decide whether to push through or not because of the pandemic. We had to rush everything but happy with how it all turned out."
Preparing for the wedding
What were the challenges you encountered along the way?
"It was really difficult that the people who can come was restricted especially when in comes to our suppliers. Honestly, our families are hesitant to have any kind of event. I had to make sure they felt comfortable and safe. I made all the dresses so some fittings was done at home. We decided to do our own hair and makeup. There were no waiters/servers during the whole event, but I must say that the coordinating and logistics were the toughest. My advice is to get a really good coordinator especially when you're not familiar with the whole wedding planning."
What was the best part in preparing for your wedding?
"I loved the whole experience and vlogging about it. It's my first vlog and watching it brings back so many good memories."
What tips can you share to brides when it comes to wedding planning?
"Don't take things seriously and just enjoy the process. Lester and I had planned our wedding from Paris to a ballroom in Manila, and we ended up having a small intimate celebration with just our immediate family but nonetheless we're really happy."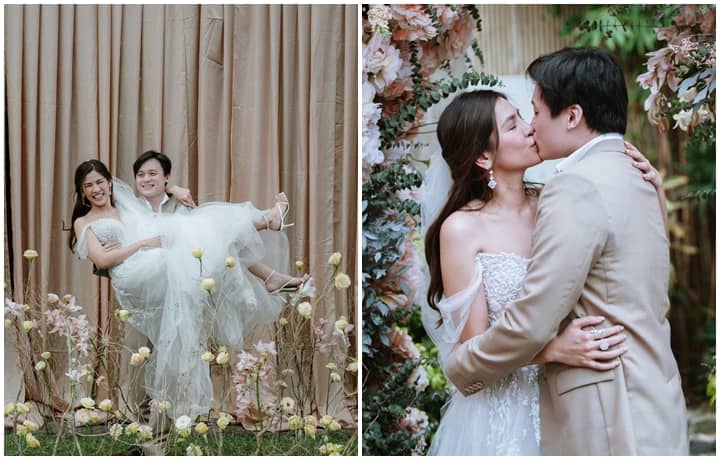 Patricia Santos and Lester Yao's Wedding Album
Patricia Santos and Lester Yao's Wedding Album
About the couple's outfits
Tell us something about your dress.
"Wearing none other than PS Officiel (@psofficiel) bridal."
Tell us something about your hair and makeup looks, and accessories.
"I had to do my own hair and makeup, so I kept it simple and went for a natural glowy makeup look which I've always wanted for my wedding."
Tell us something about your groom's outfit.
"Lester wore a Dior suit and pants and paired it with his favorite Dolce and Gabbana leather shoes."
Details:
Wedding date: January 17, 2021
Bride's dress: PS Officiel (@psofficiel)
Bridal shoes: Bottega Veneta (@newbottega) and Jacquemus (@jacquemus)
Bride's hair and makeup: The bride did her own hair and makeup
Hair extensions: Iconic Star Hair Extensions (@Iconicstarhair)
Jewelry: Mei Diamond Jewelry (@meidiamondjewelry)
Nails: Kiyosa Japanese Total Beauty (@Kiyosa_Japanese_Total_Beauty)
Groom's suit: Dior (@dior)
Grooms shoes: Dolce & Gabbana (@dolcegabbana)
Photographer: Metrophoto team (@Dmetroman Oly Ruiz @Erronocampo @Raecabradilla)
Videographer: Spotlight Creatives (@Spotlightcreativesph @kimweeebol_)
Event stylist: Gideon Hermosa (@Gideonhermosa)
Table setting and champagne tower: Casa Luxia (@Casaluxia)
Food and catering: K. by Cunanan Catering (@Kbycunanan)
Booze: Moët & Chandon (@moetchandon)
Face and skin: Belo Beauty (@Belobeauty @Victoria Belo @Hayden Kho)
Wedding singer / Musical performance: Moira dela Torre (@moirarachelle) and Jason Marvin (@jasonmarvin)
Check out Patricia Santos' first-ever vlog, wherein she talks about the details of her intimate DIY backyard garden wedding:
Congrats and best wishes, Patricia and Lester!
Photographs by Metrophoto, courtesy of Patricia Santos