#RealWeddings: This Late Summer Luxe Bohemian Wedding In Vancouver Is Simply Elegant
Clean lines, a crisp color palette, and cool outdoor settings ruled the day in this charming Vancouver ceremony
There's much beauty to be found in simplicity.
When taken in the context of a much-awaited wedding, it's the unassuming, quiet charm that allows the love between a husband and wife to play the lead role on the special day.
Take it from newlyweds Ria and Mike Pio Roda who chose a clean look for their big day. Playing on their taste for refinement, this pair came to decide on a theme of "luxe bohemian"—playful enough to leave room for creative touches, yet still within the boundaries of their goal of understated elegance.
From the Vania Romoff trapeze dress and the monochrome tablescape to the palette of ivory and the reception's fuss-free program, everything about this nuptials was a minimalist lover's come true. In the end, it's what allowed all eyes to focus on the couple and their journey to "I do."
Here to talk more about how she planned her wedding is real bride Ria:
About the couple
When and how did you and your husband meet?
"My husband and I met at work in 2012. He and my former boss were business partners in the sister company of the company I worked for."
How long have you been together?
"We've been a couple for six years."
What are your current occupations?
"I work for a fashion startup, and my husband works in finance."
What do you enjoy doing together? Hobbies, interests?
"We absolutely love to travel and try new restaurants! When we're at home and in the mood for it, we also like to cook and entertain guests (and ply them with alcohol, which my husband is quite known for). Then when we're ultra-lazy, we watch movies, documentaries, and series on Netflix, HBO and Amazon Prime and funny videos on social media just like everybody else!"
Preparing for the wedding
What is your wedding's motif, and why did you choose it?
"We went for a 'luxe bohemian' motif because we both have refined tastes, but neither of us are a fan of anything too flashy. We both like classic and modern design elements, and felt like it was the best way to amalgamate those in a cohesive way. We've also been told that we're a pretty chill couple, so we wanted our wedding to reflect that."
How long did you prepare for your wedding?
"It took us a little over two years to prepare for the wedding."
What were the challenges you encountered along the way?
"Having to plan the wedding long-distance and juggle our full-time jobs was a big challenge for us. Most of our guests and members of our bridal party are from out-of-town, so getting everybody on the same page on wardrobe, logistics and everything else was not easy.
"Then there's budgeting (which I think is always a challenge for all couples heading down the aisle), making sure that we're allocating our funds into things that we absolutely must have and scaling down on details that aren't a priority for us.
"And of course, guests and members of the bridal party who aren't able to make it last-minute! Things happen, but I must say it's quite stressful to have to come up with an alternative game plan and change our headcount with our suppliers a couple of times."
What was the best part in preparing for your wedding?
"I come from a creative background, so planning all the design aspects of the wedding was really fun for me! One of my maids-of-honor, Meg Manzano, is a stylist (but is really a Jill of all trades; she writes, she takes photos, and dabbles in graphic design), and she made the planning tons easier for me because she can literally read my mind. We would often exchange reference images and find that we were sending the exact same one. It was really funny.
"It was also fun planning with my husband and seeing him so involved; he puts other grooms to shame! He did all the financials and logistics, and he had free rein on food and beverage, which I would say is his area of expertise."
What tips can you share to brides-to-be when it comes to wedding planning?
"Never, ever, ever procrastinate! No matter what you do, something is bound to stray from your original plan. So planning things ahead can minimize (if not prevent) that, and saves everyone involved from the stress it can potentially cause."
The Wedding Outfit
Tell us something about your gown and the designer you picked.
"I wore a Vania Romoff trapeze gown with a very low back, accented by floral appliqués on one side. It's an unconventional bridal silhouette and quite minimal in design, which were the two things that I love most about it. I wanted to wear something Filipino that I would be comfortable in and would age well in photos, and this gown just ticked all those requirements for me. Plus, I've always been a fan of Vania and working with her was a breeze!"
What about your hair and makeup looks, and accessories?
"I just wanted to look like myself on our wedding day, so I didn't deviate from my 'signature look.' I had Claudia Pooley do my hair and makeup, which was pretty much dewy, natural skin, full eyebrows, a bronze eye, a mauve lip, and loose curls. I wore a pair of dainty earrings that my paternal grandmother passed down to me, a vintage diamond tennis bracelet (which was actually a gift from my husband on our wedding day), and my Nicole Whisenhunt engagement ring, of course."
What are the highlights of the program?
"We did some of the traditional stuff like the bouquet and garter toss, and the dances and speeches. Otherwise, we kept things pretty laid-back and wanted the reception to just kind of be an extra special dinner party, where everyone can drink, eat, interact and enjoy the venue.
"We've been guests at too many weddings where it feels like a five-hour show you're obligated to watch, and you're not really able to mingle—it's just not our style. We wanted it to be a chance for our families and friends to get to know each other. The food and alcohol were quite a smash hit; guests loved the braised short rib bon-bon, the Maple syrup tart and the wine pairings, which my husband hand-picked from the wineries himself.
"It was also really fun to see everyone become friends, loosen up and dancing with each other at the end of the night!"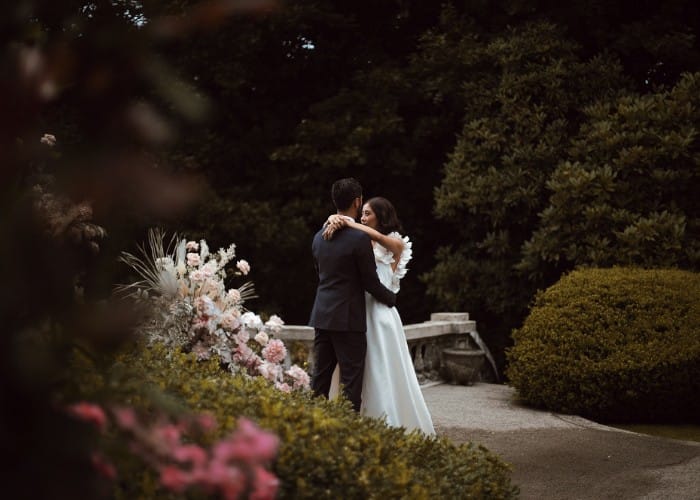 Details
Number of guests: 86
Wedding ceremony and reception venues: Holy Rosary Cathedral and Hycroft Manor, Vancouver
Wedding date: August 10, 2019
Wedding coordinator: Adelaide Design
Photographer and videographer: Nikki Ruiz and Nic Lopez
Jewelry designer: Nicole Whisenhunt (engagement ring), Noemie (bride's wedding band) and Blue Nile (groom's wedding band)
Hair and makeup: Claudia Pooley of Richards International Model Management
Printer: Printsonalities
Entourage's designer: "I gave them the freedom to pick their own dresses as long as they were all in the shade of 'ivory.' My husband and his groomsmen all wore bespoke suits from Garrison Vancouver."
Groom's suit maker: Garrison Vancouver
Bridal shoe designer: Rejina Pyo
Florist: Celsia Floral
Host: Beatrice Tesorero and Jeremy Villaluz
Entertainment: DJ Cody
Priest: Fr. Juan Ignacio Lucca
Giveaways: Personalized leather luggage tags from The Leather Company
Caterer and cake maker: Momo Chen Cakes
Wedding hashtag: #thetenthofaugust
Wineries: Le Vieux Pin and La Stella
Photographs courtesy of Ria Pio Roda