#RealWeddings: A Simple Yet Elegant Civil Wedding Amidst The COVID-19 Pandemic
Despite having to cancel all their wedding plans, this couple sends a message of love for husbands-and-wives-to-be: a wedding is one day, but a marriage? That's the whole point, and it's meant to last a lifetime
If you tell a bride-to-be that she has to indefinitely postpone her wedding (because of a pandemic, no less), you might as well tell her that the world has come to a sudden end.
All the months of hard work put into planning the biggest of big days in her life so far—the engagement party, the dress, the flowers, the décor, the food, everything—will now be for what, she might ask.
But should she?
Because as newlywed Hanna Miranda-Que proves and reminds all husbands and wives-to-be, it's not about the wedding. A wedding, no matter how beautiful and how thoroughly thought out, is but a symbol of the true gift that lies beneath the fuss and frills of the one-day event: the gift of marriage, something that lasts well beyond the last guest has gone home and the last slice of wedding cake has been gobbled up.
She's a bride that walks her talk; she and her husband, Matthew Ryan Que, tied the knot on June 6, almost 90 days into Metro Manila's quarantine. And while their civil wedding was far from ideal and not at all what they had envisioned (ting hun, church ceremony, reception, after-party, and all), the two are now aglow in wedded bliss, ecstatic to finally be called Mr. and Mrs.
Now as the COVID-19 crisis continues to push everyone to re-discover what matters most in this life, this couple tells their story of remembering to put their marriage, and their love, first.
Read all about this civil wedding below!
About the couple
How did you and your husband meet?
"I met Matt around late 2017. Our moms have been good friends for a while, so I would hear about him from time to time, but we never got to spend time or hangout around each other.
"One night, my mom mentioned that her friend was throwing a graduation dinner for one of our friends, Dominique, and that she had invited us to join. It was the first time I ever got to spend time with the kids of my mom's closest friends, even though they have been good friends for years and I would hear about them all the time!
"Matt came in late and we were all a little tipsy by then, but I clearly remember taking notice of how confident and charming he was that night. He was so talkative and friendly!
"He reached out to me on Facebook less than a month after, and we started going out a few weeks after that. He was the first guy I have ever dated so everything felt new to me, but at the same time things just felt right from the beginning."
How long have you two been together?
"We dated for six months before he made things official. We were both in Tokyo with our families at that time, and he asked me to be his girlfriend under the Sakura trees in Shibuya. I remember having lunch with his family that day; he wanted to enter the room holding my hand, but I refused saying it made me feel shy as we were not officially a couple yet. Right after lunch, he brought me to Shibuya, searched for a nice spot, and asked me to be his girlfriend."
What are your current occupations?
"He works for his family's business. Meanwhile, I just recently graduated from Ateneo."
What do you enjoy doing together?
"Matt and I both enjoy good food. On a typical date night, we would go out for a nice dinner and head home afterwards to spend quiet time together. Sometimes, we would go out to grab a few drinks. Ever since we started getting to know each other, we knew that we would get along well because we shared very similar likes and enjoyed the same activities. We would go out for certain occasions, but most of the time you will find us lounging around at home, just watching movies and spending time with each other."
Preparing for the wedding
What was your wedding's theme, and why did you choose it?
"To be honest, we did not have any wedding motif for our civil wedding. What we had originally planned for that date was our ting hun, but due to the current situation, we have decided it would be best to cancel it altogether.
"Our original wedding date was scheduled for early 2021 and we have already prepared for that and booked all our suppliers; however, we realized that we cannot know for certain when it would be completely safe to celebrate with a big crowd, so we decided to get married civilly and just wait for the right time to celebrate our church wedding and reception with the rest of our family and friends."
How long did you prepare for your wedding day?
"Since the COVID-19 pandemic situation in our country caught us all by surprise, we had no plans for a civil wedding at all. What we had prepared for was our ting hun, and our church wedding and reception for early 2021. Once we realized the severity of the situation, we instantly thought of getting married civilly so we do not have to feel pressured by the uncertainty of when we can celebrate our church wedding and reception.
"We had about two months to prepare for our civil wedding and we are very fortunate to have extremely supportive parents who really made it happen for us."
What were the challenges you encountered along the way?
"The biggest challenge we had to face was the pandemic. As it is, getting from one place to another and socializing with other people are frightening to say the least, so we knew that suppliers would be limited. Bringing a few people together did seem scary as well, but we made sure to practice proper measures at all times to ensure the safety of everyone."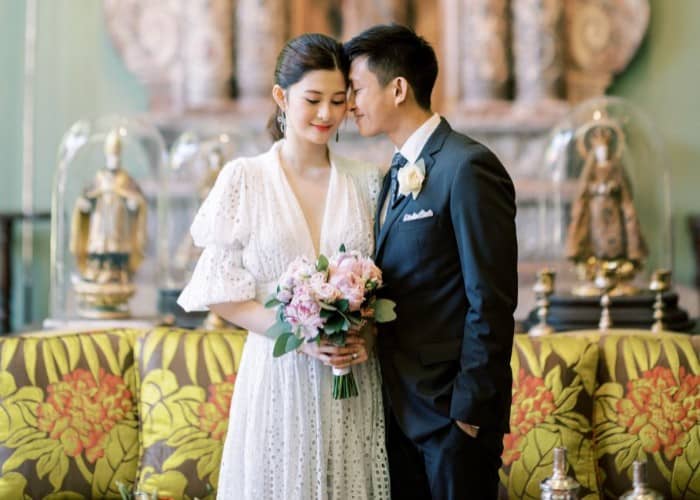 Hanna & Matthew's Civil Wedding
Hanna & Matthew's Civil Wedding
What was the best part in preparing for your wedding?
"I wish I could have gotten married in more ideal circumstances. But more than that, I realize how fortunate I am to be marrying the love of my life despite very scary and uncertain times.
"Initially, I felt sad about all the cancellations we had to make after months of preparation and anticipation. The thought of celebrating our wedding with only roughly two months to prepare made me feel like our special day would be half-baked, but in spite of this I knew in my heart that it is not about the wedding, but about the marriage.
"The best part about getting ready to get married is knowing that you will be spending the rest of your life with the one you love."
What tips can you share with brides-to-be when it comes to planning a wedding?
"I know that it is easy to feel disappointed when things do not go as planned, but it is important for couples planning their weddings to trust that in spite of the uncertainty that this pandemic has brought, things always work out for good in the end. Keep an open mind and heart!"
The wedding outfit
Tell us something about your wedding dress.
"My civil wedding dress is by Charina Sarte. Honestly, I bought the dress not for my wedding, but for a friend who was supposed to celebrate hers in March. Since I had no time to get anything done, I decided to wear this one instead."
And the stories behind your accessories or jewelry, and the inspiration behind your bridal look?
"I chose my jewelry on the morning of my wedding. I had limited choices since that was not our main priority as we were preparing for the wedding, but I am glad that the look still worked out in the end.
"Mickey See did my make-up while Renz Pangilinan did my hair. I had booked them months before for my ting hun, and thankfully they were still willing to do my bridal look despite the circumstances. I told Mickey that I wanted something light, and Renz decided to give me a 'Barbie ponytail' which really suited the weather that day. I could not have asked for a better team!"
What were the highlights of your big day?
"The highlight of our wedding ceremony, for me, would be when we were asked unexpectedly why we wanted to marry each other. We were caught off guard but I think it also showed our most raw and authentic emotions.
"The most special part about our reception was being able to spend time and celebrate with our families again. Especially at this time, we know fully well the importance of quality time with the ones you love. It was refreshing to see our families and we were so happy to have them celebrate our special day with us."
Details:
Number of guests: "We had around 15 guests in our lunch reception."
Reception venue: "Our reception was held in my husband's house."
Wedding date: June 6, 2020
Photographer: Toto Villaruel
Invitations: "We also had no invitations since we only intended to invite a small number of guests."
Bridal dress designer: Charina Sarte
Bridal shoe designer: Jimmy Choo
Bride's makeup artist and hairstylist: Mickey See and Renz Pangilinan
Groom's suit maker: Hugo Boss
Florist: El Dorado Farms
Caterer: Bambi's Gourmet Kitchen
Cake Maker: Cakes by Mannix
Photos by Toto Villaruel, courtesy of Hanna Miranda-Que