#RealWeddings: This Couple Invited 700 Guests To Their Real-Life Fairy Tale Wedding
Looking to stories of the princes and princesses of our dreams for inspiration, this couple had their wish for a grand wedding granted
Once in a while, fairy tales escape the pages of the books that bind them and leap into our reality, showing us just how beautiful life can be.
For newlyweds Tin Olivarez and Ric Siccion, this was exactly how their majestic wedding and reception was, a special day that Tin could only describe as magical. Feeling like a princess in front of 700 of their guests in a voluminous, custom-made Francis Libiran creation, she floated down the aisle to meet Ric at the altar and at the party, waltzed the night away just as Cinderella and Prince Charming did on that fateful night at the palace ball.
But unlike fairy tales, Tin and Ric's love is as true as can be and steeped in reality; nothing is fictional or just pretend. Theirs is a marriage set to last for a lifetime!
Sharing their love story and all their wedding's best moments, Tin talks about all that she prepared for, her fondest memories of Ric, everything she love about her bridal look, and of course, what future brides can learn from her own experiences.
About the couple
When and how did you and your husband meet?
"We met at a Chowking Franchisee Convention in Singapore."
How long have you been together?
"Four years"
What are your current occupations?
"We both work for our respective family businesses."
What do you enjoy doing together? Hobbies, interests?
"We like travelling together and discovering new things."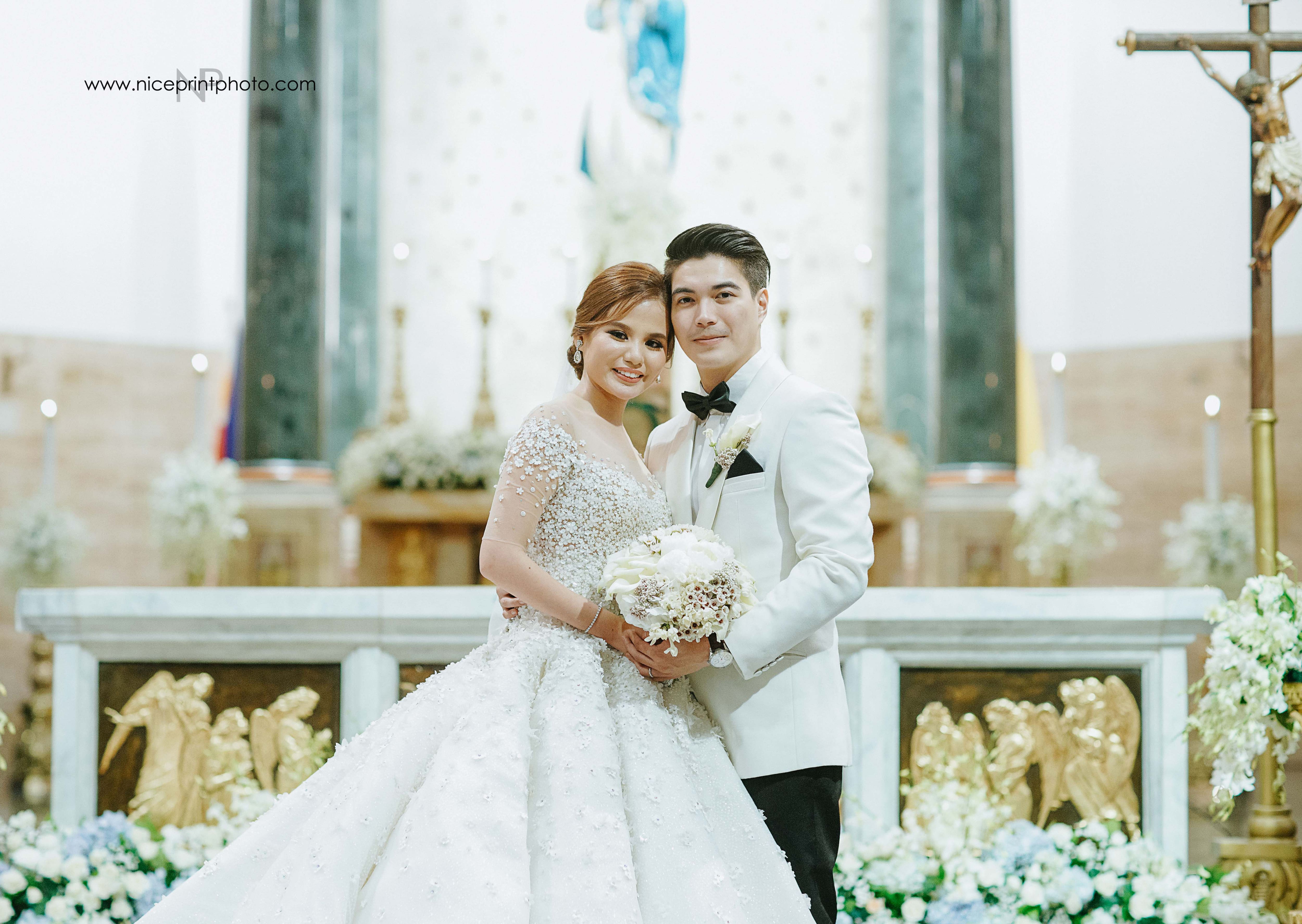 Preparing for the wedding
What is your wedding's motif, and why did you choose it?
"We wanted something classy, so we ended up with touches of blue, gold, and crystals."
How long did you prepare for your wedding?
"We had an 18 month-long engagement."
What were the challenges you encountered along the way?
"The RSVP. We really had a hard time since we have a lot of guests (700 guests)."
What was the best part in preparing for your wedding?
"I think it brought my husband and I closer since we were into details in planning the wedding."
What tips can you share to brides-to-be when it comes to wedding planning?
"Do your RSVP and seating arrangement at least three weeks before the wedding, and as much as possible, don't think of anything a week before the wedding."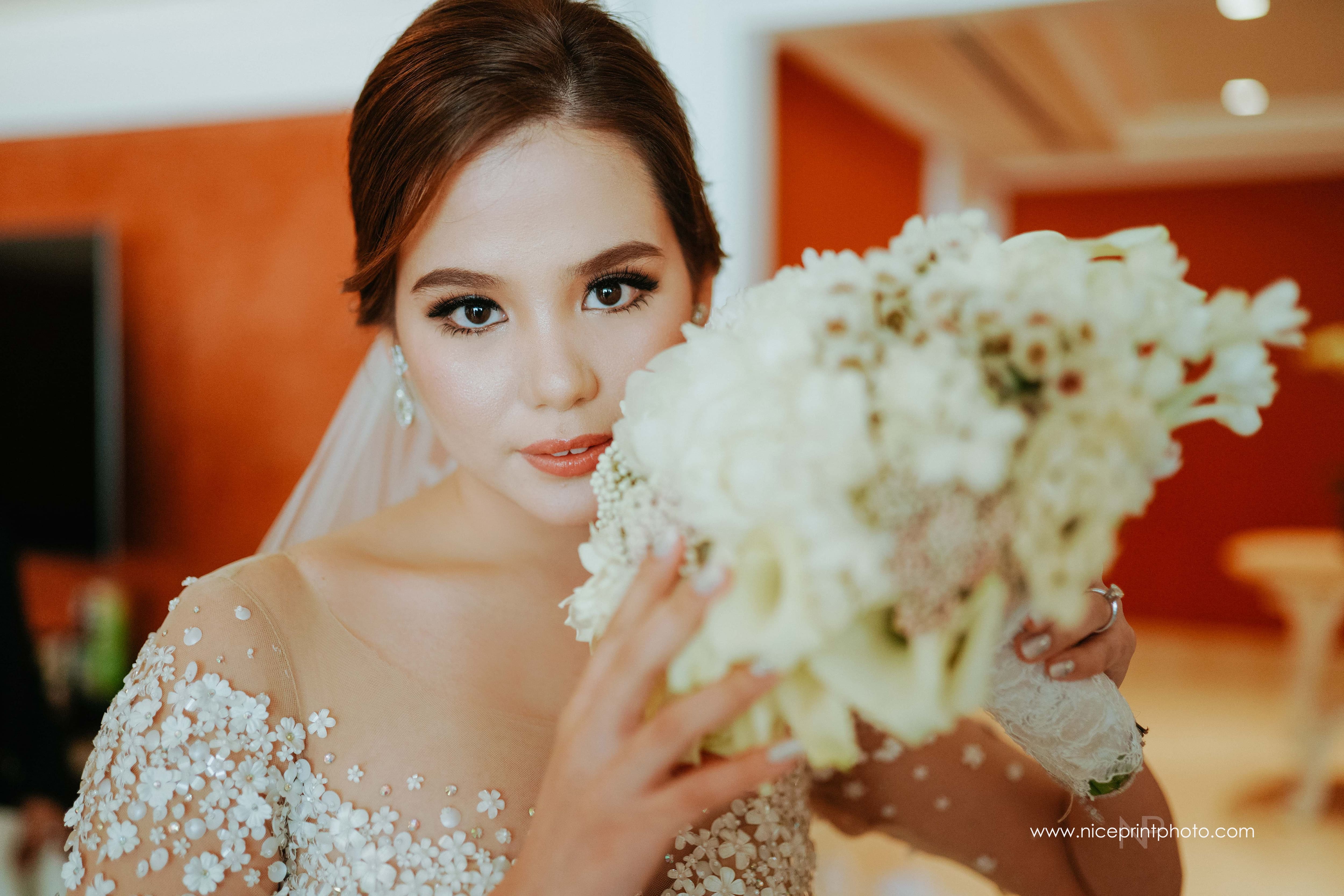 The Wedding Outfit
Tell us something about your gown and the designer you picked.
"It's by Francis Libiran. When I first met him, I told him how I was picturing my wedding dress to be, and he immediately started to draw while I was talking. It's like magic; he drew my dream wedding dress—something elegant and classy. It was a two-in-one gown, wherein I wore a princess A-line gown during the ceremony, and a mermaid body-con gown during the reception."
Tell us something about your hair and makeup looks, and accessories.
"I wanted a makeup artist who wouldn't change my look, but rather, make me the most beautiful version of myself. During the ceremony, I had my hair up, then during the reception, my hair was down with big waves."
What are the highlights of the program?
"Everything about it. It's like a Disney fairy tale story wherein my husband and I were the main characters."
Details
Number of guests: 700
Church/Ceremony venue: Manila Cathedral
Reception venue: Okada Manila
Date of wedding: July 21, 2019
Wedding coordinator: Liza Alviedo
Photographer and videographer: NicePrint Photography
Invitations/Printers: Write Impressions
Bridal gown designer: Francis Libiran
Entourage gown designer: "They had their own gowns made. I just gave them the fabric."
Florist: Gideon Hermosa
Host: Christian Ardiente
Entertainer/s: Juris and Manila Philharmonic Orchestra
Priest: Fr. Omi Intia
Giveaways: Gold Ballet Flats for the ladies and chocolate boxes for the gentlemen
Cake maker: Penk Ching
Makeup artist: Albert Kurniawan
Hairstylist: Jay Wee
Bridal shoe designer: Jimmy Choo
Gift registry: Rustan's and Crate & Barrel
Wedding hashtag: #TINdiniRIC
Photographs by NicePrint Photo, courtesy of Tin Olivarez