#RealWeddings: The Simplicity Of This Summer Wedding Highlighted New Hampshire's Pretty Coastal Views
"I dos" by the ocean, a sunset cruise, a seafood feast in a historical site, plus an epic dance party—this couple couldn't have asked for anything more for their dream wedding come true!
Nine colorful years of waiting for this day to arrive proved to be worth the wait.
For newlyweds Riko Rosete and Jenna Allard—once a couple with a long-distance relationship—not even living their lives in different hemispheres for most of their relationship could deter them from pursuing a love they knew was built for forever; if it's meant to be, it's meant to be, and differences in time and space wouldn't convince them otherwise!
It was a feeling this pair of accomplished academics shared since they first got together as new PhD students, and one that's been nurtured ever since.
"...The trust and communication skills we built over those years proved to me that our love could 'go the distance.' We were both so excited to get married and continue our journey together while actually living in the same house!" shares Jenna.
And finally, on their wedding day held last August in New Hampshire, this couple cemented the life they'd always dreamt of. Riko and Jenna exchanged their "I dos" in the coastal state of New Hampshire, a state this bride frequented as a little girl and one loved for its natural wonders and quaint oceanside views.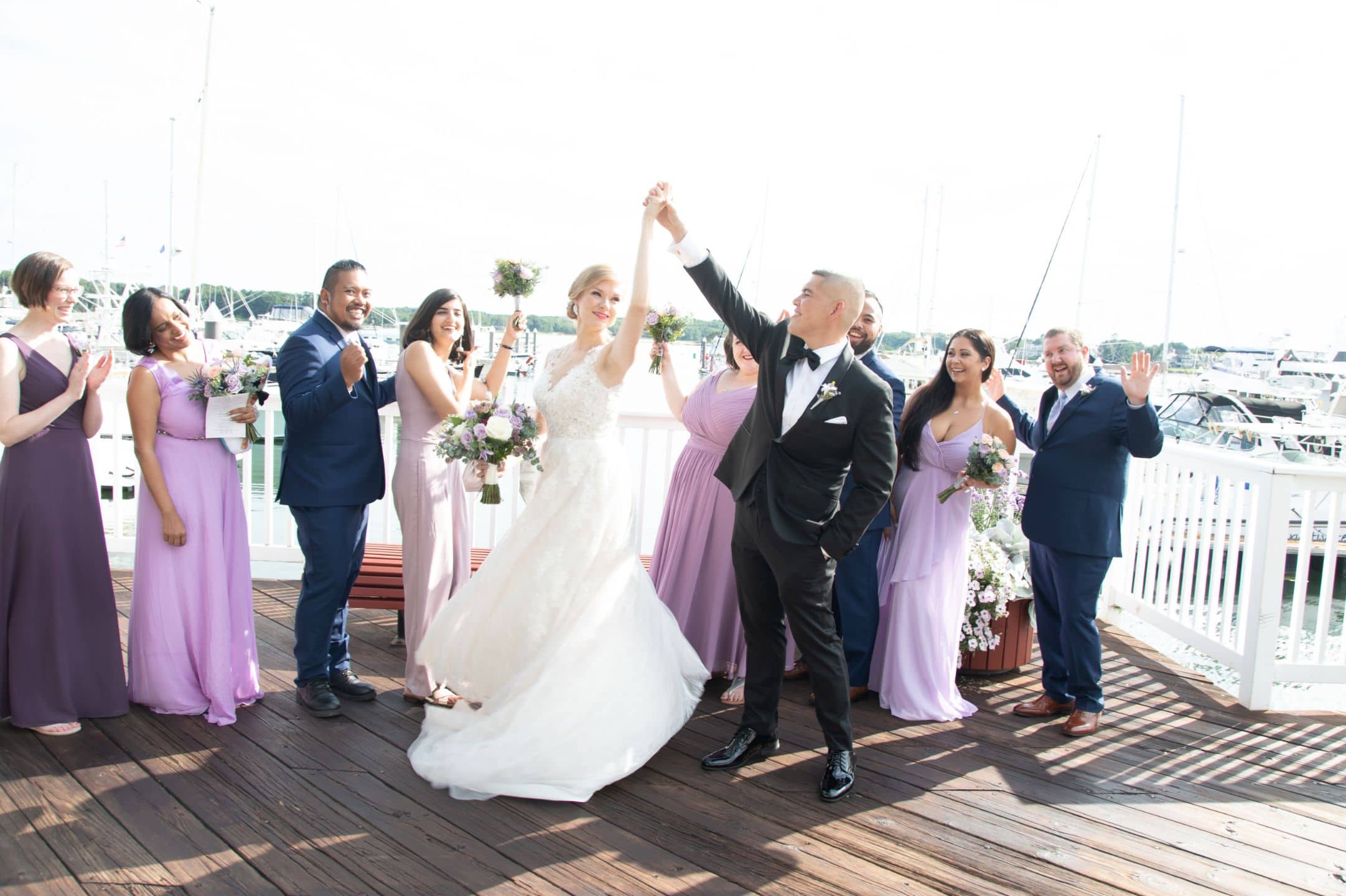 Their chosen venue's effortless romance definitely was the perfect backdrop to their love story, the details of which Jenna and Riko share below:
About the couple
When and how did you and your husband meet?
"We met in the most romantic way possible: at the University of Massachusetts Amherst Economics Department Math Camp for new PhD students. I was intrigued by this mysterious stranger in black, and Riko couldn't remember anyone's names so he privately nicknamed me 'Princess.'"
How long have you been together?
"Nine years! Many of those years were actually long-distance. I lived and worked in India for a few years, and until recently, we were employed in different cities. But the trust and communication skills we built over those years proved to me that our love could 'go the distance.' We were both so excited to get married and continue our journey together while actually living in the same house!"
What are your current occupations?
"I work at Yale University, and Riko is a Professor of Economics at Central Connecticut State University."
What do you enjoy doing together? Hobbies, interests?
"We love cooking together and even hosting themed dinner parties. Riko is a steady sous chef, while I dream up menus and flower arrangements! We also enjoy exploring new restaurants together—with a special focus on all things brunch and dessert-related. When we are feeling particularly energetic, we might go tango dancing or cycling through the woods."
Preparing for the wedding
What is your wedding's motif, and why did you choose it?
"I had always wanted to get married at a historical venue, and the ballroom we chose at the Wentworth by the Sea Hotel has history in spades; it was the site where the treaty that ended the Russo-Japanese war was signed. In addition, the site was connected to my personal history, as my father and I would occasionally go for special brunches there when I was little. The venue was so stylish and ornate that it didn't need much decoration, and it overlooked the ocean in a quaint, New England coastal town. Because the majority of guests were travelling (some even internationally) to attend our wedding, I really wanted to showcase the local area. We prepared welcome bags with locally-sourced goodies and personalized sightseeing recommendations, incorporated lots of local seafood into our menu, and even held our rehearsal dinner on a chartered sunset harbor cruise. It was such a lovely opportunity to show all of the people that we both love the place that I grew up in."
How long did you prepare for your wedding?
"We were engaged for almost two years, and planned the wedding while we were both living far from each other and from the venue! We selected the venue more than a year before the wedding on a brief family visit home. On another trip about six months before the date, we completed our tastings and spoke to our key vendors. The summer before the wedding, when we were staying locally, we concentrated on nailing down the myriad remaining details."
What were the challenges you encountered along the way?
"I think the most challenging part of the planning process was remembering loved ones who had passed away, and couldn't (physically) be present with us at our wedding. My mother passed away from cancer over a decade ago, but she loved designing and sewing dresses for me when I was little. I wish I had the opportunity to pick out my wedding dress with her. Riko's father had also recently passed away, and he tried to remember and honor him through small gestures such as wearing his cuff links and having his urn with him at the venue."
What was the best part in preparing for your wedding?
"My favorite part of the planning was using the tasks as an opportunity to spend more time with Riko! When we attended a tasting at our venue, we stayed overnight in a suite to get an idea of the guest experience! When we took formal engagement portraits, we made sure to go out to a special dinner afterwards! We toured Portsmouth to find the most delicious truffles to give as favors, and sampled all the ice cream over the guise of providing our guests with the best food recommendations."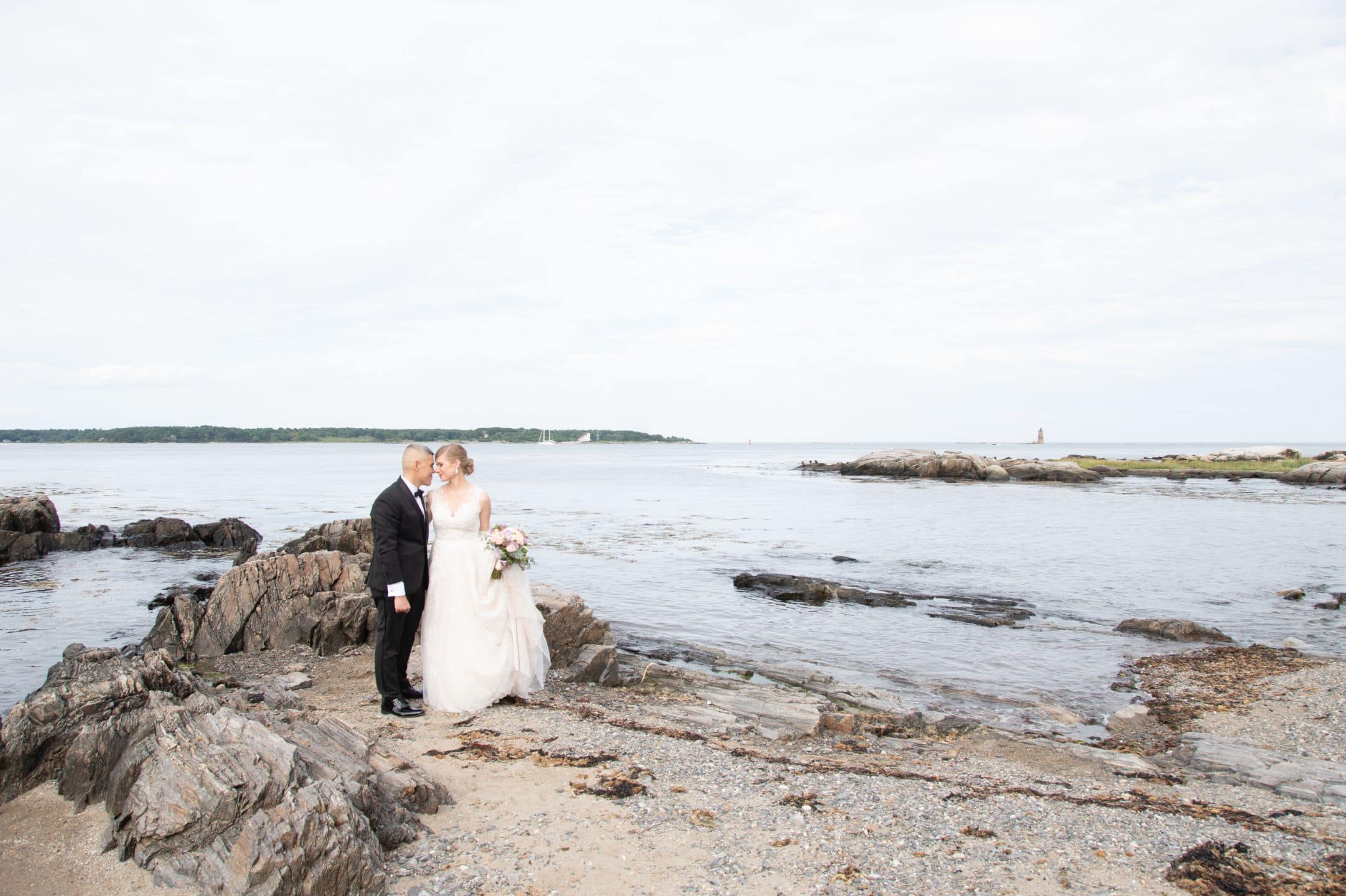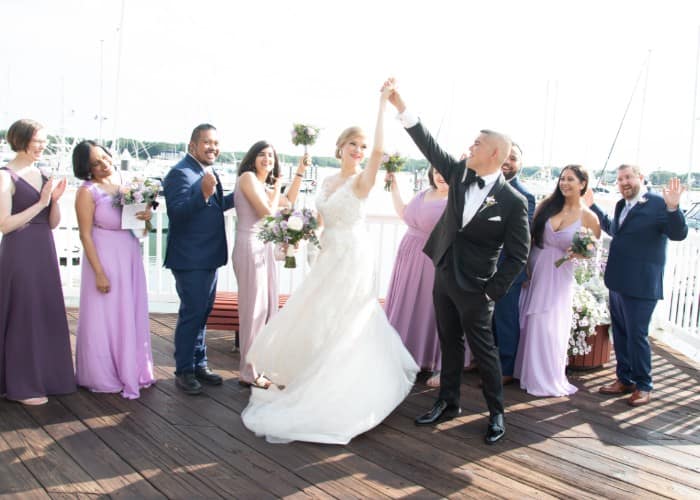 What tips can you share to brides-to-be when it comes to wedding planning?
"I highly recommend the book, A Practical Wedding Planner. It recommends that you sit down with your partner and decide on the top three shared priorities for your wedding. Ours were: a meaningful ceremony, great food, and an epic dance party. This really helped us focus on the things that were truly important to us, and that we wanted to spend time and money on. We also decided on a wedding thesis together (since we both work in academia and appreciate the elegance of a complex project that coalesces around a central idea): 'a long journey to happily ever after.' We told our love story through the ceremony, through décor items like our guest book, and through scattering quotations from our favorite love stories throughout the reception. After all, the most important part of wedding planning is learning to become a stronger, more united couple."
The Wedding Outfit
Tell us something about your gown and the designer you picked.
"The designer of my dress was Essense of Australia. It was actually the first dress that I put on when I was trying on dresses alone (on the way to run some errands, with Riko killing time in a coffee shop nearby). Of course, I had to try it on again with one of my closest friends in attendance, but it just seemed right."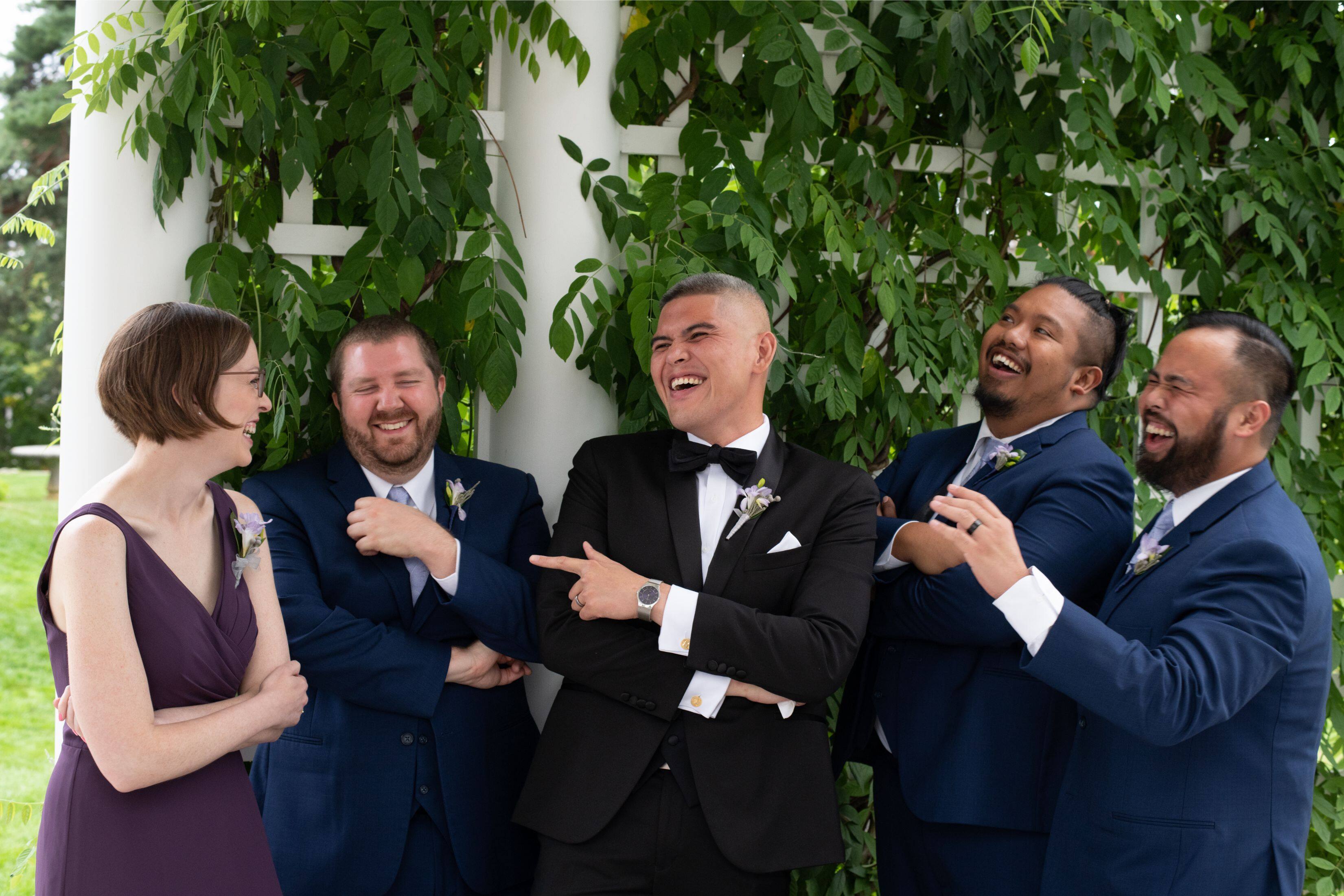 Tell us something about your hair and makeup looks, and accessories.
"One of my closest friends did my makeup, and I wore earrings I already owned as my 'something old,' as well as my aunt's diamond studs as my 'something borrowed.' I was so excited to wear my beautiful, lacy Badgley Mischka heels, but honestly, after I changed into my tango practice shoes for our first dance, I ended up wearing them instead for the rest of the night!"
What are the highlights of the program?
"Riko's favorite part of the day was our ceremony. We wrote the program as a chronological re-telling of our lives and our love story, and we identified key communities (our families, groups of friends we met at work or at school) who helped shape us into the people we are today. Some of these lovely guests contributed poems, and even songs! After acoustic arrangements of love songs by Fleetwood Mac and Bruce Springsteen, there wasn't a single dry eye among our guests! I absolutely loved dancing the night away with our closest friends to classic dance hits from the 90s and 00 and of course, pausing to enjoy late night cupcakes and grilled cheese sandwiches. Somehow we all ended the night belting out the lyrics to Semisonic's 'Closing Time' and then collapsing into a giant group hug."
Details
· Number of guests: 72
· Ceremony and reception venue: Wentworth by The Sea Hotel New Castle, New Hampshire
· Date of wedding: August 23, 2019
· Wedding coordinator: On-site coordination provided by the venue
· Photographer: Jewlz Photos
· Invitations/Printers: Paperless Post / Papersource
· Wedding dress: Essense of Australia
· Bridal shoe designer: Badgley Mischka
· Entourage's dresses: Individually purchased and custom-made
· Florist: Jardiniere Florist Portsmouth, New Hampshire
· Host: Michael Guyre, Audio Events Barrington, New Hampshire
· Giveaways: Byrne and Carlson truffles, Kittery, Maine
· Cake maker: Jacques Pastry, Suncook, New Hampshire
· Hair and makeup artist: Du-Da Spa, Portsmouth, New Hampshire
· Gift registry: Zola, Bloomingdale's
Photos courtesy of Jenna Allard and Riko Rosete