#RealWeddings: The Scandinavian Aesthetic And Filipino Tradition Came Together For This Beautiful Multi-Cultural Event
Vanessa Grindrud and Marcus Lagerkvist's wedding wasn't only a union of two people in love, but of two cultures coming together for a love that transcends continents
As far as weddings are concerned, there aren't many things that are more beautiful than when two people of different cultures meet at the altar for the beginning of a lifetime together. Their "I dos" ultimately become a union of two worlds that might have never found their way to each other if not for the love between man and wife.
Such is the story of former reality-based talent competition "Star Circle Quest" contestant Vanessa Grindrud and her husband Marcus Lagerkvist, a pair of newlyweds who tied the knot in a Norwegian ceremony in October. At their autumn nuptials was a lovely mix of Filipino and Scandinavian elements, overall a pretty showcase of how a happily ever after can result in a one of a kind experience for everyone present.
Signature Scandinavian simplicity and Filipino festivity were married at Vanessa's wedding. The evening became more and more lively with every hour. Dancing, laughter, long gazes between Vanessa and Marcus caught on camera showed just how special the day was to them and gave a glimpse of their future that will undoubtedly be full of love.
For more details about their wedding, check out Vanessa's memories of finding the perfect wedding dress, her favorite parts of the ceremony, and what pre-wedding activities have taught her about relationships, plus a gallery of photos from the big day!
About the couple
When and how did you and your husband meet?
"We worked at the same company for one year, but got to know each other during the annual Christmas party back in December 15, 2017."
How long have you been together?
"We have been a couple for one year and nine months."
What are your current occupations?
"I work as a team leader and reception and office services administrator at McKinsey & Company. Marcus works as a manager and engineer at Rambøll."
What do you enjoy doing together? Hobbies, interests?
"We both love travelling and doing outdoor activities such as biking, climbing, surfing, and free diving. We do all these together with our daughter. At home, we cook together, watch movies, and dance."
Preparing for the wedding
What is your wedding's motif, and why did you choose it?
"[It was a] Catholic ceremony and classic Scandinavian wedding with a hint of Filipino traditions: My best friends Sonia Uppal, Marie Shah, and Nadine Valøy walked the aisle; my nephew Henrik Sebastian Grindrud was the ring bearer and our daughter Elise Lagerkvist was the flower girl. And the most magical moment was when my dad, Lars Øyvind Grindrud, walked me down the aisle. Both our mothers, Virginia Grindrud and Magdalena Lagerkvist, [lit] the unity candles; the veil was presented by the best man and my best friend from the Philippines, Erich Gonzales; and the wedding cord was presented by the best man and my best friend from Singapore, Paw Diaz."
How long did you prepare for your wedding?
"Eight months"
What were the challenges you encountered along the way?
"Where to draw the line on number of guests, choosing the perfect wedding dress, deciding [on] the ceremony music, [and] seating chart."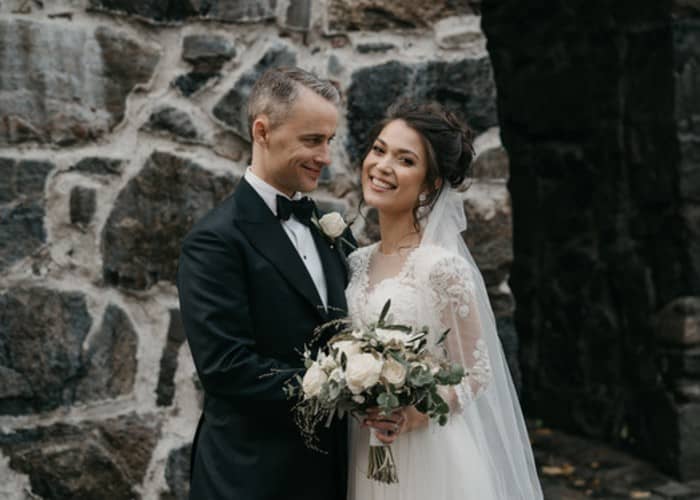 What was the best part in preparing for your wedding?
"The wedding planning bonded us for a common goal and we experienced how good we worked together as a team."
What tips can you share to brides-to-be when it comes to wedding planning?
"What really worked for us was being organized. We made a spreadsheet with budgets, [a] timetable, and action plan with all the activities needed to be done for the next eight months. This helped us keep everything on track. Everything—from budget to the small details—was listed in our spreadsheet. Here are more tips:
Work together as a team. Have fun when planning. Sometimes we had a glass of wine while planning or went out for dinner, or coffee.

Get inspired. I used Pinterest and Instagram, but mostly I got inspired when attending real weddings together with my husband.

Don't be afraid to ask for help: include your family and entourage.

Take [a] vacation or personal time off one week before the wedding. Pamper and relax yourselves.

The most important thing: Try to not get stressed. Have fun and enjoy the process together."
The Wedding Outfit
Tell us something about your gown and the designer you picked.
"My gown is by Le Papillon by Modeca. I went to five different bridal salons with my mom, sisters and maids of honor. My dream wedding dress has always been a classic dress with sleeves so I knew what I wanted, but I still tried different styles and found out very fast which dresses I didn't like. Everyone had different opinions, but the dress I picked was perfect for me. It was the first dress I ever tried on. Even if I felt that moment that I could get married in that dress, I still wanted to be 100% sure so I tried many more dresses. I could not stop thinking about the first dress I tried, so I went back and that became my dream dress. Marcus saw the dress and me in it for the first time when I walked the isle. And it [was] perfect!"
Tell us something about your hair and makeup looks, and accessories.
"I have always imagined my dream dress and bridal look, and everything became more than I ever dreamed of. My [maids of honor] inspired me with my bridal look."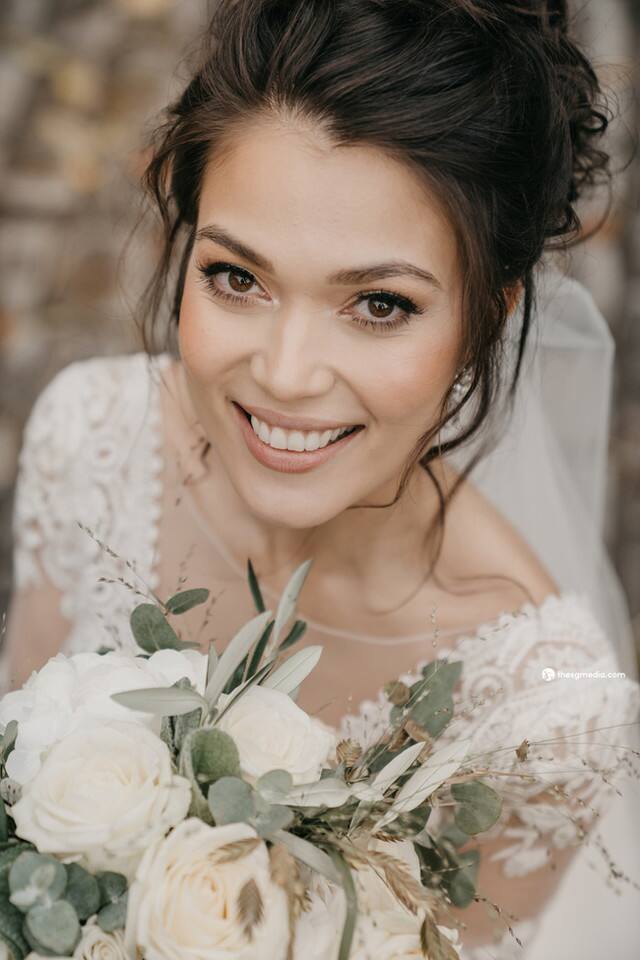 Please talk about your wedding venue.
"We decided to have our wedding in Oslo. We had a Catholic wedding ceremony in St. Olav Cathedral, the same church my parents got married in. We looked at many venues and got a tip from a friend. When we visited the [reception] venue, Gamle Logen, we both felt it was perfect for an autumn wedding."
What are the highlights of the program?
"Ceremony: One of the highlights for me was taking Marcus' hand after walking down the aisle. One of the highlights for Marcus was seeing his future wife walk the aisle, [as well as] saying I do, exchanging rings, my husband's speech, our close friends singing at the ceremony and reception, our friends' speeches and videos made for us. Our family and friends from the Philippines, Singapore, Sweden, Denmark, and the US attended attended our wedding. It was magical celebrating love with our family and friends from all over the world."
Details
Number of guests: 114
Ceremony venue: St. Olav Cathedral
Reception venue: Gamle Logen
Date of wedding: October 19, 2019
Wedding coordinator: "We did not have any wedding coordinator. We planned everything ourselves with help from our family and entourage."
Priest: Pål Bratbak
Photographer and videographer: The SG Media
Entourage gown designer: jjhouse.com
Makeup artist and hairstyling: Khadija B and Lise Lotte
Groom's suit designer: Saman Amel
Bridal shoe designer: Ted Baker
Florist: Kreativ Flora
Host: Geraldine Grindrud

Cake maker: Sverre Sætres Konditori
Entertainment: "Speeches by parents, sisters, brothers, friends, and maids of honor] Song by Paw Diaz, movie made my Marcus' friends, and a barbershop quartet."
Wedding hashtag: #vanessamarcus2019
Photos courtesy of Vanessa Grindrud-Lagerkvist