#RealWeddings: This Coastal Charm-Themed Wedding In Balesin Is A Beautiful Treat For Die-Hard Romantics
According to this bride, love is kind, love is patient, but it certainly is practical, forward-thinking, and hardworking, too!
Falling in love is the easy part.
Getting married? It'll likely still be easy albeit with a challenge or two along the way, but preparing for your future as Mr. and Mrs.? That takes some practice!
It's the best piece of advice Angel Yeo, now Mrs. Bryan Liu, gives wives and husbands: use your wedding as a trial run for what it'll be like when you're planning for married life itself. After all, you're not getting married to stage a one-day wedding; you're getting married to begin a life as a solid unit, one united by mutual love and respect.
Plan together, laugh together, work through snags together, learn new things about each other together during this extra special time.
Soon enough, couples on their way to tying the knot will discover that there is more to romance, or at least, the kind that's designed to endure, than butterflies, racing pulses, and sticky gazes. Seeing the grace you exude under pressure, appreciating the practicalities of love, and knowing that there's more to marriage than a pretty dress and a dashing suit—now that's a love story for the ages, and one that Angel and Bryan have started to write, and will continue to write, until the end of forever.
Learn more about Angel and Bryan below!
About the couple
How did you and your husband meet?
"We met through a mutual friend who is Bryan's high school barkada and [my] batch mate from [a] previous job as a flight attendant from Philippine Airlines."
How long have you two been together?"
"We officially became a couple on January 19, 2018."
What are your current occupations?
'"Bryan [is a] businessman and I am a digital content creator."
What do you enjoy doing together?
"Most of our first conversations started because of our mutual passion for photography. Then when we became official, we both loved travelling, watching Netflix together, and playing Mario Kart or Overcooked on Nintendo Switch."
Preparing for the wedding
What is your wedding's theme, and why did you choose it?
"Our planner helped us in coming up with a final motif based on our pegs. They created a motif named 'coastal charm'–[a] classy, romantic, ethereal seaside theme made of the beautiful palette of dusty rose, mauve, serenity, blush and hints of greenery. We wanted something fresh and natural, nothing grand, just simple yet elegant."
How long did you prepare for your wedding day?
"Around 10 months from engagement. [We] got engaged on April 7, 2019."
What were the challenges you encountered along the way?
"The challenges [were] first, the logistics of an out-of-town wedding. Second was we had no control over the weather. Lastly, the unexpected current events: Taal eruption and coronavirus."
What was the best part in preparing for your wedding?
"One of the best parts about preparing for the wedding is you get to see a different side of your partner even more and teamwork comes into play. While planning for the wedding, you get to see what it's like to plan for your future together as well."
What tips can you share with brides-to-be when it comes to planning a wedding?
1. Plan together as a couple and not just leave it to the bride or the groom only. That way, the wedding day is more meaningful to both of you.
2. Know what you want before you look for your wedding suppliers. They are supposed to help you finalize, polish, and execute it. That way, your wedding reflects you as a couple first.
3. Agree on what is meaningful to you as a couple for your wedding size. For me and Bryan, an intimate wedding with our family and closest friends was what we wanted and we couldn't be happier with how everything turned out.
4. Ground your decisions with your budget in mind. If your wedding is not time sensitive, factor in the peak seasons of things in your wedding like flowers, venues, and suppliers. In our case, we wanted to celebrate it earlier in the year for the cooler weather which landed on a Valentine weekend (which is peak for suppliers and flowers!).
5. Plan for your wedding but don't forget to prepare for your marriage. Remember that you are not getting married to hold a wedding but to spend the rest of your lives together as husband and wife.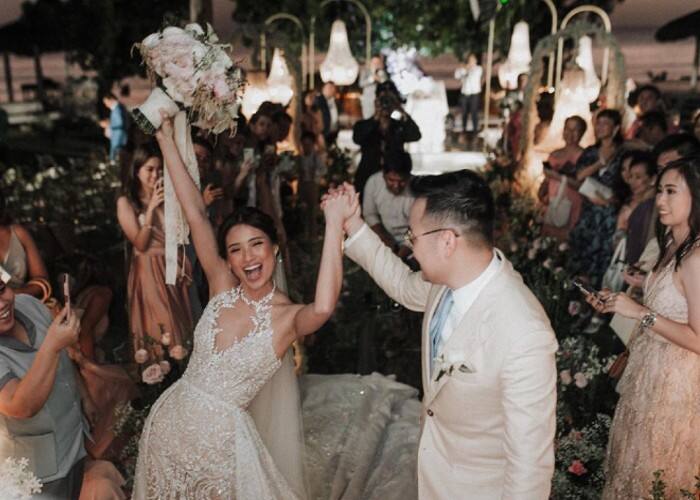 Angel marries Bryan
SWIPE LEFT OR RIGHT
TO NAVIGATE BETWEEN PAGES
The Wedding Outfit
Tell us something about your wedding gown.
"My wedding gown designer is Patricia Santos. At first, I had her in mind because I admire how her works are detailed yet very feminine. More than that, after meeting her for the first time, I felt how involved she is with each of her clients and how she connects with them to make sure that what she will be creating speaks of the bride more than anyone else."
"I was first inspired by the gowns by Berta. [They're] elegant yet feminine and soft, a bit sheer and no bones and corsets!"
How did you choose your venue?
"Since we both belong to big families, we knew that if we wanted to keep it intimate, then we needed to have a destination wedding. Going out of the country was out of the question because we didn't want to have too much downtime from the travel needed. We opted for Balesin because of its accessibility and exclusiveness that allowed us to keep our wedding small and intimate. Plus, Balesin had the natural elements like the beach and scenery that we were looking for."
What were the highlights of your big day?
"The highlights of our wedding are:
1. A solemn and sincere ceremony with our vows.
2. A very lively and engaging reception with our friends and family, including surprise dances from the groom and bride to each other.
3. The highlights that were captured by MetroPhoto and Bob Nicolas that day.
4. Best after-party ever! We ended around 4 a.m."
Details
Number of guests: 120
Ceremony venue: Balesin Spa
Reception venue: The Royal Villa
Date of wedding: February 16, 2020
Wedding coordinator: La Belle Fête
Photographer and videographer: Metro Photo and Bob Nicolas
Invitations/Printers: PopGram Printing and Papillon
Bridal gown designer: Patricia Santos
Groom's suit maker: Masanting Sastreria
Designer of the entourage gowns: Bridal entourage – Vee Tan Studios
Designer of the groomsmen's outfits: Masanting Sastreria
Bridal shoe designer: Valentino
Florist: Badang Rueda
Host: Atom Ungson
Entertainment: Keiko Necesario, EJ De Perio and Manila String Machine
Giveaways: "We only had welcome kits personally curated by us. The bag [consisted] of Beach Hut sunblock sponsored, handheld fans, hangover kit, and some snacks."
Caterer: Balesin
Cake maker: Naked Patisserie
Hairstylist and makeup artist: Anthea Bueno and Jay Aquino
Wedding hashtag:#AWholeLIUWorldwithYEO
Photographs by MetroPhoto, courtesy of Angel Yeo / Additional images from @imangelyeo