#RealWeddings: The Tropical Paradise Of Balesin Was Transformed Into Boho Heaven At This Wedding
A palette of nudes and pastels was the perfect backdrop for the dreamy union of this couple
Oftentimes, simplicity can have grand effects. It's the way ideas are interwoven once they move from paper to execution and the overall energy of the place that gives life to understated design. At Heather's wedding to longtime love Jay, this couldn't have been more true!
Her only wish for the romantic union was for it to reflect the uncluttered lines and softness of tones that their venue, Balesin Island, naturally possessed. Nudes and pastels, handpicked flowers, dainty fairy lights, and lots of breezy details came together to form what would eventually become an oceanside Bohemian-inspired ceremony and reception this newlywed couple and their guests will never forget.
To top it all off, the simplicity in their wedding theme gave the Quezon sunset a chance to take center stage at dusk; magnificent purples and deep oranges illuminated their romantic dinner affair, with guests' subdued outfits popping against the postcard-perfect backdrop.
After nine years of togetherness and countless memories shared as a couple, Heather and Jay finally tied the knot on the 12th of October. Read on to learn more about their wedding theme, Heather and Jay's love story, and of course, to see more photos from the beautiful nuptials.
About the couple
How did you and your husband meet?
"At the gym"
How long have you two been together?
"Turning nine years"
What are your current occupations?
"We are handling businesses including Soru Izakaya, Geonbae Modern Korean Bar & Grill, La Provence Salon, Ila Skin, and Beyond the Sign Advertising"
What do you enjoy doing together? Hobbies, interests?
"Working out and eating together"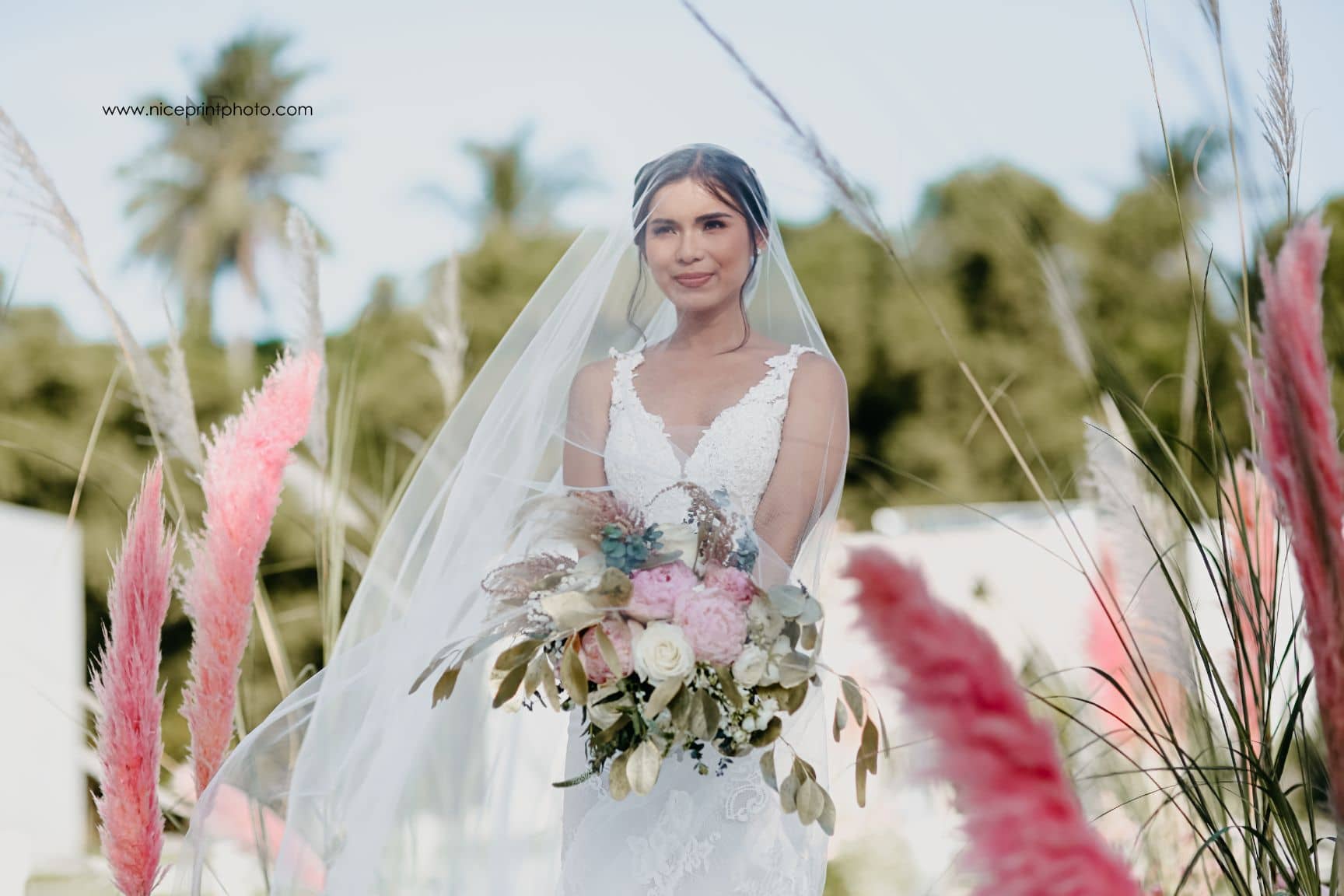 Preparing for the wedding
What is your wedding's theme, and why did you choose it?
"[We had] a boho dreamy setup for the ceremony. We set up the Balesin spa pool area as our aisle and walkway to make it seem like we were walking on water. For the reception, it was a bohemian, starry night or dancing under the stars-inspired night."
How long did you prepare for your wedding day?
"Seven months"
What were the challenges you encountered along the way?
"Since it was a destination wedding, the bookings for the guests and suppliers were very challenging. Also, we had 180 guests in total and Balesin could only accommodate a certain number of guests to fly in via Manila, so many had to fly in via Clark... All the bookings were coursed through us. We had to consolidate all the room assignments."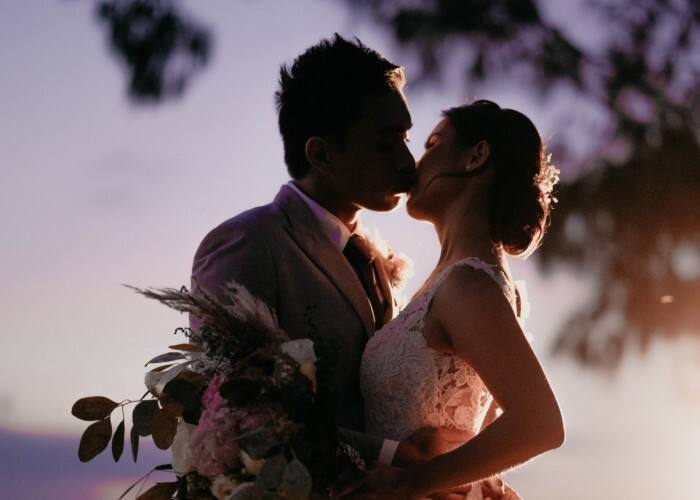 real weddings heather ong
real weddings heather ong
What was the best part in preparing for your wedding?
"We love that it was all about new beginnings, starting a new chapter of our lives together. Seeing all our loved ones gathered together to witness our special day was an amazing feeling too."
What tips can you share with brides-to-be when it comes to planning a wedding?
"Pinterest was really helpful in helping us achieve this dreamy wedding! But I had a theme in mind and a color palette to follow (we chose pastel colors, mainly sage green, gray, dusty blue, pinks and nudes), to perfectly match Balesin's 'spa clean' colors."
The Wedding Outfit
Tell us something about your wedding gown.
"[I chose] Rosa Clara for my bridal gown, La Tercera for my bridal robe, Desino Dulce and Rosenthal Tee for my reception gowns. I chose Spanish brand Rosa Clara because of the romantic vibe of their gowns; I was able to try on the gown and see exactly how it fits on me than having a designer design the gown from scratch. It's a romantic, full French lace gown with scattered beads and Swarovski crystals attached. The tail was the perfect length too—not too heavy, perfect for a garden or beach wedding."
Tell us something about your hair and makeup looks, and accessories.
"Hair accessories used were bought by my hairstylist, and I wore diamond stud earrings from my aunt, plus my engagement and wedding rings. I chose a braided messy bun for my hair to match the Boho-inspired theme. For my makeup, I told my makeup artist to use peachy colors for that fresh bridal look to match the beautiful dreamy setup. I'm always into peachy colors whenever I put on makeup."
What was the story behind your choice of wedding venue?
"We both love the beach and we wanted all our guests to enjoy and have a great time. Most of our guests really enjoyed Balesin Island, and some of them were first-timers. We also loved the idea of having a different location per event. Our despedida de soltera was held at Toscana Village for the Italian vibe, our ceremony was at the Balesin spa, and our reception was at the Royal Village for an evening affair underneath the stars."
What were the highlights of your big day?
"Walking down the dreamy aisle that was built on top of the Balesin spa pool and dancing underneath the stars with my husband and my dad during the reception."
Details
Number of guests: 180
Ceremony venue: Balesin Spa
Reception venue: Royal Village
Date of wedding: October 12, 2019
Wedding coordinator: Weddings by TV
Photographer and videographer: NicePrint Photo
Invitations/Printers: Invitation Designs by Kenneth Uy



Designer of entourage gowns: Desino Dulce made all our entourage gowns and suits, though the design or look came from us. We incorporated tulle to make the whole look even dreamier, and choose gray and sage green.
The groom's suit maker: Suit It Up Manila
Bridal shoe designer: Gucci
Florist: Amante Fleurs
Host: Eric Tai
Entertainer: Upscale Full Band
Pastor: Pastor Pipo Conde of Bread of Life Ministries
Cake maker: Cake by Bethany Dream Cakes
Hairstylist and makeup artist: Mikka Marcaida, Mehdi Moussaoui, Kenj Apostadero, La Provence Salon
Wedding hashtag: #JayHedsHome
Photos by NicePrint, courtesy of Heather Ong