#RealWeddings: This Long-Distance Couple Decided To Tie The Knot With The Bare Essentials
From renting her veil to foregoing giveaways, a modern bride shares their vision for a fuss-free wedding
Oftentimes, going the less is more route proves to be a good idea.
Such is the case for Joanna (Kim to close friends) and Anthony, a young couple who decided to tie the knot after four years of a long-distance relationship that spanned Manila, Jakarta, Tokyo, and Paris. After getting engaged in March of 2019 in Tokyo, they both decided to do a Manila wedding December of the same year. One thing they also made sure of is to have intimate, comfortable gathering for their loved ones and friends.
What better place to do it than in Antonio's in Tagaytay? Truly, some things just work, and this venue is one that truly stands the test of time, especially for weddings.
Kim shares details about their wedding that made it truly fuss-free, classic, with a little twist:

The Fashion
"I bought my own gown in a dress sale in Tokyo, and rented my veil from the same store. I fell in love with the skirt of my gown—layers of tulle with a hint of pink. For my jewelry, I chose to wear a family heirloom. It's a sapphire set, which is perfect since it's my birth stone and still matched by my style. Simple yet different."
The Invites
"We still kept traditions like sending printed invites to all the guests. The invite was made by Anthony's sister. It was colorful and Pantone-esque when assembled."



The Rule-Breakers
"I'm glad I broke a few wedding rules like not wearing a traditional pure white gown, renting a veil, not having giveaways, giving my bridesmaids a free rein on their dress, and not having a prenup shoot. We tried to trim down the event by doing only the essentials."
The Wedding March
"I was very particular with the songs that will be played, I chose each song. My wedding march song was string quartet version of La Vie En Rose. It matched my dress quite perfectly."
The Venue & The Food
"We prioritized food and drinks above everything else so we chose to have our reception at Antonio's Restaurant. The restaurant itself is already beautiful so we just added touches of color."
The Little Personal Details
"It takes a village to organize and execute a wedding, and we were blessed to have had the opportunity to borrow a bridal car, ask for friend's help to make the childhood video, and have a family member style the wedding. Our cake was given to us by another friend, and so on. In a way, it was everyone's wedding so the vibe was homey, warm and intimate."
The Reception Program
"We wanted a short and simple program. We only had one game—an online game called Kahoot, to unify the guests at the main hall and chef's room which turned out to be a big hit! My roommate in Japan prepared a video of my previous students and it made me cry. I almost never cry in public, but I could not help it!"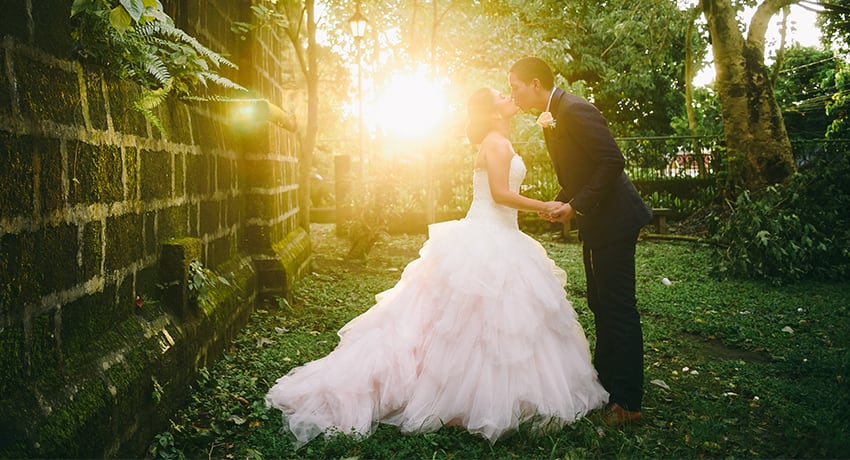 #RealWeddings: Kim & Anthony
#RealWeddings: Kim & Anthony
Wedding Suppliers:
Church: San Juan Nepomucene Parish, Alfonso, Cavite
Hotel: Twin Lakes Hotel Tagaytay
Reception: Antonio's Restaurant
Date of Wedding: December 4, 2019
Wedding Coordinator: Events by Marge
Photographer: Jaja Samaniego
Videographer: Notion in Motion
Invitation Printer: Kasali PH
Invitation Designer: Mariel Sayuno-Chung
Designer Bridal Gown: Pronovias
Designer Bridal Gown (Reception): Studio de Garcia
Designer Groom: Francis Libiran
Event Stylist: Kaye Garcia
Jewelry: Family Heirloom from Mia Rodriguez
String Quartet: Manila String Machine
Host: Karen Kabuhat
Priest: Bishop Junie Maralit
Cake Maker: Penk Ching
Makeup Artist: Mark Qua
Hairstylist: Aries Manal
Gift Registry: Knots and Pans
Wedding Hashtag: #KimandAntsForever