#RealWeddings: This Couple's Civil Ceremony Is The Perfect Example Of A Classy, Intimate Wedding
No pandemic can stop them from having the perfect day!
I can't even count the number of times I was told I was "too chill" for a bride. It also came as a surprise to me at first, but yes, I'm owning it now. No worries when you have the best groom in the world. It was a process and over a year's worth of making plans, and changing them again and again and again and again–until literally the very last minute—that got us here.
Nat and I have been engaged for a few months before people started guessing. Contrary to popular practice, we kept it mostly to ourselves. It made the engagement more meaningful and intimate, at least for us. Like our little secret non-answer to everyone asking "when are you getting married?" All you titas don't have to know, you know?
As for the wedding plans—lots of things had to be considered with COVID in the air. We decided it best to move forward with the barest of plans—a quiet civil ceremony and a small dinner with family and a handful friends on a rooftop. No extended family. No entourage. No business contacts. We did our preps at home. My little nieces and nephews were able to join in the photos, but my siblings had to drive them back home immediately after. We wanted to keep the headcount, including all the suppliers, below 40, especially during the reception. It was a fuss-free plan but not COVID-proof, it turns out. But with the COVID surge all over the news, what do you expect? Let's strip it off some more!
I remember it was around 9 A.M. (eight hours before the wedding) when I was woken up by a call telling me a good number of wait staff from our original reception venue turned up positive for COVID. We had everyone tested on the morning of the wedding.
First thing that came to mind was "am I going to handle this as a doctor or as a bride?" There was only one correct answer, and it was a fairly easy choice to make. My only regret was that I didn't get to have my morning coffee that day because of all the phone calls I had to suddenly make. The ceremony was short and sweet and went on as planned. The Supreme Court was stately and grand, as expected. Thank goodness that at least, the weather cooperated, and the Supreme Court staff didn't throw me out for not following the dress code. Spot the strategically placed hole in my dress, haha!
But we did cancel our reception. We ended up moving our already smaller dinner reception to our living room at home. I felt kind of overdressed to be honest—all the more when I saw my sister already in slippers when we got back from the Supreme Court. We did un-invite everyone except for our immediate families. We weren't able to bring home the fancy lights and smoke machines, nor the nice sunset view we originally planned. My sound system was my trusty old Bluetooth speaker. We gathered all our electric fans around and opened all the windows and doors for air and ventilation.
And what do you know? It was definitely something to remember. Nat taught me some moves five minutes before we fake-danced to a song we barely knew. It was silly but fun, and I judged myself for dancing. But we dipped and kissed just at the right moment, and it was perfect. Nat and I got teary-eyed in front of immediate family over heartfelt speeches—a bit embarrassing really, when you have a very small group of people around. Everything was just real and raw, and we felt deep joy and appreciation for those who contributed in their own little-big ways to make all the last-minute plans work. It's a story we'd love to tell our kids one day. The universe didn't spare one moment to test our vows "for better or for worse." And I daresay, we passed our first challenge with flying colors! We got married in the middle of a pandemic, and that's one hell of a good start in our opinion.
P.S. The best news came two weeks later of course. Not one person got sick after our wedding. Canceling our reception worked out for the best!—Dior Dy-Segovia
Swipe through the gallery below to see more of Nat and Dior's big day!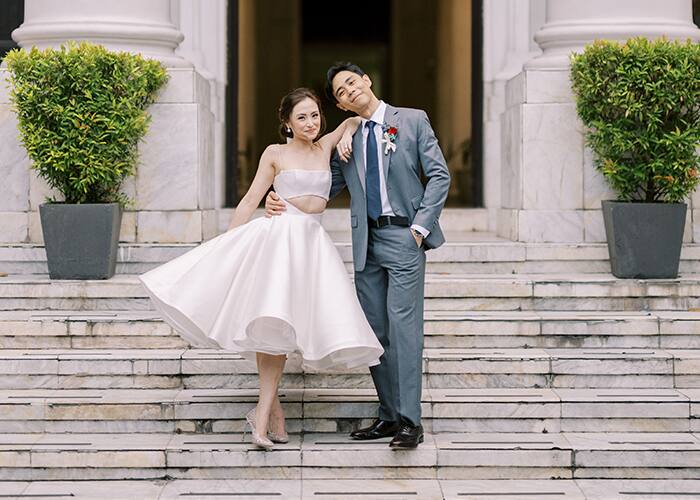 #RealWeddings: Nat and Dior
#RealWeddings: Nat and Dior
Wedding Suppliers:
Civil ceremony venue: Supreme Court of the Philippines
Officiator: Chief Justice Alexander Gesmundo
Reception Venue: Moved to bride's house (some wait staff from original venue tested positive for COVID)
Food: Conti's (ordered on the same day)
Date of wedding: March 14, 2021
Wedding coordinator: Erika Que of Perfect Moments
Photographer: Toto Villaruel
Videographer: Woodstock Cinema
Designer bridal dress: Mara Chua
HMUA: Kaycee Lim
Tailor groom: Cornell's Custom Tailor
Florist: Erika Que of Perfect Moments
Event Stylist: Erika Que of Perfect Moments (most of the styling done on the original reception venue didn't make it to the bride's house anymore)
Engagement Ring: Diamond Finery
Wedding Bands: Brilyo Jewelry
Host: Christopher Ng (bride's friend)
Cake Maker: Baked Munch
Antigen Testing: Biobridge Corporation