#RealWeddings: This California Coast Wedding Will Charm You With Its Understated, Bare Essentials Beauty
The Pacific Ocean's whispering waves, cloudless skies, handmade wedding bands, and a lighthouse to mark the spot of true, infinite love—it won't take long to see why these "I dos" were even more beautiful than imagined
Everyone needs a hero—a hero to remind you to be grateful for life's simple joys, a hero to assure you that tomorrow will be even better than today, a hero to love you and love in return.
Newlywed Nica Constante found hers five years ago, and guess what—he goes by the name of Hiro Tanaka.
Call it a stroke of luck, beautiful coincidence, or evidence of the Divine's hand in human lives, but no matter what combination of words you use to describe the crossing of their paths, this unfolding love story was officially made to last forever in October last year when Nica and Hiro tied the knot in a ceremony for the books.
It took them six weeks to plan the once-in-a-lifetime occasion, jumping over hurdles—citywide power outages and wildfires included!—along the way, but making it to the (picturesque) finish line nonetheless.
There are a hundred and one things to love about the Constante-Tanaka nuptials; from its refreshing simplicity and private setting, to its meaningful symbolism and miracle moments, this wedding is sure to inspire brides-to-be searching for ideas for their own big day.
Below, Nica and Hiro share all their favorite details about the day they became husband and wife, ultimately telling their story of finding the perfect person at the perfect time with an ending (or beginning) that says, "I do."
About the couple
How did you and your husband meet?
"In 2008, at a coffee shop in San Francisco Bay Area. The coffee shop was called Starbucks and we both wore green aprons."
How long have you two been together?
"Five years."
What are your current occupations?
"Hiro is a craftsman. He's a sheet metal worker and woodworker. [I am] an artist, writer, and labor organizer for California Labor."
What do you enjoy doing together? Hobbies, interests?
"We like to do many things together! We enjoy carpooling to work and doing grocery shopping. Our regular activities include cooking, practicing yoga, and organizing our home. On Sundays, we do pancake breakfasts! Quality time includes watching short films and having nice dinners at home. Once a year with all our gear, we hike the Pacific Crest Trail and camp at our favorite lake. The two of us bond over everyday's simple gestures which include preparing our packed lunch for the next day and playing with our cats."
Preparing for the wedding
What is your wedding's theme, and why did you choose it?
"Our motif was simple: it was the Pacific Ocean. We chose it because we live by the California coast and the ocean is our neighbor. When we look out to it, we think of our family, friends, and homes across it; [mine] in the Philippines, and Hiro's in Japan. Our 'motif' was to keep the day honest, natural, and bare. The exposed cliffs and whispers of the waves were, to us, enough for our wedding day. If the motif is supposed to symbolize who we are as a union, then the ocean is perfect. It gives without condition, it's home to plenty of life, and most of all, it's eternal."
How long did you prepare for your wedding day?
"Six full weeks."
What were the challenges you encountered along the way?
"A number of challenges.
"The first was the power outage. Nearing the day of the wedding, our city was experiencing full days without power—zero electricity! There were no lights for makeup and no outlets to plug in a hairdryer and steamer. Also, how was the restaurant going to prepare food for the lunch reception? Yikes.
"The next challenge was the California fires. The night before our wedding, the air was smoky. It was a horrible situation for an outdoor wedding. Despite the out-of-control circumstances, we reassured each other that everything would be okay. Miraculously, on the morning of our wedding, the air was crisp and the sky blue. The smoke was gone. Although there was no electricity hours before the wedding, the restaurant still prepared the most amazing meal for our wedding party. Even better, the power came back in time for our surprise wedding game that needed electricity. Phew!
"Perhaps the last, and ultimate, challenge we will mention was not having a complete roster of family and friends at the wedding. But those who couldn't be there still tried to be there—Nica's father in a letter he wrote for the ceremony, and Nica's best friends whose faces were smiling inside a locket she wore as a bracelet throughout the day."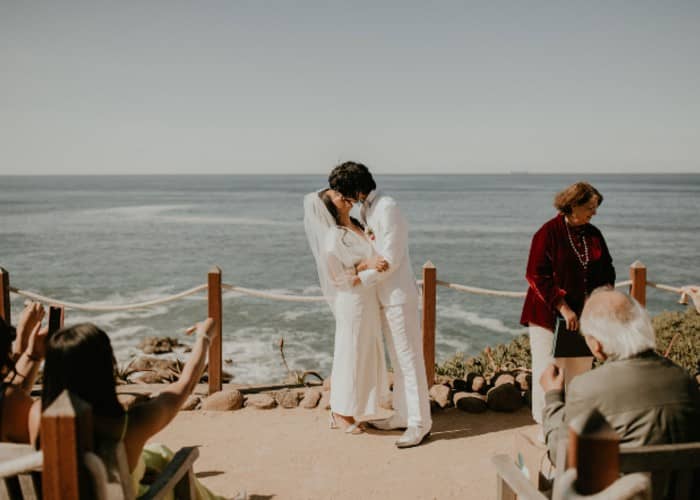 Nica Constante and Hiro Tanaka get married in a San Francisco Bay Area in an intimate ceremony with personal elements
Nica Constante and Hiro Tanaka get married in a San Francisco Bay Area in an intimate ceremony with personal elements
What was the best part in preparing for your wedding?
"The stories you tell after!
"We really enjoyed the spontaneity of how everything came together. We liked discovering our wedding favors at random shops and personalizing them [for] each guest. We had fun creating the ceremony's script with the officiator, Shyamala [Littlefield].
"Not to mention, the fitting and search for Hiro's suit three days before the wedding was a funny time. Creating the wedding playlist was memorable, too. Even until today, when we play the same playlist, we are reminded of our special day. A legacy that came out of the planning process is the group thread with all our wedding guests which included family and friends.
"Until today we text each other on the same thread!"
What tips can you share with brides-to-be when it comes to planning a wedding?
"Personalize the experience to every guest and mean it. Don't just throw a party. Anyone can do that. If you want people to remember your special day, make them feel something they've never felt at a wedding before—seen, loved, and appreciated. Every. Single. Guest. Because our wedding party was small, we took the time to talk about each family and friend and explain why they were special to us. If you have a large wedding, you can talk about people in groups. There's always a way.
"Our second piece of advice is to avoid the cookie-cutter wedding. You know, the kind of wedding where you know exactly what happens next. Ask yourself, 'What will be a meaningful item or tradition that generations after us will appreciate and talk about?' 'What kind of stories do we want to tell about our wedding?'
"A cookie-cutter wedding will have Google-like answers and Pinterest-esque motifs that anyone can replicate.
"Don't try too hard. Less is always more.
"Also, and this is the most important tip: make sure you like who you marry."
The Wedding Outfit
Tell us something about your wedding gown.
"[My] wedding dress was shipped from Portugal from a clothing brand called Framed."
Tell us something about your hair and makeup looks, and accessories.
"I wanted my bridal look to be simple yet distinguished. I did not want to mimic a colonial fairy tale with extravagant garb, alluring jewels, and overt glamour. The inspiration was to look humble. My only jewelry was a pretty pearl piece from AMAMI, a pretty emerald cut headband by Melinda Rose, and a locket I wore as a bracelet that my best friends gave me. I warned everyone that Hiro's suit would [uptstage] my dress and I was right!"
What was the story behind your choice of wedding venue?
"We wanted a place that would host an intimate ceremony and was close to our home. Nica used to stay and go on solo day trips at the hostel in Montara. The place has a lighthouse, private beach, a garden, and enough seating for a small celebration. You see, 10 days before the wedding, we didn't have a venue. We visited the hostel and asked if we could have our wedding ceremony at their property. They responded by saying they don't do weddings. (Uh-oh!). Luckily, we convinced them to share the space with us for a few hours. It was the perfect place for us!"
What were the highlights of your big day?
"There were several highlights.
"The first was our wedding rings. The rings were made by Hiro who used a piece of Narra wood from Nica's father's old chair. What a beautiful life cycle our rings have had. At the ceremony, the rings were passed around to every guest so they could whisper their blessings into them. It was a beautiful ritual and everyday we wear our loved one's blessings on our hands.
"The next highlight were our vows. We wrote them ourselves and each was so kind and beautiful. We call them award-winning vows because [they] made people cry.
"Another highlight, of course, was the most beautiful backdrop we were blessed with. What a beautiful life it must be to have the ocean and sky celebrate our wedding with us. On a regular day, the waves are loud, almost deafening, but on our wedding day, they whispered. Not too loud, not too soft, they allowed us to speak over them so we can hear each other say our vows.



"A miracle highlight that we love to talk about was our lunch reception. Again, on a regular day the restaurant would be open to the public, but due to the power outage, the restaurant closed its doors to everyone else. Imagine that! The power outage which was supposed to ruin our day actually worked to our benefit. It was the luckiest day to have the entire restaurant to ourselves.
"Another highlight, which was so special was the cake cutting at home. After a long lunch reception and games, everyone still joined us at home to eat cake. How sweet is that? We ended the night with sparklers, more wine, and champagne. It was so fun!
"Lastly, the highlight that made all the difference was everyone's participation. Every single person in our wedding played an integral role [on] the day—no hesitation, critique, complaint, or protest. Everyone who was there wanted to help. It was so humbling. No task was too small for anyone. It was because of their selflessness that our wedding day was complete. To our family and friends, thank you for making our wedding day genuine, the best, and exactly the way we wanted it to be—happy."
Details:
Number of guests: 17
Date of wedding: October 28, 2019
Wedding coordinator: "The bride and groom coordinated their own wedding before, during, and after the ceremony. Yes, it's possible and a lot of fun!"

Photographer: Sergio Alcala Photography
Videographer: Gabe Medeiros and Gabe Tiburcio of Signal Boost Art Collective
Invitations/Printers: The bride
Groom's suit: "We found the groom's suit at Durant Mall in Oakland, California. A lady named Christina was the tailor."
Florist: Blossoms Flower Shop, San Mateo, CA
Hosts: The bride and groom themselves, Nica and Hiro.



Entertainment: "
A quiz game! We divided the party into three groups. Everyone had to answer quiz questions about the bride and the groom. Sparklers were lit at the end of the evening!"
Officiator: Shyamala Littlefield
Giveaways: "The giveaways were so fun to find, make, and put together. Each guest got a small brass bell which they rang at the end of the ceremony. They also received a collection of handmade soaps, a personalized bookmark made by Nica, a little book which listed the bride and groom's favorite places to eat, and last but not least, a finger puppet! Each guest got their own animal finger puppet and story of why it matched their personality. It was a cute time and we had fun telling the stories."
Cake maker: Draeger's Bakery
Hairstylist and makeup artist: Kayla Lebrane, @labaeartistry
Wedding hashtag: "None! We have a photo album full of photos taken from a disposable camera instead. Photo albums can be passed on to next generations while hashtags are just for the internet to swallow."
Photos courtesy of Nica Constante-Tanaka