#RealWeddings: Victor Basa & Stephanie Dan Pulled Off Their Botanical-Themed Wedding In Just Eight Weeks!
What's the most important part of a wedding? Not the décor, flowers, or photos according to this couple, but how much it honors your faith and those you love the most!
There's a billion and one things a bride worries about before, during, and after her wedding day.
Did she tell the florist she wanted pink or white peonies? Who's going to pick up the entourage's outfits? The caterer, do they have vegetarian offerings for the groom's mother? The vows! And the kids, they need an extra table to themselves at the reception party, has that been covered?
The list is manic, frenzied, and as many happily married women will say, seemingly endless!
In other words, it's so easy to get distracted from what a wedding's real purpose is, when there is an array of distractions on the periphery demanding so much attention from the newlyweds-to-be.
But relax, Stephanie Dan advises buzzing brides. Smile. There are ways to manage this, and she guarantees that one of the most effective ways is to actually step back and detach, rather than dive in head first!
The trick, according to her is to never, ever let anything eclipse what your upcoming "I dos" represent: you and your partner's love, and that only. The rest is secondary. Without the love between you two, there would no wedding, after all. Allow that to be your center and keep you grounded, and watch as everything else settles into place—but a good coordinator helps a ton too, she adds with humor.
Marrying her husband Victor Basa in a lovely ceremony in November, she shows other brides how keeping things short and sweet can be a great option for brides looking for alternatives to large gatherings. In her wedding, she made sure to shine the spotlight on three things: her relationship, her faith, and her family—other details simply complemented.
See the details of the Basa-Dan nuptials below!
About the couple
When and how did you and your husband meet?
"We were kindergarten classmates but never spoke to each other as we had different circle of friends. We got in touch through Facebook about four years ago. I messaged him to like a photo; it was a general blast message to all my Facebook friends but he replied and invited me for coffee. That's how it all began."
How long have you been together?
"Four years."
What are your current occupations?
"Victor is an actor, blogger, and host while I'm an Human Resources manager and have Happy Plant Co. together with my husband."
What do you enjoy doing together? Hobbies, interests?
"We like cooking together, styling plants, interior decorating, going on occasional workouts, and competing in any activity we do."
Preparing for the wedding
What is your wedding's motif, and why did you choose it?
"The motif was botanical because we like tropical plants so much we didn't want to use so many flowers. I wanted to use plants from the garden, so I cut a lot of leaves from my own garden to use for the wedding arch, the botanical photo wall, décor for the grazing table, and so forth. We felt bad for the flowers if we used too many!"
How long did you prepare for your wedding?
"We did it in eight weeks. Victor, though, had his tuxedo fabric a year ago and it's been in the closet since."
Is there a story behind your wedding venue?
"Victor was the one who chose the venue and that was it. We didn't want to look at any other place especially because his tito owns Angelfields. Again, we wanted friends and family to be part of the wedding and not just attending."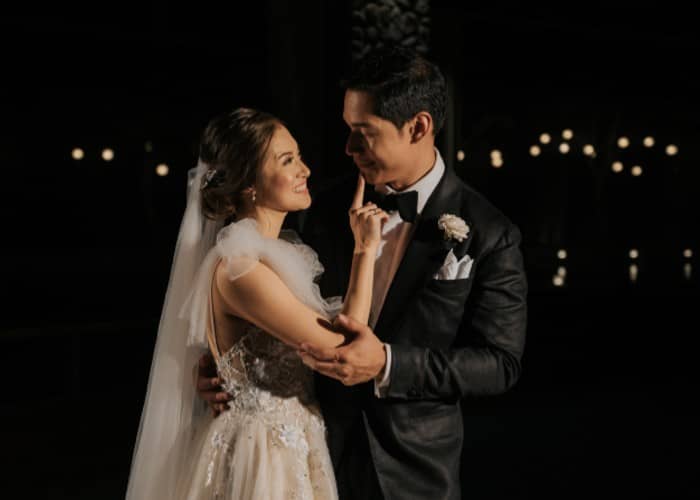 What were the challenges you encountered along the way?
"The time was a bit short considering we both had to work still and I couldn't take much leaves. We got a wedding coordinator to help us when it was week four already. [The] biggest challenge for Victor was giving up control to me! We both had so many ideas but in the end, I won. We agreed to keep it simple and sweet—just have what is essential because ultimately the wedding is not about us, but about Christ and how he has changed our lives for the better."
What was the best part in preparing for your wedding?
"The best parts were fitting the gown and the tux, hearing encouraging words from relatives and friends, choosing our rings and having engraved 'cord of three,' which comes from Ecclesiastes 4:9-12. A cord of three cannot be easily broken. We enjoyed doing the ocular with mom and food tasting in Angelfields Nature Sanctuary."
What tips can you share to brides-to-be when it comes to wedding planning?
"Set a budget and use Google Docs so you and your fiancé can see everything that still needs to be done. Get a full wedding coordinator as they have checklists each week to complete with you. They can help lessen the stress and make the process more enjoyable and fun for the couple. Keep it simple so you won't fuss about too many details and timing especially on the day itself."
The Wedding Outfit
Tell us something about your gown and the designer you picked.
"
For my ceremony gown I chose my cousin to help me design my dream wedding gown.

(

Veronica Chua's IG is @versai.officiel).

I chose to ask my cousin to make my gown because I wanted our wedding to involve friends and family as much as possible.

For my reception gown, LA-based designer Puey Qui

ñ

ones designed an embellished, turtleneck serpentine backless gown with a train."
What about your hair and makeup, accessories, and overall look?
"The necklace and earrings were my mom's, the hairpiece I found online from Jacatel, as well as the shoes by Matthews Philippines. The inspiration behind my bridal look: I just wanted to be comfortable on my wedding day. I only wore the heels for the ceremony then changed to my flat white mules for the rest of the night. The dress had to be comfortable and not heavy to carry."
What are the highlights of the program?
"The dance with my dad. He had no idea there was going to be a father and daughter dance. I just took him from his table, and we winged it and enjoyed his favorite song Sweet Caroline. It was perfect. Victor's waltz with my grandma left many in happy tears. They danced to the song A Million Dreams from The Greatest Showman, and Victor and I had a five-minute dance mix performance. It was more like a production. He was more nervous about our dance than the vows. There was tap, rumba, contemporary and samba. The vows and honoring my parents of course were very touching moments we will never forget."
Details
● Number of guests: 200
● Wedding date: November 10, 2019
● Wedding coordinator: Pam Manasala of @rpweddingsph
● Officiator: CCF Pastor Joey Batunbakal
● Photographer and videographer: Mayad Studios' Jamie Lihan and video by Jay–Ar Villarojas
● Invitations and other printed materials: "We [made] our own invitation cards. Victor did the layout and I gave my inputs and I did the printing."
● Entourage outfit designer: "I asked my entourage to wear all white. The ninangs and my girls wore white."
● Groom's designer: Signet and Bergamo
● Hairstylist and makeup artist:
"
Victors' cousin Janina Dizon"
● Florist: "My tito did our arrangements , Guilly's Flowers"
● Host: "Victor's discipler, Judah Paolo"
● Entertainment: "Our tita Kuh Ledesma, my cousins Carlos and Iana Aberin, friend Maybelle Ty, and my 10-year-old nephew, Ascher"
● Giveaways: "I made our curated gift boxes for my entourage and our ninongs and ninangs. For my entourage, it had a clutch bag, gummy candy, polish, peppermint massage balm, peppermint tea, chocolate, and more. For our ninongs and ninangs, wine and chocolate barks."
● Caterer and cake maker: "Angelfields [catering] and the cake was a croquembouche tower my friend ordered"
● Wedding hashtag: #StephToVictory
Photos courtesy of Stephanie Dan / Photography by Jamie Lihan of Mayad Studios