#RealWeddings: Chic Neutrals And A Minimalist Theme Gave This Wedding A Unique Look!
Michelle Quizon and Manolo Llamas' Tagaytay wedding showcases neutral color schemes and timeless elements at their best
Sometimes, big things come in small—or rather, minimalist—packages.
And when it comes to weddings, this neat little concept translates to incorporating earth-toned décor and neutral color palettes for an overall theme of quiet, understated elegance. A bride and groom can do without large-scale productions and big, bold elements but still make a lasting impression on their guests—trust us! It can be done, and it already has been.

Take your cue from newlyweds Michelle Quizon and Manolo Llamas who agreed on pure timelessness for their wedding. The goal was to have everything, from their wardrobe to their décor, done in classic styles and colors so that years, and even decades, from their big day, everything would still look as beautiful as it did on their wedding. There was a clear-cut decision to veer away from anything trendy and likely to feel dated, and it turned out magical.

Simplicity has never looked and felt so romantic!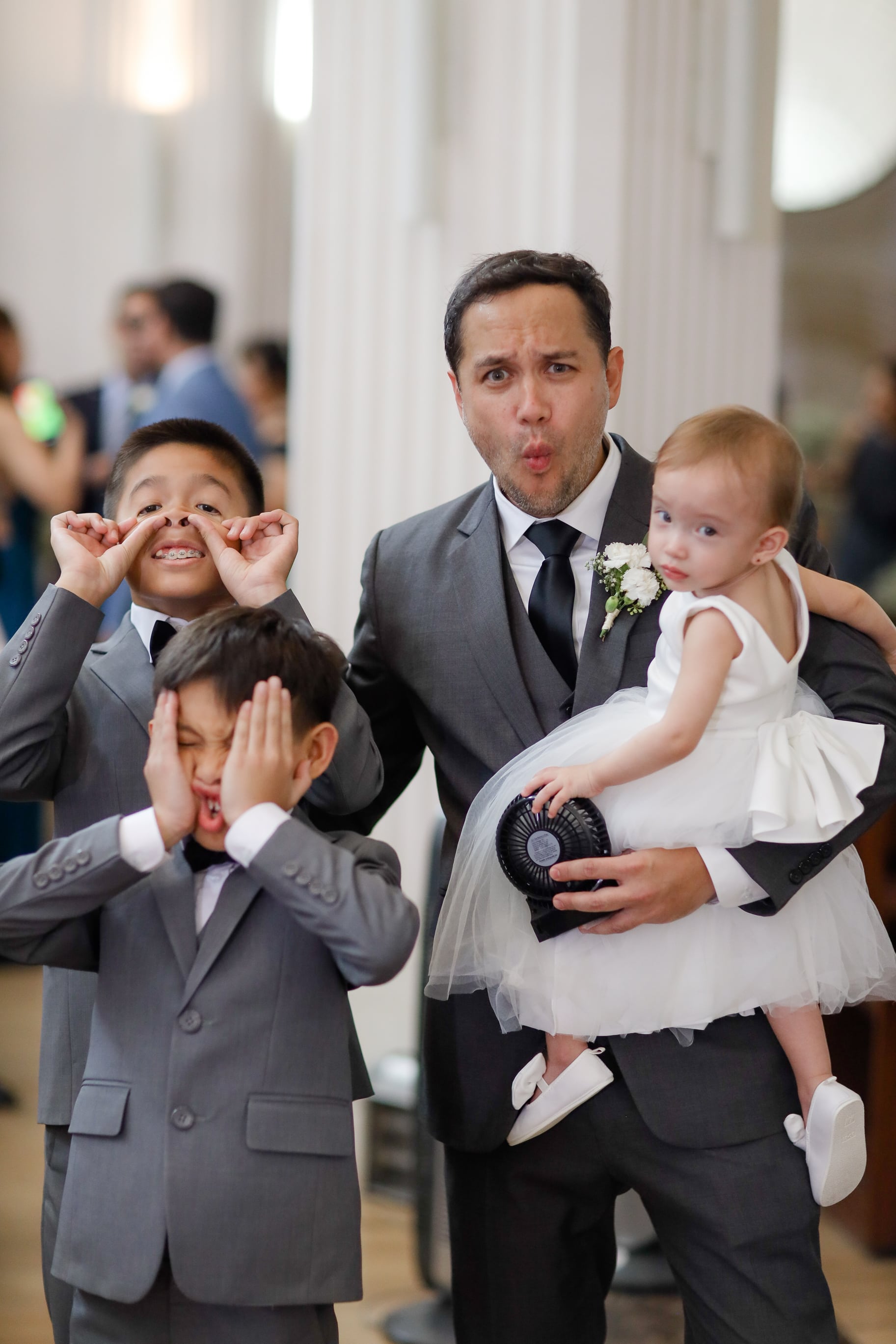 Michelle & Manolo's Neutral-Themed Wedding
Michelle & Manolo's Neutral-Themed Wedding
To see how Michelle and Manolo pulled off their unique wedding theme and the kind of work that went into making it happen, check out the gallery and article below!



About the couple
How did you and your husband meet?
"In early 2002, I met Manolo through his brother whom I worked with in an international airline. We started seeing each other and really liked each other, but nothing really flourished since I was always away flying. We ended up with different people but ended both relationships around the same time (coincidentally!). I had two sons, he was single again and we started hanging out again before deciding to get married in maybe just eight to nine months!"
How long have you two been together?
"We got married, civilly first, in the US on June 21, 2016, the same date as our church wedding this year. We've known each other for a long time, and kept a friendship all those years which made our decision to marry in a short span of time easier."
What are your current occupations?
"Manolo is in the real estate industry, while I do print and TV commercial modeling aside from being a mom to two boys and one baby girl."
What do you enjoy doing together? Hobbies, interests?

"Both Manolo and I love to travel. We enjoy going to new, different places that we've never been before. We also enjoy going out of town or eating out with our kids or, simply having our weekly wine and date night."
About the wedding


What was your theme, and why did you choose it?
"My husband and I opted for different earthy, neutral colors for their clean, pure and timeless feel—medium gray, nude, rose taupe, and gun metal. Since neutral colors tend to be a little bland, we decided to make the entourage wear different shades to make it more vibrant and lively, especially in photos, with gray being more prominent since it is our favorite color. We just wanted classic elegance and clean lines, nothing just 'trendy.' When we chose the clothing, materials and items, one question that we would always have in mind was how it would look like 20, 30 years from now. We wanted everything to still be relevant even years from now and [be able to] look back, saying that we did well and not regret choosing something that was just in trend."
How long did you prepare for your wedding?
"We had one whole year to prepare for our church wedding."

What were the challenges you encountered along the way?
"It was challenging to stick to a certain budget since weddings now are crazy expensive. We just decided to prioritize the things that we cannot compromise (like photos and videos that would last a lifetime, food and booze, too, that guests would always remember) and stick on a certain budget and be more practical [with] other things. Doing last minute RSVP could also take a toll on you, especially if you are working on seating arrangements. You'll be surprised that some who confirmed won't even be there and that is beyond your control."
What was the best part in preparing for your wedding?
"I personally enjoyed researching for pegs on the Internet to prepare for the wedding. It is so easy now to implement what you exactly like because everything is just one click away. This makes everything so easy for your suppliers to deliver what you want. I seriously cannot imagine planning a wedding before [the] Internet."


Share your tips for brides preparing for their own weddings.
"Enjoy and take it easy. Do not sweat the small stuff. Make a list of the things you will need and put [them] in order according to your priorities. Try to work on a budget to avoid going overboard. Ask for the opinion of your girl friends, but still stick to what you really want. Hire a good and experienced wedding coordinator, so you can relax on the wedding day itself. Never underestimate the power of good music and free flowing booze; guests will always remember how much fun they had."
The wedding look
Tell us something about your gown and the designer you picked.
"When I was choosing my wedding gown, I had my only daughter in mind since she may want to wear it, too, someday when she gets married (no pressure though). With that in mind, and [being] quite the minimalist that I am, I had to choose something timeless, classy and clean just in case she would want to tweak it a bit in the future. When I tried on my wedding gown from Rosa Clara, it fit me perfectly and had no doubt that it was the one. I just added pockets for my lipstick and cellphone, since I didn't want to carry around a pouch."
What about your hair and makeup looks, and accessories?
"I opted to put my hair up for the ceremony to show off the beautiful back details of my gown. One special item that I wore in the wedding was the hairpiece I used. It was actually an heirloom brooch from the mother of the groom's family. As for the reception, I did a high ponytail for a more casual and fun look, and for my hair not to clash with my stunning reception dress that had a huge floral detail in front."
What were the highlights of the program?
"I think the highlight of the wedding was when my two sons, Alejo and Elian, walked me down the aisle. It really brought everyone to tears. My two sons love their stepfather so much and I think they are the best choice to hand me to him. Our one-year-old daughter, Pilar Santina, was our lone flower girl."
Details:
o

Number of guests: 150 pax
o

Church/ceremony venue: St. Benedict Parish, Ayala Westgrove, Silang Cavite
o

Reception venue: Narra Hill, Tagaytay
o

Date of wedding: June 21, 2019
o

Wedding coordinator: Kiss the Girl Events
o

Photographer: Pat Dy
o

Videographer

: Bob Nicolas
o

Invitations

: Print Cafe
o

B

ridal gown

: Rosa Clara
o

Bridal Shoes: Jimmy Choo
o

Bride's reception dress: Debbie Co
o

Bridal Makeup: Denise Go-Ochoa
o

Bridal hair: Jannet Saberon
o

Groom's Suit: Cornell's
o

E

ntourage designer

: Tantease
o

Florist: Gathered Creative Co.
o

Catering: K Cunanan
o

Reception performers: Zia Quizon & Robin Nievera
o

Fireworks: Dragon Fireworks
o

DJs: Abdel Aziz & Paolo Maralit
Photos by Pat Dy, courtesy of Michelle Quizon-Llamas