#RealWeddings: This Couple Took Advantage Of Tagaytay's Timeless Charm
Ever changing plans amidst the pandemic didn't stop this couple from having an amazing Big Day!
RG and I met through work. I was working as a fashion assistant who is usually assigned to cover shoots and events, and RG was our photography intern.
I remember the day when my managing editor, Eunice Lucero-Lee, handed me his resume and quipped, "Oh, baka next boyfriend mo!" Fully knowing that I was NBSB. Eventually, my officemates would tease us because we're always covering events together and would joke that the food he sends the team every single time he submits a CD or SD card was "ligaw" food. I ignored it and RG knew nothing about the teasing (I think.)
Based on his wedding vows, RG already had a small crush on me when he was first introduced to our editorial team. So, matagal na niya ako crush. ;)
About three years of working together, he simply asked me out for lunch before another event. It was a series of ups and downs before we officially got together in 2015. He proposed in 2019 with plan to really get married in 2021.
RG already had plans in mind when he proposed. In fact, he already set a date and saved Instagram accounts which he presented to me an hour after he popped the question. EVERYTHING was approved and we agreed to have a small destination wedding in Japan with only our family and very few friends.
The first supplier we booked was our wedding photography team, Mango Red. Back when I was an intern, I was assigned to help with a feature on creatives and that's when I first encountered Mango Red. In 2009, I knew who my photography team would be and was overjoyed when RG said he wanted to book Mango Red as well. As in, I did not tell him anything prior!!! Anyway, without concrete plans, we booked our target date which was February 13, 2021, and said that we are eyeing Hokkaido as our destination.
Early on, we wanted a wedding set in a beautiful location, which means we didn't have to dress it up anymore. We wanted to have a complete experience which is why we chose to have it abroad - a small vacation plus our wedding ceremony. We really just wanted the wedding to be simple, elegant, and of course, something that would reflect our personalities.
The original plan was to have a snow wedding in Moerenuma Park in Sapporo with 30 guests max. RG, who to be honest is the real taste maker between the two of us, chose this beautiful location designed by Isamu Noguchi. We contacted a lot of people and friends who spoke the language to help us talk to the team. Unfortunately, they were fully booked. Our chosen wedding coordinator based in Japan gave us a few more suggestions and quite frankly, we were still doing Zoom meetings in the middle of the pandemic.
By August 2020, we canceled all of our plans and just put everything on hold. We started considering local locations and just kept browsing online.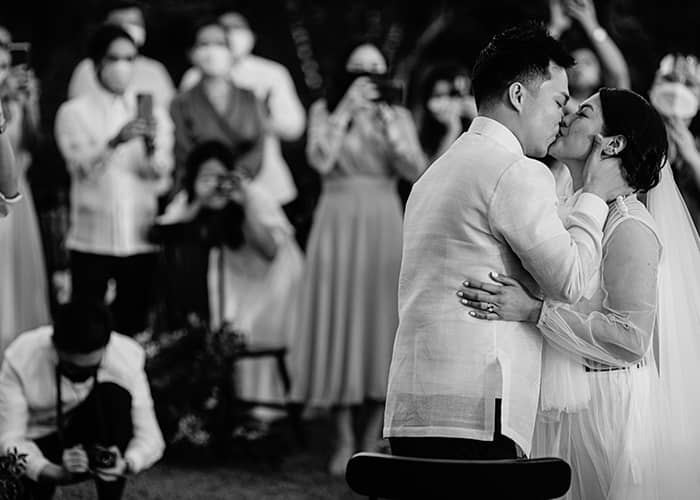 #RealWeddings: RG and Jacque
SWIPE LEFT OR RIGHT
TO NAVIGATE BETWEEN PAGES
By October, we visited Antonio's and decided that it would be our wedding location for both the ceremony and reception. The place is elegant, beautiful, and they have one of the best menus in the Philippines. One important thing for us was that the food NEEDED to be super good. We chose this under the same criteria as the locations in Japan, we wanted a place that already looked beautiful.
We started booking and finalizing plans by November and December. Our guest list grew to 60. Gasp! Double our original plan.
COVID-19 and the pandemic messed up our plans real bad. Before we were even able to finalize the date, we had to meet as a family and decide if it was feasible because my side of the family is based in the US. When we chose Feb 7, 2021, we thought we had enough time to plan. Good thing that ALL of our chosen suppliers were available on that date.
A month or so before the wedding, the government announced a travel ban and this was the start of our really stressful 2-3 weeks. At first, we didn't worry because the ban didn't directly affect my family's travel plans. But since the changes were so sudden, the following announcements made it impossible for my family to come home in time with enough time to quarantine.
We were all so stressed, especially my mom and brother. We prayed and we prayed and we prayed, until finally, we had to decide to not book the February 1 flight home. Hours later, the government announced yet another change in quarantine protocol which we took as God's answer to our dilemma. A week before the wedding, we grieved, but believed that God is a God who restores so we pushed through with the wedding.
We handled the challenges by praying and really talking to each other—it helped that each person was able to voice out their feelings and concerns which in the end helped us process the changes. The support from RG's family was a huge plus also, they helped us coordinate and plan, and was basically there to make sure we were okay.
Eventually, my family made it to the Philippines a week after our wedding. After their quarantine, we all decided to recreate our wedding in Antonio's. We arrived dressed up to have our photos in the garden (which thankfully was free on the only day we were available), then we had dinner and chose the items that were the most similar to our wedding menu. I, personally, saw how God moved during these times. The changes created a stronger bond between our families and I couldn't thank my husband's family enough for making them feel welcome. It was just amazing!—Jacque de Borja-Medestomas
Wedding Suppliers:
Bride's ensemble: Joey Samson
Shoes: Jacquemus
Groom's ensemble: Paul Cabral
Shoes: Sapatero Manila
Cuff links: 13 Lucky Monkey
Makeup and grooming: Chuchie Ledesma
Hair: Rudolf Davalos
Hair and makeup for entourage: Dorothy Mamalio
Photography team: Mango Red Studios
Bouquet and event styling: Gathered Creative Co.
Wedding rings: Janina for Jul Dizon
Coordinator: Empire Weddings
Host: Joe Henson
Cake: Cakeshop by Sonja
Location: Antonio's
Preps: Anya Resort
Music: Moira Dela Torre and Jason Hernandez with Sound Cinema
Giveaway: Saan Saan Candles
Film Cameras: Lomography
Invitations: The Invitation Co.
Lights and sound: RM Audio (based in Tagaytay)
Wedding hashtag: #jacqandgill