#RealWeddings: Robby Goco and Aliza Apostol Planned This Sophisticated Wedding In 10 Days!
A civil ceremony, an intimate brunch reception with friends, and impeccable food made this couple's wedding no-fuss and way memorable!
One of the things I never thought I'd do was plan my wedding in 10 days! Was it crazy? Yes! Was it stressful? Yes! would I do it again? Surprisingly, yes! It helped that Robby and I already had a distinct theme, look and feel in mind when it came to our wedding. Plus, we were lucky to be surrounded by friends who readily offered to help us in any way possible.
From the get-go, we wanted an intimate celebration surrounded by the people we love—a beautiful, simple yet sophisticated venue with good food and overflowing champagne and wine. Blackbird was top of mind and was the very fist thing we booked. Aside from its gorgeous interiors, I was drawn to its huge windows that let a lot of natural light in.
Robby and I agreed that a brunch reception would be ideal in maximizing the venue's ambiance. Robby being in the food industry, took charge of all meal's details. He personally coordinated with Chef Colin Mackay and his team and decided on the flow of the morning—guests were to enjoy pass-around canapés with Cava upon arrival, followed by a sit-down brunch menu.
A huge thank you to Blackbird's Mr. Jordan Uy for making everything, from the planning to the execution of the reception itself absolutely seamless, and my dear Ferdi Salvador who shared his expertise and impeccable eye for the layout and overall theme. Our cake was made by the immensely talented Chef Penk Ching who offered her services upon hearing of our nuptials.
After being together for 12 years, we opted for a quiet civil ceremony witnessed by our nearest and dearest. My good friend Keri Zamora offered to help me with the logistics while her husband Mayor Francis Zamora of San Juan officiated the ceremony. It was actually on the same day as The Zamora Cup but they found a way to make it work. For this, we are beyond grateful.
Now for the fun part and probably my favorite—the design aspect. First up is my gown, one of my favorite local designers and one who I work with often is Charina Sarte. I've been a huge fan of her feminine yet playful aesthetic for years, so when she offered to gift me with a wedding dress, I immediately said yes. We decided on a simple linen halter dress with lots of fun yet timeless details such as ruching and an uneven hemline.
I've been wanting to wear a fascinator for years and what better time to don one than your own wedding right? I immediately contacted Mich Dulce and met with her assistant at the atelier on the same day. I'm not one to wear a lot of makeup but of course I wanted to look polished for my big day. And there's only one person I wanted—Madge Lejano. It was something I knew I didn't have to worry about. I had complete trust. I just sat on her makeup chair and let her do her magic.
As for the venue, I will be forever be indebted to my friend Pin Torres of Archipelago Home and Bella Banquets who came up with the perfect set-up: part Dutch Colonial, part French countryside and 100% our style. Countless ginger jars filled with pale pink and white flowers was quite a sight to see. Simple yet elegant.—Aliza Apostol-Goco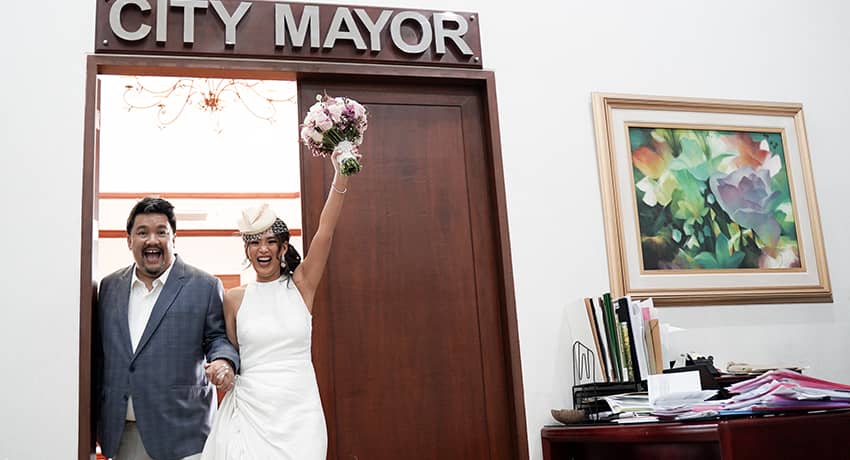 #RealWeddings: Robby and Aliza
#RealWeddings: Robby and Aliza
Wedding Suppliers:
Church/Ceremony venue: San Juan City Hall
Reception venue: The Blackbird
Date of wedding: February 20, 2020
Wedding coordinator: I didn't hire anyone but Ferdinand Salvador offered to help
Photographer: Sheila Catilo
Invitations/Printers: E-vite designed by Carmel Villongco
Designer bridal gown: Charina Sarte; fascinator by Mich Dulce
Hair and Makeup: Madge Lejano
Designer entourage: There was no entourage; my kids wore Spinkie
Designer groom: King Philip
Set Designer/Stylist: Archipelago Home and Bella Banquets
Bouquet: Teddy Manuel gifted by friends of the bride
Flowers: Veronica Chatto gifted by friends of the bride
Cake: Penk Ching
Officiator: Mayor Francis Zamora officiated our civil wedding
Giveaways: In lieu of giveaways, donations were made to Action Against Hunger