#BENwaitingforeVERN: Scenes From Vern Enciso And Ben Lim's Elegant Cebu Wedding
The stylish bride wore a Carrie Bradshaw-inspired wedding dress by one of her favorite Filipino designers, Mark Bumgarner
Love can be ironic. But in a good way, of course.
Vern Enciso and Ben Lim have known each other for a while, almost seven years of which had been spent being a long-distance couple. Vern was a Manila girl with her family, friends, and business all based in the country's capital, while Ben was a Cebuano through and through. Every year, they carefully planned around their busy, unyielding schedules to see each other. While most couples they knew saw each other routinely on weekends for small and simple dates, Vern and Ben treated their few-times-a-year hangouts like they were grand adventures, annual highlights to cherish and live to the fullest.
Their favorite travel time were the months of September to November—the fall season.
Then came 2020. Vern, who'd promised Ben she would cut down on her international trips for the year, found herself in Cebu spending time with Ben's family. She got to know his mom, his grandma, basically her future in-laws and second family. Thinking she could do a quick Cebu-Manila roundtrip, fate had other plans for her.
The domestic travel restrictions were tightened due to COVID-19 and in a snap, she was stuck—or rather, she was home and only realized it a little later.
For the first time in their relationship, Vern and Ben were together for weeks and weeks at a time, and under the same roof, at that! There was so much romantic irony in being the closest they'd ever been, proximity-wise, during a pandemic separating people from their loved ones and making long distance relationships more challenging.
And on a seemingly ordinary day when Vern was expecting nothing magical to happen, Ben got down on one knee, and there was only one answer to the question he asked.
A few months later, Vern and Ben weren't just Vern and Ben anymore, but Mr. and Mrs. Lim.
Vern, now a wife, walks us through how she and Ben planned their intimate ceremony that took place on January 30, 2021.
Read about the details of the Lim-Enciso (#BENWaitingForeVERN) wedding below, straight from bride Vern!
What is your wedding's motif, and why did you choose it?
"We initially didn't have a motif, considering our plan was just to have a very intimate one in the backyard of my fiancé's house. When we had to move our wedding to another venue to make sure his 94-year-old grandmother was safe, that's when I decided to push through with the dream wedding I had on a smaller scale."
"My fiancé [now-husband] and I's favorite season is fall and our long distance relationship's foundation was really based on all our travels since that was the only time we really got to spend time together for almost seven years. We wanted to experience our favorite season with our loved ones in Cebu."
How long did you prepare for your wedding?
"Two weeks! We moved our wedding just two weeks before our planned wedding date. We literally had to start from scratch. I'm so thankful our suppliers are so understanding. Imagine, we booked Shangri-La Mactan, Gideon Hermosa and Jason Magbanua, and added another dress from Mark Bumgarner all in one day! I will forever remember that day. I think our wedding planner, Stanz Catalan, was screaming on the inside."
Why did you decide to push through with a pandemic wedding?"
"Ben and I have been talking about marriage since our first year but he really gave me the space and time to achieve everything I wanted to before he proposed. When I flew to Cebu and got stuck here during the pandemic, that's when we both knew that we couldn't wait anymore. A big wedding doesn't have to happen to start our life together."
What tips can you share to brides-to-be when it comes to wedding planning?
"Enjoy the ride and bliss. Don't stress. I'm a very type A person, I need everything planned and laid out but I realized that your big day only happens once so better enjoy every single minute with your partner. Book a good wedding planner and trust your suppliers. They're all working together to make your big day beautiful and memorable."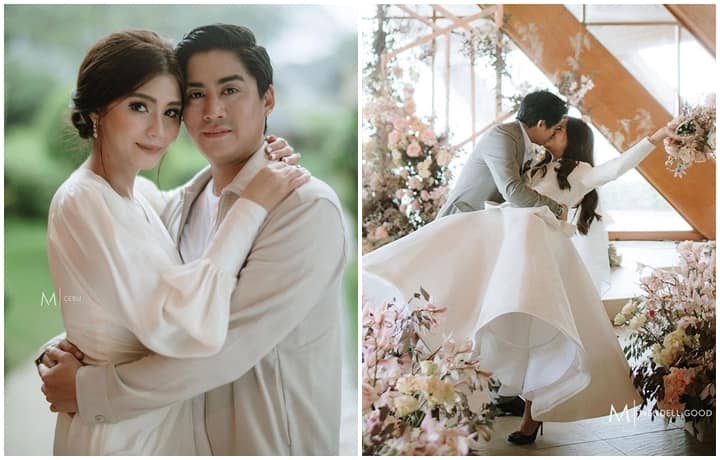 The Lim-Enciso Nuptials
The Lim-Enciso Nuptials
Tell us something about your dress.
"I was never a fan of big parties and have always preferred intimate celebrations. Even when I turned 18, I only celebrated in a club with my friends. When I first watched Sex and The City the movie, I knew that Mr. Big and I were on the same boat. We felt the same way about big wedding and upon seeing Carrie Bradshaw's dress, I knew that I wanted my wedding dress to look just like that—classy, understated, structured and comfortable. Mark Bumgarner put his magic touches on it and customized it to make it more beautiful. I may sound biased, but I think my dress is better than Carrie's because it's a dress made by one of my favorite Filipino designers!"
Tell us something about your hair and makeup looks, and accessories.
"I chose to fly in Memay Francisco and Vien Nueva, who has been my glam team since forever. They both know what looks good on me and with the nerves I'll be feeling on the morning of my wedding, I knew I wanted to be surrounded by people I'm comfortable with. For my hair, I wanted my Creamsilk curls because it's the style I've always felt more beautiful in. As for my makeup, I went with a fresh and more natural look.
"For my accessories, I'm so lucky because both my mom and my future mother in law spoiled me with jewels before I got married. I made sure to wear every single one." For her something blue, Vern wore a pair of blue Manolo Blahnik heels.
Tell us something about your groom's outfit.
"Ben is a very simple guy. He wore his favorite suit, pair of shoes and belt—nothing new, nothing fancy."
Details:
Number of guests: 45
Ceremony venue: Ocean Pavilion, Shangri-La's Mactan Resort & Spa
Reception venue: Helipad Garden, Shangri-La's Mactan Resort & Spa
Date of wedding: Jan 30, 2021
Wedding Planner: Stanz Catalan for #stanzlifestyleplanner
Photographer: Oly Ruiz and Paolo Nierves of Metrophoto
Videographer: Jason Magbanua
Sounds and lights: Zion Production
Caterer / Resort: Shangri-La's Mactan Resort & Spa
E-invite designer: Jean Yu
Bridal gown designer: Mark Bumgarner
Bridal robe: Happy Andrada and Eve The Label
Florist/event stylist: Gideon Hermosa
Host: Holly Dychangco
Entertainer/s: Duo | String Edition Show Violinist | Jake Juleus Gacang
Jewelry designer: Manila Diamond Studio
Officiator: Hon. Mayor Junard "Ahong" Chano
Cake maker: Trina Ang of Cake Couture
Hair and makeup artist: Bride and sister - make up: May Francisco | hairstylist: Bienvenido Nueva
Bridal shoe designer: Manolo Blahnik
Wedding hashtag: #BENwaitingforeVERN
Transportation: "Special thanks to @airtaxi.ph for safely flying our guests from Manila in."
Photos by Metrophoto (@mymetrophoto @metrophoto.cebu @dmetroman), courtesy of Vern Enciso

Check out our exclusive interview with the then newly-engaged Vern Enciso and Ben Lim below: