Marry Me At Marriott Was A Grand Bridal Event To Remember
It's time to celebrate life's biggest milestones the Marriott way
Celebrating life's biggest milestones is back with a vengeance, as the eighth year of the much-awaited wedding industry event, Marry Me at Marriott took place. After their three-year hiatus, the extravaganza continues as the magical night of fashion, food, style, and celebration was in full swing. The highlight of the event was the spectacular showcase of bridal fashion care of some of the biggest names in the local fashion industry, namely Albert Andrada, Andrea Tetangco, Debbie Co, Happy Andrada, Jazel Sy, Joe San Antonio, Julianne Syjuco, and Randy Ortiz.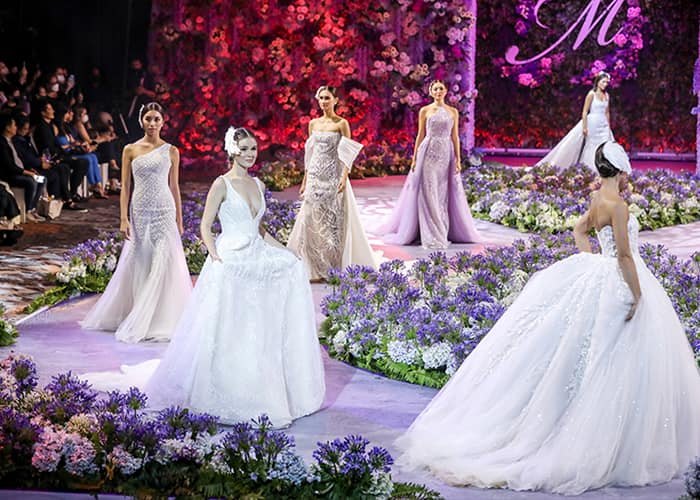 Fashion Show
Fashion Show
The show, which took place on a Very Peri-inspired runway, was a sight to behold. Models were decked out in jaw-dropping ensembles, and celebrities walked as designers' muses—all awe-inspiring and providing much-needed inspiration for future couples planning their Big Day.
The evening was peppered with beautiful experiences, and visual feasts, care of the featured event stylists and florists, the likes of Flower House by Gary Dacanay Weddings and Events, Amantefleurs Event Styling by Julius Villamante, Blooms 2110 Event Styling by Allen and JP, Sabrosas Events and Talent Management by Elizabeth Palomares and Henry Reyes, Amelia Blossoms by Marinell Marcelo, and Jacqs Florals by Jacqueline Wong. Every booth was filled to the brim with inspiration, and eye-popping details that truly make life milestones all the more special.
What's a special event without scrumptious food? Guests were treated to delectable delights, care of Marriott's "The Big Chef" Meik Brammer and his culinary team. For couples who are into anniversary parties and gatherings, Chef Meik's Vol au Vent of Pacific Salmon, Spinach and Roquefort, Roasted Beetroot, Turkish Feta cheese and Candied walnuts, Shrimp al Ajillo on Spanish Toast with Extra Virgin Olive oil and Garlic with Pepper Relish are great ideas. The highlight of the food showcase was the Lechon de Leche.
Coming of age definitely deserves to be celebrated with sumptuous food like Louisiana Baked Lobster in Filo wrap and an assortment of sweets to wrap up the milestone, and the wide array of pasta choices fit for everyone's liking. Chinese cuisine was also a big hit, with Ting Hun dishes like Vegetable Dumplings with Black Truffle and the Wok Fry Tiger Prawns Station. To end the night on a sweet note, desserts like Lychee Cremeux and Mandarin Orange Fruit were offered.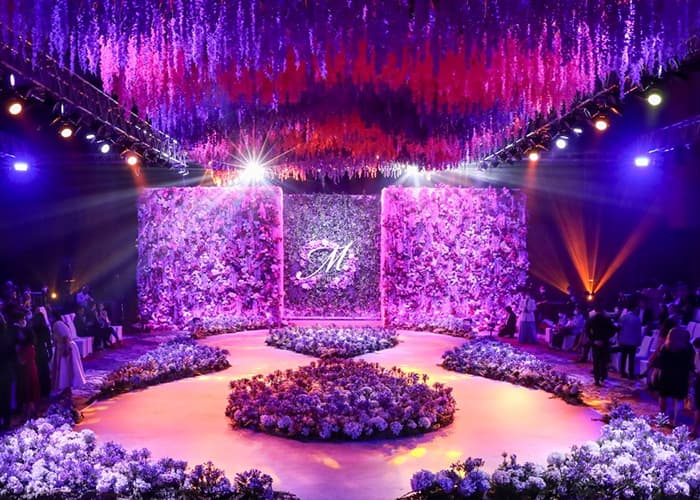 Marry Me at Marriott
Marry Me at Marriott
The main event were the wedding food choices. The start of the ensemble was the US Angus Striploin Coated in Herb Crust with Mustard, Creamy Horseradish, Pink Peppercorn, Sweet Corn Hash, and Goose Liver Croquette. A display of six towering intricately-designed themed cakes added to the grandiosity of the pre-event celebration venue, serving as eye catching centerpieces, thus crafting that well simulated experience of different milestone moments.
Marriott Moments for a cause
In partnership with Marriott Hotel Manila's sister hotels Sheraton Manila Hotel, Clark Marriott Hotel, and Sheraton Manila Bay and in cooperation with Courtyard by Marriott Iloilo, Marry Me at Marriott is going beyond the glitz and glamor as they make every moment count with the upcoming "Marriott Moments A Fair" happening on July 23 and 24 at the brand new MGBX of the Marriott Grand Ballroom. A special upgrade on package is in store for those who will have confirmed bookings for all kinds of events made from June 25 to July 24. A portion of the proceeds will also go to the Save the Children Foundation.
To know more about Marriott Hotel Manila, call (632) 8988 9999 or visit www.manilamarriott.com. To keep up on their latest offerings, follow @manilamarriott on Facebook, Instagram and Twitter.