EXCLUSIVE: Ycoy Sitchon Of La Belle Fête Talks About The Details Of TJ Monterde And KZ Tandingan's Wedding
We interviewed the woman behind the wedding planning team of TJ and KZ. Plus, check out some never-before-seen photos from their stunning wedding
TJ Monterde and KZ Tandingan's wedding is, no doubt, one of the most beautiful weddings we've seen this year. Despite an ongoing health crisis, this couple got to celebrate their union with a magical, picture-perfect party. In a way, this is not just a celebration of the start of TJ and KZ's marriage, it's also a celebration that's special to the local wedding suppliers who were among the hardest hit by the COVID-19 pandemic.
After months of having to rethink their business strategies, considering the quarantine-related restrictions, these local wedding suppliers got to flex their creative muscles again with an intimate, out-of-town wedding. What's even better is that they got to collaborate with these celebrities and music artists, making this event doubly special.
TJ Monterde and KZ Tandingan's wedding was held last August 28, 2020 in The Farm at San Benito, Batangas. They kept this a secret for more than a month, only revealing yesterday that they were already married. The wedding reveal coincided with the premiere of the official music video of their song "Can't Wait to Say I Do," which was first uploaded on KZ's YouTube channel. The MV featured a duet of the newly-minted husband and wife, with scenes from their wedding preps up to the moment they said "I Do" in front of a 300-year-old mango tree.
The music video of "Can't Wait to Say I Do" captured the fun and laid-back personality of TJ and KZ, as well as their artistic sensibilities. As for the overall look of their garden wedding, it was utterly breathtaking with its rustic-romantic vibe. KZ acknowledges that all this was made possible by their trustworthy team of suppliers, who overcame quarantine-related challenges and went over and above expectations.
Check out this gallery below to see some never-before-seen photos from TJ Monterde and KZ Tandingan's wedding in The Farm at San Benito, Batangas: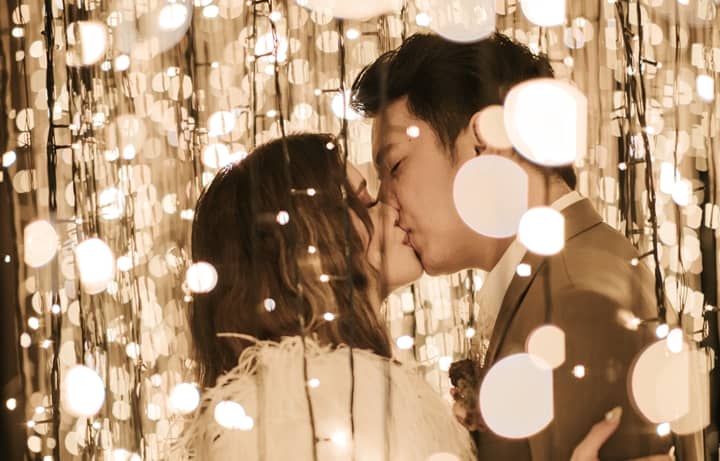 TJ Monterde and KZ Tandingan's Wedding
TJ Monterde and KZ Tandingan's Wedding
We interviewed La Belle Fête founder Ycoy Sitchon to know more about this celebrity wedding that surprised and wowed us all. La Belle Fête was in charge of the concept, planning, and coordination for the wedding of TJ and KZ. Here, Ycoy broke down all its details from the conceptualization to the execution.
What's the concept of their wedding?
"TJ and KZ opted for an elopement wedding. An elopement wedding is typically thought of as running away without telling friends and family, but that definition has immensely changed over time. Before, there was a negative connotation attached to it being as spur-of-the-moment, lackadaisical affairs. Now, an elopement wedding means that you are tying the knot and celebrating with just yourselves and your loved ones, or a small gathering in a minimal, more casual fashion, frequently out of town. The beauty of an elopement wedding is that there are endless ways to curate and highlight the wedding elements. It is blending both traditional and non-traditional elements, making your day exactly what you've envisioned."
What was the original plan for their wedding, pre-pandemic?
"In January this year, we began planning their August wedding with a completely different vision—a mountain wedding attended by at least 100 people. But the pandemic pulled the rug out from under us, most specifically that it was logistically impossible since most of the guests and their parents would travel across the country. The planning was a game of 'wait-and-see' as we prepared for Plans B, C, and D with the ever-changing circumstances that happened in the months leading to the wedding. By June, with all the cards laid, they decided to push through with the intimate wedding as they didn't want to continue putting off starting their lives together. They also received the blessing of their parents to hold the wedding even without them physically present.
"The next crucial step was to look for the perfect venue while prioritizing everyone's safety and following the government's mandated guidelines. By July, we finalized the date (their original wedding date) and the venue. From the initial and limited options among various restaurants in the metro, I had a 'this is it' moment when I went to the Farm at San Benito for one of my wellness treatments. With their strict protocols and testing procedures prior to entry, it was deemed the perfect venue to provide the safest environment and an ethereal space for our concept. It may not be the mountains, but the fact that they could indulge in nature and picturesque scenery would not sacrifice our original wedding plan.
"With a few friends and guests, the wedding was heartwarmingly festooned with intentional details. Their families, especially their parents, who reside in Mindanao, could not fly and be with them. Still, we found a way to connect them as if they were personally experiencing the soul-stirring moments through a high-quality livestream experience using multiple camera setups."
What were the style directions/requirements of the couple?
"Free-spirited and kind-hearted, their few requests only included candid imagery, artistic aesthetics, and a fun wedding. All the rest, they entrusted to us. As they embraced our suggestions from theme to color palette, the program itself, and in-betweens, they also grasped our need to ensure a safe event. Hence, we laid out the protocols and conducted multiple testing procedures before the event. The series of testing would give us ample room for plan Bs if some were COVID-positive, most specifically the key people. It would also give us the highest probability that everyone who would grace the event is symptom-free. We also cascaded the safety rules to event suppliers from isolation after testing, the SOP of mask-wearing, social distancing, handwashing, the disinfection of equipment, and sanitation of the testing center, ceremony, and reception venues."
How was it like working with TJ and KZ?
"We presented the concept to TJ and KZ, and they entirely loved the ideas we suggested. We had one month to prepare everything. To say that TJ and KZ are the ideal clients one could ever have would be the understatement of the year. Both extremely respectful; they trusted our vision and guidance while we brought their personalities front and center."
What are the most noteworthy details of this wedding?
"KZ wore non-traditional bridal ensembles. A purveyor of 'you do you,' she didn't see herself wearing a dress. True to her character, she donned a white blazer and pants with chunky heels. To complete the look, she wore a string of huge, shiny white pearls around her neck. The mermaid curls complemented the rad-ethereal look.
"They exchanged wedding gifts before the ceremony. KZ gifted TJ with a pair of shoes, and TJ gave KZ a special microphone. As coffee lovers, we incorporated coffee elements throughout the design (bouquet and tablescape) and booked a coffee cart that served the best-brewed coffee drinks for the cocktails. TJ also loves plants so we aimed for a natural, authentic look for the ceremony.
"They got married under the iconic 300-year-old mango tree of The Farm, which is believed to project energy and healing powers. They fell in love with this tree the moment they saw it when we did our ocular."
What are the highlights of the ceremony and the reception?
"KZ and TJ requested Ebe Dancel to sing 'Bawat Daan' for the bridal march. Standing in for her father, who couldn't be with her physically, her second dad Martin Nievera walked KZ down the aisle.
"The program was short and sweet, but nothing short of amazing. Mixing traditional with non-traditional, we did some wedding traditions. They had their first dance, cake cutting, and wine toasting. The guests were served with sumptuous vegan and pescatarian menu specially curated by Chef Archie of The Farm. After their heartfelt thank you speech, TJ and KZ surprised everyone with a duet (a new song they wrote together) that moved everyone to happy tears.
"There were also heartwarming speeches by their friends during the program. Perhaps the advantage of having an intimate wedding is being able to forge that deeper and more personal connection with everyone who is present."
What exactly were the challenges in mounting an event in the midst of a pandemic?
"Working under the new normal is not an easy feat. Our work as planners and coordinators doubled if not tripled despite the plummet in guest headcount. Taking care of the whole wedding itself is one thing, but ensuring that we do things right and safe is another. There is no room for mistakes, in a nutshell. The limitation in the number of people is also a teething problem for us, suppliers. The magnitude of the workload and hours are the same, but we have to spread ourselves too thin to do the work of six or more staff. And we have to do it efficiently, lest things will fall through the cracks.
"Additionally, the perpetually changing guidelines and quarantine impositions are other stumbling blocks that we have to leap over. The clear 'wedding timeline' that typically starts a year before is now a thing of the past as we have to devise plans daily, at times hourly as changes come along. But the gift of having the best clients like KZ and TJ makes everything worth it. We glide with the thin ice and potholes smoothly because the planning was stress-free. At one point, TJ quipped, 'The only time we got stressed was when we asked ourselves bakit 'di kami nai-stress? Is this normal?' And the same thing goes with us."
How have you pivoted your business to cope with the new normal?
"Amid the catastrophe that is COVID-19, several engaged couples were faced with a difficult decision on their wedding plans. When the pandemic rummaged the events industry, the initial options were very black and white: either postpone or cancel. To fill the gaps, we, La Belle Fête, as wedding planners, came up with creative possibilities to answer our clientele's conundrums and help the whole industry thrive.
"We wanted to survive the direct 'hit,' but at the same time, retain the sophistication and respect in our craft—our pièce de résistance. We started to connect with our clients, guiding them in the months when they are lost and confused about what steps to take as plans are put to a halt. Left with only two choices, postpone or cancel, our role as wedding planners took center stage at this poignant time. The call to evolve and be creative harnessed our prowess as wedding professionals. We devised and concocted more options: to go for 'minimonies,' elopement weddings, micro weddings, or intimate fêtes with the opportunity to celebrate the bigger one at a later time."
What's the best piece of advice you can share to couples who are considering holding a wedding during this time?
"I always tell my couples that it is the ultimate act of courage to get married and live the vows 'for better or worse' in the face of a pandemic. Marriage, like life itself, is a rollercoaster ride, full of euphoric highs and terrible lows. And it is the real test of commitment now to remember why you are committing to each other as you grapple with intense emotions and get lost within the confusion, struggle, and vulnerability.
"So my bit of advice is to delve deeper into your core and recognize why you want to do this in the first place and choose to make the commitment. When you remember the reason, it will be easier to move forward with the plans. Cliché as it may sound, your hearts will lead you to the right path and decision. Pledging your vows is a brave belief that life and love do not stop and that better days are ahead.
"If there's one silver lining to everything that the pandemic showed us, it emphasizes the real meaning of commitment, marriage, and what truly matters. It is an opportunity for us to see the value of how strong love and partnership is—it weathers challenges and hopes for the best. It also paves the way for us not only to adapt but to evolve. The world has changed massively, and the same thing goes with the way we live our lives.
"COVID-19 serves us the best lesson: life is indeed short. So plan the wedding. You do not need to sacrifice your dream wedding/fête; you just have to be creative and innovative—and safe!"