Core Sliders, Resistance Band, Ab Wheel—3 Killer Tools To Get The Abs Of Your Dreams At Home
Here's how you can use Manila Athletica's personal fitness equipment for tighter and more sculpted abs
There are two important elements to achieving flat and sculpted abs that you can flaunt in your next bikini OOTD: a good, healthy diet and a solid core workout. Diet alone can help you shed off some fat around the tummy area, but to get that beautifully sculpted abs—and for overall health, as well—introducing core workouts into your routine is super important.
There are many kinds of exercises that you can do at home—yoga, pilates, jump rope—but not all of them will specifically target your core area. Also, some of the most popular core exercises like planking can be a bore to do.
For optimal results, mix-up your exercises by introducing some personal fitness equipment that will help you explore more moves and routines.
Manila Athletica is an online fitness store that offers affordable but quality personal fitness equipment. The owner, Aencille Santos, is a fitness and weightlifting enthusiast herself, so you can trust that she only chooses equipment for Manila Athletica that she herself will want to use.
She shares three of the most hardworking equipment she has for the core, and what exercises you can do with each equipment to achieve the abs of your dreams.
Core sliders are some of the most unassuming of personal fitness equipment, but they're also some of the most effective in increasing the intensity of your workout. One side of the slider is grippy for your hands or feet, and one side glides easily on the floor to create what's called an "instability surface," which forces you to engage your muscles the whole time.
Core sliders are also some of the best equipment for low- to no-impact workout. This means you can level up your workout using only your body weight, without the need for additional weights. At Manila Athletica, they come in four eye-catching candy colors—lemon yellow, classic grey, strawberry pink, and mint blue—which don't just look aesthetic, but will also motivate you to workout.
Get Manila Athletica's Candy Core Sliders here.
Summer Rainbow Bands
The best thing about resistance bands is how effective it is an overall core strengthening equipment. The thing about abs is that you don't just simply work out to achieve abs; sculpted abs are just an effect of a strong and solid core. And when you want to work your core, you're not just going to be working your belly. The core includes a whole set of muscles that wrap around the front, back, and sides of your abdominal area, as well as your hip, glute, and pelvic muscles. And doing resistance exercises with a resistance band is very efficient in targeting all of these muscle groups.
What we love about Manila Athletica's Summer Rainbow Bands is that instead of the usual slippery and sticky latex, it's made with an inner rubber anti-slip feature that will latch on to your legs during workout. They come in three strength variations to match your strength and workout needs—light at 25-35 lbs, medium at 40-50 lbs, and heavy at 45-70 lbs—and in beautiful summer gradient colors for your workout OOTDs.
Get Manila Athletica's Summer Rainbow Bands which are currently on sale here.
Basic Ab Wheel
The Ab Wheel is one of the most classic exercise equipment and really, it does what its name suggests: work on your abdominal muscles. What makes the Ab Wheel a one-of-a-kind equipment is that it trains what is called "anti-extension." Anti-is what keeps you from overarching your back, which protects your spine and builds shoulder mobility.
For an affordable but durable ab wheel, check out Manila Athletica's Ab Wheel here.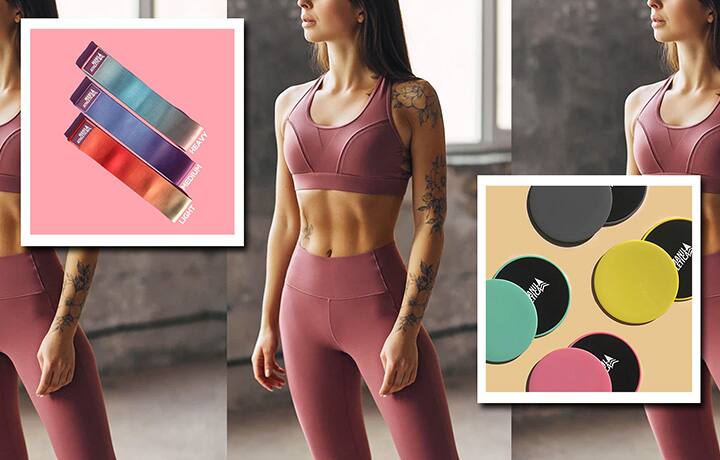 Core exercises
Core exercises