Move To The Beat Of The Music With The Hippest Indoor Cycling Class
The first ever indoor cycling studio in the Philippines gives us another reason to treat our bodies with love, sweat, and gratitude!
The much-anticipated event of Electric Studio gathers the country's fitness savants and enthusiasts for another breath-taking Electric Rooftop Ride at Fairways Tower, BGC. Now on its fifth year of fitness and positive attitude, Electric Studio partners for the second time around with Under Armour Philippines, to support the unique platform that the training studio embodies; "The fact that last year's rooftop ride classes sold out in less than a minute just speaks of the passionate and close-knit community that Electric Studio has built, and we at Under Armour are more than willing to support this endeavor again," says Under Armour PH.
At the event last February 22, Metro.Style had the opportunity to join the launch at the top of Fairways Towers, and rode to the beat of the DJ's music as the sun sets. The event was packed with people who share the same love for their bodies the way Electric Studio represents Love, Sweat, Gratitude.
After the illuminating experience, we got the chance to meet the CEO of Electric Studio, Kristina Sy, who greeted us with a warm hug as we sat down to do an interview and shared with us how she turned her vision into reality.
"Indoor Cycling was something that I really enjoyed. It was finally a workout that I found that didn't feel like work. It was something that I really looked forward to when I was in New York, and working crazy hours [but] I would always still find that 45 minutes to just get away and re-focus," Kristina began sharing. Working in a corporate company for twelve years made her seek for an outdoor solace which led her into discovering her passion for indoor cycling.
You will feel like you are just having fun, enjoying the music, getting a workout, and before you know it, that's [already] 45 minutes and you're done! It's so efficient, like a head-to-toe cardio and weights. So once I experienced that, I just knew that this had to be something we could bring to Manila.
Looking back at the time when she started her first pop-up in Salcedo, she recalls how challenging it was to build a community where fitness revolves on the idea of how many calories you shed, "I really wanted to focus less on the physical. During that time, if you look at all the ads on fitness before in 2015, it was all about losing weight, it was all about being Bora-ready." So instead of following the fitness trend at that time, she decided to build a community that doesn't just focus on being physically fit, but actually focusing on a healthier mindset and well-being.
Never will you hear us talk about weight or about calories, because all of these things are fleeting. If that's your end goal, then once you've achieved it then you're done. So we really wanted to focus on long term goals like how do you become mentally stronger, how you become healthier, or just a break from reality—we just wanted to create something that embodied that and shy away from what people used to think fitness.

Now that they recently opened their 4th studio in Molito Complex in Alabang, the community of Electric Studio just keeps getting bigger and better as they continue to inspire people with the values that their training studio creates, "It's really crazy how this community got so strong and everyone just believes in the same thing. Everyone has that high and energy—everyone wants to help each other out. It's not about competition here, or like I can sprint faster than you. It's just everyone having a good time and everyone supporting that."
For those who are planning on trying indoor cycling for the first time, here are some tips instructors Jam Muñasque and Gigo de Guzman have for you:
Do not overthink.
You are never going to know if indoor cycling is for you unless you go for it. According to Jam and Gigo, people have a lot of excuses as to why they're hesitant to try spinning. Reasons vary from being scared of the intensity of the workout, to being intimidated by the pace and choreography. But, if you really want to step up your fitness, just take it one class at a time.
"Come in with an open mind and get ready to just get loose and find the magic of Electric. You know, sometimes all you just need to do is let go, don't have any preconceived notions about what the workout is going to be. Come in, listen to your instructor and have a good time, and you'll fall in love with it," Gigo says.
"Sometimes you just need not to overthink too much. You just need to go for it. If indoor cycling is not for you, then it's not for you, but the most important thing is that you actually tried," Jam adds.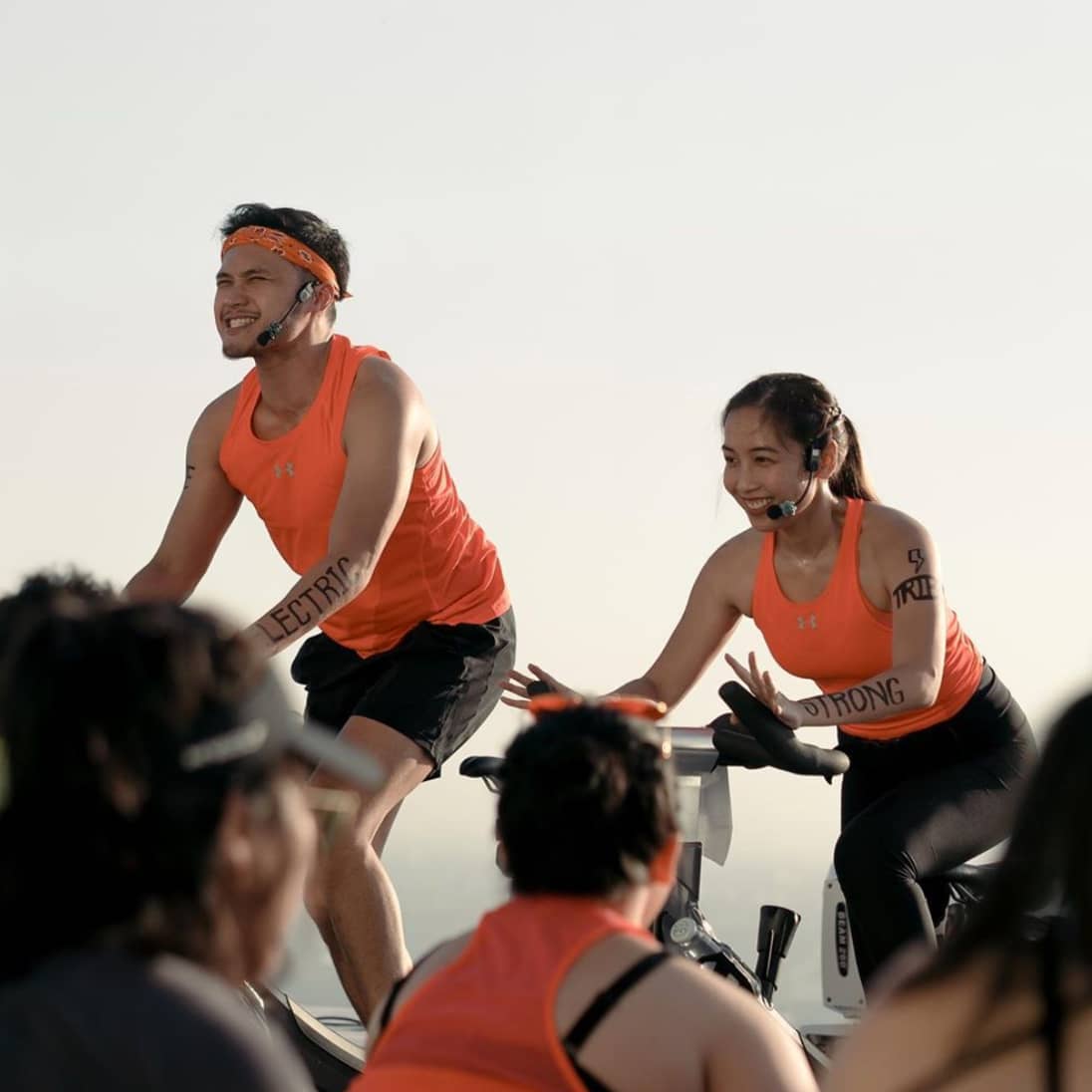 Left: Gigo, Right: Jam | Instagram @electricstudio.cycling
Do not feel discouraged.
Some people may feel discouraged whenever they try indoor cycling for the first time. They might feel weak and that the workout is too hard for them. It is possible to compare one's progress from other riders. However, according to Jam, it is unfair to oneself to do so because the regular riders have been spinning for months, or even years. So, don't be discouraged! Just allow your body to get used to the workout and soon you will easily enjoy it.
"If during your first ride you get overwhelmed, don't get discouraged. In fact, I encourage first time riders to just take it easy, it's all about getting the feel of how we do things, how we do music, how we do choreography. It's more about observing. Just like all things, it takes some getting used to, " she says.
Just enjoy the workout.
Indoor cycling is definitely a full body workout. Since it's heavy cardio, it builds your strength and endurance if you do it consistently. They use choreography to strengthen the core and use weights to tone the upper body. But it's more than just a workout. It's an experience for you to enjoy! The atmosphere of the studio allows you to immerse yourself in the class and just have fun.
Gigo shares that indoor cycling is like a party. "The lights and music take you away from the workout. Before you know it, the class is done, and you got a great workout!"
For inquiries about their indoor cycling, visit electricstudio.ph
Lead photos from @electricstudio.cycling and @kristinagsy