Fitspiration: Singer, Triathlete, Motivational Speaker Elle Adda
"My journey to healing became my journey to self-awareness which is now the journey to my complete health, strength, happiness, and contribution to the world."
Once in a while, we come across people who are undeniably inspirational. One such woman is Elle Adda, a multi-hyphenate who has overcome life's many challenges and trials to become the woman she is today. At first glance, one would think she simply lives a fantasy life—living by the ocean, an incredibly toned body, an active lifestyle, a wonderful career. But reading her story and what she has decided to be despite life's storms just proves that anything worth having does not come easy.
Through years of discipline, self-motivation and self-discovery, Elle has emerged to become a woman we all could learn from these days—a woman of grace and resilience. Having six-pack abs is just a bonus. Read on to learn more about this fascinating fitspiration!
Tell us about yourself and what you do now, what your passions are, and how you keep fit.
I am a French Filipina multi-disciplined artist, athlete, producer, and motivational speaker. I grew up studying music under my grandmother, the Philippine National Artist for Music, Andrea Veneracion. I continued my studies as a scholar of The Philippine High School for the Arts, as well as the American Musical and Dramatic Academy. I spent 10 years producing, directing, and performing for various concerts, productions, races, summits, and events across six continents in over 100 countries. I now produce creative and inspirational content for holistic health and well-being wherein I conduct immersive transformational workshops set in our nature home and active-health retreat center in Puerto Galera.
In order to support national impact, I created the Fuel to Flourish Organization, a global collective of diverse health practitioners collaborating in order to provide educational awareness, support, and inspire a culture of communities that take ownership of their lives by taking ownership of their health. In order to keep fit, I have designed my whole lifestyle of habits to best fit my personal needs, interests, and goals—from my active lifestyle exploring nature, yoga, and triathlons to my mindfulness meditations and active practice of personal development.
What kind of workouts do you love doing? How did you get into all these? Have you always been into fitness?
I grew up as a Yoga baby learning from my master yoga teacher—my father. There was a time when my workouts used to be so regimented because I was quite competitive with running, OCRs, CrossFit, and Triathlon, etc. But now I've designed my workout to fit my play, adventure, and enjoyment. In Puerto Galera, my fiancé and I are physically active every day, with fun activities like open water swimming in the ocean, cycling up the mountains, running through the jungle, kayaking, free diving, hiking, wakeboarding, yoga, you name it. I LOVE BEING OUTSIDE, MOVING AND ENGAGING MY BODY MIND AND SOUL THROUGH NATURE…especially while listening to a book, podcast, or my praise music—IT LIGHTS MY SOUL UP!
How long have you been doing this and what are some of the challenges you've faced?
I suppose I have been active all my life, but the biggest lessons and milestone I have learned have come from my obstacles and challenges through health. Here are some examples to name a few. When my father was diagnosed with prostate cancer and told he would only have four months to live, I witnessed my father use natural medicine and yoga to heal himself. I learned that the body is capable of extraordinary things like healing itself, provided that we take the time understand it and learn how to meet its need.
When I got into a cycling accident at one of my races, the man who crashed right in front of me broke his neck and laid on the concrete unconscious bleeding before they helicopter evacuated him to the nearest hospital—I was traumatized from riding a bike. However I decided to take a stoic principle to action and face my fears through super small incremental steps at a time until eventually it led me to race and qualify for Ironman 70.3 World Championships. I learned that my fears are great teachers, and when I face them, they show me what I'm made of! We are stronger than most of us will ever realize.
My biggest challenge I would say, however, would definitely be when I had a nervous breakdown—I was overworked, over stressed, diagnosed late with ADHD, and a chronic anxiety disorder which was causing my immune and nervous system to shut down. I didn't realize that the main challenge that caused it was my mental and emotional stress, unresolved past trauma, self-limiting beliefs, and lack of self-worth. That breakdown became my breakthrough. My journey to healing became my journey to self-awareness which is now the journey to my complete health, strength, happiness, and contribution to the world. As Ryan Holiday says, "THE OBSTACLE IS THE WAY."
Describe a day in your life, and how do you manage to squeeze in time for a workout.
Its taken a while for me to manage my schedule but over time, practice, and consistency, I like to think I maintain balance to my physical, mental, and spiritual well-being. A typical day will start with me waking up to morning affirmations at 5am, box breathing in the cold shower, drink my supplements and make my way down the ocean to watch the sunrise. I have my cacao/ashwagandha coffee by the pier, I start praying and giving thanks to God, stretch, Wim Hoff breathing, meditate, and journal on my intentions for the day, then I finish it with a quick morning swim in the ocean. If Im lucky, I'll see my friends the turtles come say hello when I swim past the coral gardens.
After my morning routine, I will start my first work block wherein I'll do most of my creative composition. Afterwards, I will have brunch with my fiancé and go for a jet ski adventure with our French bulldog Ninja, to our favorite spot where we free dive the beautiful reefs of Puerto Galera. When we get back home, I will do a full body breath mind warm up before I start my second work block. I have various habits that help me get into flow state like Kapalabati breathing, power yoga, transcendental and loving kindness meditations.
My second work block includes learning and researching, and developing my crafts of music, wellness, and directing. I may also hold a live workshop here in the jungle or in the ocean with our local wellness community. We love to practice together as a community while we learn more about how to harness and direct our breath, body, mind, and intentions together as a collective.
After my second work block, I have my afternoon workout as mentioned which changes everyday. Whether I'm cycling to Tamaraw Water Falls with my fiancé or running up Malasimbo mountain, I love use this time in Meta-reflective states like prayer, meditation, or even listen to a great book and learn from a favorite podcast. Afterwards, I am ready to have an early dinner with my fiancé. We like to eat outside in the garden, the beach, the pier, the boat or the zen balcony—wherever the mood strikes us. We usually finish dinner at 5pm in order to start our fast for the evening.
I will call a family member or friend for fellowship and then I will start my last work block for the day wherein I usually conduct my community engagement sessions such as the bi-monthly online Zoom Mindfulness Workshops which I make free and open to the public, our wellness podcast called "Permission to Be Us", as well as my evening meetings with my global network of health professionals to brainstorm and collaborate ideas for our mission with Mind You (mental health systems) to help one million Filipinos by 2025 achieve better health, strength, and happiness.
I give myself about three hours to wind down before bed—where I take the time to de-stimulate my mind, relax with my fiancé and Ninja. We love to walk through the gardens and watch the fire flies as well as do our evening stretching or even watch a movie all snuggled up. My fiancé will end every night with evening affirmations, a gratitude prayer, and a sleep meditation. I use my knowledge from studying the science of cornerstone habits, bio-hacks, and behavior change in order to my time for productivity, play, passion, relationships, well-being, faith, passion, and enjoyment. At the end of the day, I try to design my day in harmony so that you can't tell which one is the other, haha!
What about your diet? Do you follow a strict regimen and how does it supplement your activities?
In order to sustain a fat adapted metabolism (where in my body can easily access fat for fuel) I go between Keto and Paleo nutrition plans depending on my activity levels and demands of my lifestyle that day. We no longer consume sugar and some other inflammatory foods. I generally sticky to high healthy fats, high proteins, low slow carbs. We try and get most of our ingredients from whole sources of food from the local market. Of course we have been known to have our fair share of cookies, chocolates, and cereal too! Sugar-free of course.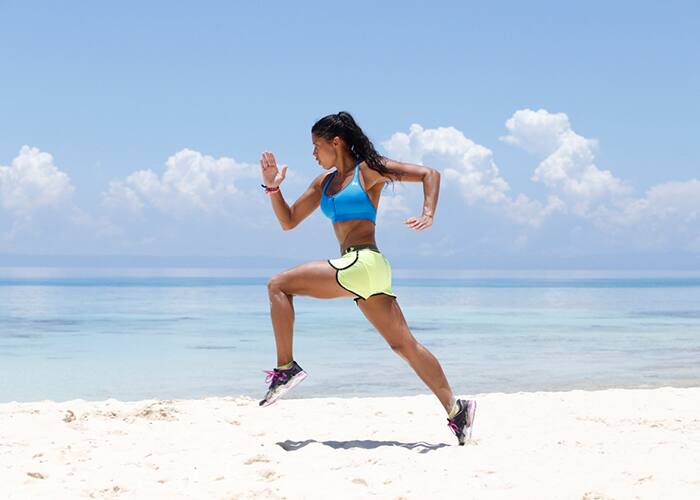 Fitspiration: Elle Ada
Fitspiration: Elle Ada
How do you treat yourself?
Of course it's fun to go buck wild every now and then! My fiancé and I will call it "scheduled and controlled binge sessions", where we still stick to our chosen ingredients but we don't count calories. We cook up a feast! However, my fiancé and I have strategically built our lifestyle of habits based on this one very important rule: TO LIVE A LIFE WE DON'T NEED A VACATION FROM. As a result, we try to personalize, and tailor-fit design everything in a way that we can still enjoy and appreciate—from our work, to our play, to our chores, to our relationships, to our workouts, to our food recipes, to our choice of books, music, to our challenges, to our stress relief. We like to say: OUR LIVES, OUR TERMS, OUR HEALTH, OUR CHOICE, OUR STORY. That mantra helps us so that every step can be a treat!
What is your best advice for women who struggle to keep a fitness routine?
In order to maintain any consistent practice or routine, you first need to prioritize your system of habit formation. I would highly recommend reading "Atomic Habits" by James Clear. Learning about the neuroscience of habit formation and behavior change has been INSTRUMENTAL AND FUNDAMENTAL to reaching ALL OF MY GOALS.
In order to be successful at anything, we need to be able to develop our control over our behavior. WILL POWER and motivation is not always consistent. But neuroscience usually is. That's why we have more awareness and understanding how the mind and body works, there are plenty of ways we can actually HACK into the process of wiring new habits (or neuronal pathways in the brain). Behavior change requires small incremental growth. We often mess up because we bite off more than we should chew, or we get too overwhelmed by the process and our harsh expectations of ourselves.
There's a beautiful saying: "How do you eat an elephant? One bite at a time." The key is to start with SUPER SMALL TINY HABITS—if you want to run on a regular basis, try just walking for five minutes a day. Make the task so easy and even enjoyable so that you reduce all friction points for your excuses. Make it super easy and enjoyable for you in the beginning so that you develop the most important part of the system: CONSISTENCY. Once you do any task consistently for 21 days, it becomes a habit, then it becomes automatic. Which means you don't need to struggle keeping a routine—because your brain is LITERALLY doing most of the work for you.
Once it becomes a habit, then you can always build upon it SLOWLY one small step at a time. Developing a GROWTH MINDSET, in my opinion, is also one of the most important things when trying to reach your goals: a growth mindset is outcome independent and simply focuses on the concept of PRACTICE, which is simply showing up and contributing to your WHY: CONNECT TO YOUR WHY: What is your intention for starting a fitness routine?
If you're disconnected from your higher intention or your why, you might be too focused on the task: the actual workout—you may not get the motivation you need. Motivation means MOTIVE FOR ACTION: connect to the WHY behind the task or the workout: for example: If your intention for working out is to simply look good, it may not be enough to sustain you when you want to quit. But if you have a higher intention or why, such as "I want to work out because I want to invest in my health and get better energy so I can show up as my best for me, my goals, and the people I love"—then that higher intention will have more power to give you the focus, energy, and motivation to follow through with your goals—especially when the process isn't always easy. In the end, there will always be resistance. But resistance is actually a very integral part of behavior change—the more we practice through resistance, the more we develop discipline, resilience, growth, confidence, and self-actualization.
Photos courtesy of Elle Ada