Fitspiration of the Month: Passionate Girl Boss Angely Dub
The woman behind Access Travel, and now Bulilit Kitchen and Happi Lab teaches us a thing or two about real self-care through exercise and learning to enjoy life
Oftentimes we find a hundred and one reasons to skip our workouts. Among these are feeling lazy, being too 'tired', saving a sweat session for 'another day' or right timing, and, worst of all—being too 'busy' to break a sweat. These excuses often snowball into years of inactivity, coupled with a less-than-stellar diet. One day, looking back, one would have many regrets while paying for hospital bills, because they were too 'busy' to take are of their body when they were younger.
One woman who understands this concept, and one who is passionate about her body and her life, is none other than Angely Dub, the woman behind the successful travel company Access Travel. Being an entrepreneur, it goes without saying that her life is pretty filled to the brim with activity, and being busy is a given. But the thing we admire about her isn't just her grit and passion for business, it's also her strong belief in being unapologetically yourself, living your best life, and taking good care of yourself in the process.
This month's fitspiration shares with us how she got into her fitness journey, and what made her successful in achieving her goals. Read on!
Metro.Style: Tell us about yourself. What do you do now? What are your passions, and how do you keep fit?
Angely Dub (AD): Honestly, this [pandemic] is the worst and best pivot I had to do in my life. I'm a very resilient person and very patient but this really pushed me to think out of the box and what I can do actually to survive financially, mentally, physically and emotionally. So, I think Access Travel was my schooling, and now everything that's happening to me is my actual exam. You know, after the schooling, ito na yung parang exam ko if I will really survive, if I'm a really good businesswoman.
So, I think I really took this time, not as Angely Dub of Access Travel, but really as Angely. This is the only time I've ever had in my entire life to discover who I am, what I can do, and what I can be outside my business and traveling. My passions include working out, I enjoy it a lot. I don't really consider it a passion because I think it's something everyone should be doing, because your body is only one, so I never really understood the concept of people thinking their health and their body are options. But these are not options, it [should be] your first priority in life.
So, the fact that some people think that it comes last, I think it's already a loss on their part. You know, I never wanted to just keep working and end up paying my money to the hospitals because I didn't look after myself, so that's what I've learned from my whole journey as of adulthood in my 20s; it's not just about enjoying life and making money, it's about taking care of yourself because I think getting old is a long journey, or adulting in general. We won't be forever young. Your will fly by quickly, and then your 30s to 60s—that's the real life that you need your body and everything to work well. You really need to start taking care of it habang bata ka palang.
What do I do now? Well I've started getting into the food business, I like to explore what I can do, then I'm also starting my podcast to help people, to share stories of real people. I think people are so lost right now because... Everyone is lost right now. I think that if we can contribute, this is the contribution I want to make from my end, by sharing stories of people I know from different industries. So, I'm going to call it "Life in Progress".
MS: What kind of workouts do you love doing? Have you always been into fitness?
AD: I've always done weight lifting ever since. That's the only workout that I really, really enjoy and it makes me feel very healthy and very strong. I think there's a misconception that if you lift weights magiging macho ka. That's completely wrong. So, I've been weightlifting for almost five years now.
You ask if I've always been into fitness, yes, I should say yes, but I only became serious about it for the last couple of years, around four years ago that I already had a trainer. I learned about food and everything. I think working out and health are not just about working out, it's really what you put inside your mouth—it's mindful eating. It takes years of learning, of self-studying what works for you and what doesn't. It's like a daily progress. It's not just like one-time na "oh, I know what I can eat and what I cannot."
The things I used to eat, let's say five or six years ago, hindi ko na kinakain 'yun ngayon because I know in the long run, I will regret eating all those foods. I really studied my body and myself, first before getting into everything, and I've always believed in getting someone who's an expert to help me—this applies to business and life, because in the end, we're all just humans, we can't really study everything even if we wanted to.
MS: How long have you been doing this and what are the some of the challenges you face?
AD: I think I've been at this for five years now. In terms of challenges, when I had Access Travel, I had to squeeze in working out while I was traveling, and the substitute would be walking. I never take taxis or anything. I always walk, and when I had Access Travel, intermittent dieting was a really, really big part of my life because I enjoyed life, while also taking care of myself. Access Travel wasn't just fun like an eternal vacation. It was my work. It was my life.
So it's just like going to the office, and I couldn't afford to eat and enjoy every day because if I travel 300 days a year, I would end up gaining so much weight if I ate everything I saw. So, I've always considered my trips as work and I ate always what I just needed to eat. I'm turning 30 in three months and I'm so proud that I was able to maintain my body way better than when I was 18 or 19.
MS: Describe a day in your life. How do you manage to squeeze it all in?
AD: Before the pandemic, with Access Travel, my day was just about traveling and managing my business so working out has been a really really huge part of my life because that two hours were the perfect time just for myself. I either look forward to weekends or vacations because I wanted to give myself everyday me time, to avoid burn out. I think people get burnt out when you wait so long to give yourself some time, so working out is the only time I give to myself every single day.
In the morning, I practice meditation. In a day, I always make sure I have three hours just for myself—no cell phone, no anything, just working out. In short, I think everyone deserves to have me time every single day, you don't have to wait for a spa day! I know how to prioritize what I need and what I want, and I know that I should make time for it because no one else will do it for me. I have to be there because I'm the asset of my business. I need my body. I need to be healthy for myself, for my employees and to do well in what I need to do.
I know how to prioritize what I need and what I want, and I know that I should make time for it because no one else will do it for me.
I've always believed that if you have a good body, and if you're stable physically and mentally, you will be able to manage any challenge given to you because it always starts with yourself. You need to be comfortable with that, and if not, everything else will suffer because this is your first home? That's why, up to now, I still don't get when other people say "oh, saka na ako magworkout,".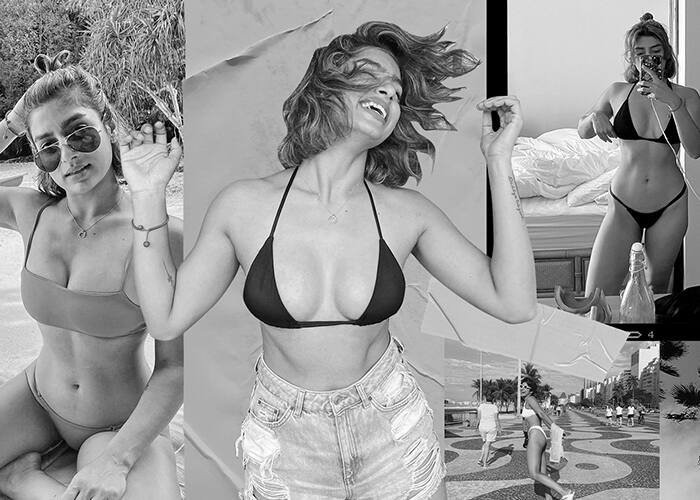 Fitspiration: Angely Dub
Fitspiration: Angely Dub
MS: What about your diet? Do you follow a strict eating regimen?
AD: I've always been a flexible person. I always tell this to everyone: Life is meant to be enjoyed. But I also know that I need to be healthy from the inside, but it doesn't mean that I deprive myself because food is not an enemy. Your enemy is your habits. Your level of discipline will determine if it's the enemy or not. So, I eat pizza, I eat cake, I eat everything, but it doesn't mean I put the whole thing in my mouth. When I eat pizza, it's just one slice. I get to enjoy my life. It's still in moderation and I still get to enjoy eating with friends and family.
We have to learn how to balance it. So, I save these moments of drinking alcohol with my friends and with my family, so when I'm alone, that's the time I eat red rice, I'm a bit more strict, but when I say strict it doesn't mean coffee without sugar all the time, no. I eat normal. No diet. I just have my own way of thinking in this sense: "Angely, you drank a high-calorie Starbucks drink yesterday, so today, it's black coffee for you." It's managing wants versus needs. It takes a lot of self-training.
MS: How do you treat yourself?
AD: Honestly, I'm all about self-care and self-love, but I know how to differentiate self-care from self-indulgence, because self-care is also correcting your bad sides, right? I think there's a big misunderstanding in people who think self-care is going to the mall and shopping worth P20,000. That's not self-care. That's you spoiling yourself for no reason, you know. Self-care is about learning, knowing yourself like how we put time to know other people.
There are times when I lose my temper, then I correct myself. "Angely, hindi mo na dapat ginawa 'yun", so next time I control it. That's what I call self-care—looking after yourself during bad and good times and also how you talk to yourself. When something happens, you know how you handle it. I think it's all about handling yourself, your emotions and feeling everything, especially during times like this.
That's what I call self-care—looking after yourself during bad and good times, and also how you talk to yourself.
People have always asked me how I move on so fast. I tell them that when I feel something, I feel it at that moment. I don't set it aside. I don't try to cover it. No band aids, because it never heals. I always try to heal and recover, then I'm new again. I think it applies to everything, even when we're working out emotionally, physically—whatever you're feeling, feel it at that the moment.
I've lost so many things this year, my Access Travel, my employees, my company, my office, everything. But I felt the pain for three months. Those were like the worst months of my life, but I'm okay now. I'm working on new things. I'm inspired and I got my inspiration from the loss that I felt. So that was the time I treated myself, I needed myself way more than I needed anyone, so I really comforted myself. Whenever I wanted to cry, I cried. When I wanted to eat, I ate, but it doesn't mean I ate the whole pizza. I believe we get our best inspiration at the lowest point of our lives.
MS: Your best advice to women who struggle to keep their fitness routine?
AD: When I started this journey, I wanted to look like Kendall Jenner, then I wanted to look like Kim Kardashian, then I realized, oh my God, I'm being so stupid! I can't be like them. They have a team for everything and I'm just a normal person. So, I unfollowed everyone that triggered my insecurities on Instagram. You have to accept yourself for whoever you are. I have stretch marks, I'm so skinny now, but I have stretch marks on my thighs and it's part of who I am, it's a part of my body.
And you can't compare your body to me or to Kendall Jenner, because we are all different. I can't be them. You can't be me. I can't be you. So, you really have to accept that there are things that are not under our control, including our physical appearance. So, all we have to do is to accept ourselves, and I know acceptance takes time. I know it's very cliche, but it's a journey, and it's a process that we should enjoy.
Actually, the reward for me is like, I work out every day then I just go to the beach for three days, that's where I see the difference. Don't do it just because you have a goal of attending a wedding or a beach trip. Do it because you want to be healthy. Do it for your body. Do it just because you want to feel good and confident with or without clothes, which means you don't really have to do it just because you have a trip or event to attend to, do it because you deserve it.