Check out 50-Year-Old J.Lo's Diet And Fitness Secrets Here!
We round up the ways in which Jennifer Lopez proves that age ain't nothing but a number. With consistent fitness and diet discipline, you too can look this good at 50!
Yesterday, Jennifer Lopez once again proved to the world that age is not a factor that will stop her from crushing her performance on stage—and we all surely took notice. At the 54th Super Bowl Halftime show, J.Lo, together with fellow Latina Shakira wowed the world with their electric dance moves and vocal chops!
While this performance goes down in history as one of the best, what's truly etched in our brains is the fact that a 43-year-old Shakira and a 50-year-old J.Lo can make their ages look 18 and 20. It goes without saying that their ripped bodies and unlimited energy is something we aspire to achieve in this lifetime!
We did a little bit (okay we confess, a lot) of digging about what exactly J.Lo does to maintain that million dollar physique—and boy did we discover a lot!
According to Harper's Bazaar, J.Lo likes mixing up her workouts. You won't see the actress-singer just relying on yoga or a boxing class. Instead, as evidenced in her many Instagram posts about working out, you'll see that the performer relies on workouts like the Tracy Anderson Method, pole dancing, and even weight training at the gym. It's a fact that the performer loves to dance, so all her routines also serve as additional workouts for her. She has shared that she also gets her heart rate up by breaking a sweat at least three to four times a week, in an interview with Hello!. As we can see, consistency is key.
Just eleven hours before yesterday's performance, fiancé Alex Rodriguez posted an Instagram Story of J.Lo pumping iron at the gym, and we couldn't help but be in awe!
She likes working out with celebrity trainer David Kirsch whenever she's in New York, as he is known for his quick 32-minute workouts that consist of short bursts of interval training. David has trained the likes of Heidi Klum and Kate Upton!
Apart from the constant movement J.Lo has been used to doing all her life, diet still plays a big part in how she ultimately looks and feels. One cannot simply thrive on workouts alone—a proper diet that serves your needs is key to looking and feeling good, even at 50.
One easy but often overlooked diet tip we could all benefit from is one that J.Lo strongly believes in: drink more water! According to Hello!, Jennifer says "Drinking plenty of water, especially before a workout, can help you push harder and get more out of your exercise routine. I try to keep my body hydrated and well rested after every workout," she said. "That way, I'm ready to hit it hard again the next day."
J.Lo is said to stay away from alcohol, caffeine, and sugary drinks, which contributes to her ageless appearance. In terms of her food, she likes going for lots of veggies, fruit, and fish—none of the processed, refined foods highly available these days. According to an interview with Hollywood Life, "She mixes it up but a typical day is salmon and a veggie-packed salad. She loves broccoli, peppers and zucchini with a drizzle of vinaigrette on top. She usually has a protein with quinoa for dinner. "If feels like rice and beans, which I grew up with. And I like pork and chicken — especially Puerto Rican style!"
It all may sound simple and basic, but the key to anything is discipline and diligence, and this is surely what J.Lo has. She makes being 50 look so good, and if there's anything we realized this week, it's that we want to look as good and healthy as she does when we do turn the big 5-0.
Scroll through the gallery for more J.Lo fitspiration: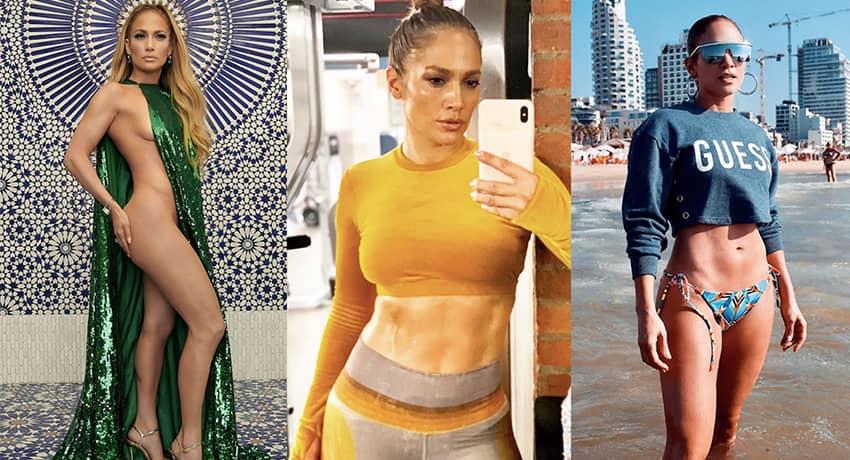 J.Lo Fitspiration
SWIPE LEFT OR RIGHT
TO NAVIGATE BETWEEN PAGES