Editor Diaries: All The Cool Things I Did At The New Nike Fort
It was a fun day of shopping, personal styling, and experiencing the stunning new physical store in BGC!
After nearly two years of shopping online, I was craving to visit an actual store. And granted, we've all become accustomed to shopping online more than ever before–the convenience, access and effortless shopping being just some of the perks, though nothing beats the joy of being able to shop in an retail store, talking to the store staff and learning about the seasonal collection, going through beautiful merchandise display, and actually being able to put your hands on products, is something we'll never grow tired of.
So, when I got the chance to explore the newly revamped Nike Fort, it was the perfect way to return to activity. The store has stood in Bonifacio Global City for nearly 15 years. In its new avatar, it is bigger, has a wide range of products for the whole family, and brings enhanced services that make it a sports hub for all.
An all-new women's collection in summer shades of salmon, pink and teal color way meets the eye when you enter. Nike Fort's totally revamped women's section has an extensive range of sports bras, performance as well as lifestyle shoes, tights and tees for a sport of your choice–be it running, fitness, yoga and outdoor or if you are simply a sneaker head.
The store has also launched Women's First Hour to give female members prioritized shopping and appointment hours to trial clothing without having to queue up. It's like having the entire store to yourself and spending the time with an entire squad of personal shoppers who will help you select the seasonal styles for the sport of your choice or simply for self-expression.
I took the chance to explore their personal styling services with their store team who provided information on the different kinds of shoes, the right fit for the sports bras as well as for the tights. Sports bras in particular are so crucial for your performance and the store staff worked with me to find the right one.
I'm not one to show a lot of skin, so with the help of the stylists, I was able to find a black ensemble of full-length tights and a dry fit shirt, as well as a leopard print sports bra. The cherry on top of the whole session was finding a cool pair of training shoes to match my look—and I ended up with a neon yellow and white pair of Nike SuperRep Go 3 Flyknit Next Nature training shoes, the perfect pop of color I needed!
And with that, I was set to join the HIIT workout session that had started to get pretty energetic with its beats. The HIIT classes I am told, will continue throughout the month of June so do check back on the schedules to get your adrenaline pumping. My workout prepped me for some more sport—basketball.
I am not much of a baller but the space inside the store was just too inviting to try a few hoops. I missed most but hey! It does add a dose of fun. Aside from basketball, the Experience Studio will also arrange group as well as 1:1 sessions to bring members five facets of fitness: movement, mindset, recovery, nutrition, and sleep, tailored to a person's health and wellness goals.
To make it easy for shoppers to keep track of the upcoming activities, the reception desk doubles up as a concierge service where members can register for kids and adult yoga, fitness workout sessions and other mind and body workshops. The reception desk also consists of the most alluring range of Nike By You designs.
The Hey Mady Collection highlights everyday cultural icons seen in Pinoy neighborhoods like makeshift basketball hoops in the barangays, or a sari-sari store that sells glistening pouches of ice tubig, or the carinderia where the air is filled with the smell of a deep-fried snack.
Bitto's design collection celebrates the spirit of the Philippines, in all its bustling glory–from the festive colors and designs we see from the roaring jeepneys, to the industrial paint palette of tricycles and sorbetes carts, these urban visuals are coupled with banig and local weave patterns in order to pay homage to our cultural diversity. Bitto has celebrated the strength of women athletes and their achievements through his wall mural on the exterior wall to inspire joggers and training athletes in BGC in their sport.
googoo&gaga's cheerful characters bring the bright elements from our national flag, our well-known street food, and majestic indigenous animals, a fun and cheery collection which is sure to strike a chord with kids (and adults too).
The kids section is a new space created in Nike Fort with footwear and apparel for toddlers all the way to grade school. There are many ways to personalize the kids selection through colorful aglets and dubraes, shoe tags and alphabets.
With a day full of sport and my bags full of sports gear, I am thoroughly inspired to return to activity. It is also Nike's 50th anniversary this May and the launch of Nike Fort brings raw optimism, pure energy and unlimited potential that is bound to inspire us to be champions of sport.
Check out more of the scenes from my trip to the new Nike Fort in the gallery below: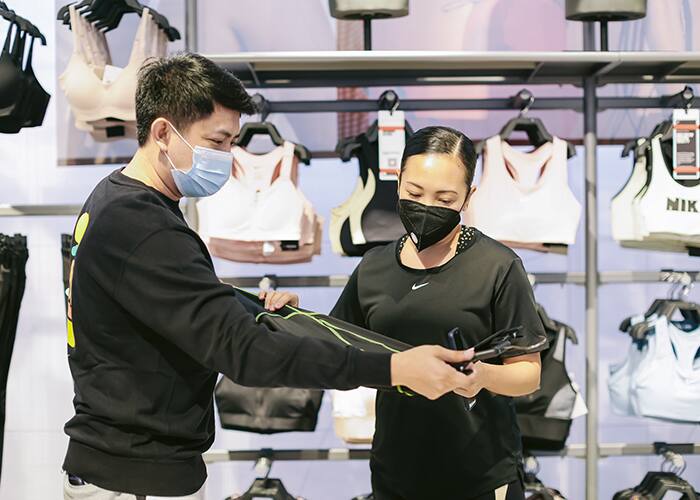 Editor Diaries
Editor Diaries