Here are Piolo Pascual's Best Fitness Tips for Staying in Shape During the Quarantine
Yet another celebrity who's aging like fine wine!
Even actor Piolo Pascual agrees that it's easy to live a sedentary lifestyle while in quarantine. After all, our beds may always be within our sight and it can get so tempting to just lie in it and doze off. While it's understandable to cope with pandemic fears by sleeping, eating, and binge-watching TV series, the actor makes it a point that he doesn't get into a slump. "I'm a victim," he admits to Metro.Style, "but I try to take my pre-workout right away to get the adrenaline pumping already early in the day."
Amid the pandemic, taking care of your overall health is paramount. No matter how busy you are, you have to squeeze in some time for physical activities even for just a short while. Here's how Papa P makes it fun:
1. The actor loves hiking early in the morning. He enjoys waking up early to catch the sunrise and hikes for 2-3 hours per day. "I hike early so it's not as sunny or it's not as hot yet," he shares.
2. He diversifies his workouts. For Papa P, it's all about discipline and consistency. "I try as much as possible not to miss out on my workout every day," he says. When he has a hectic work schedule, he hops on his stationary bike at home and rides it for hours. But if time permits, he plays badminton for four hours a day. His other workouts include circuit training and boxing.
3. He has a personal trainer. His personal trainer helps him focus on his fitness goals and makes them easier to achieve. "I hired me a boxing trainer that serves as a workout coach. He paces with me when I bike or when I run," he reveals. "It's good to have that kind of challenge so you'd get to be pushed as well."
4. He tries "to live as practical as possible." The star doesn't follow diet programs but makes it a point he eats healthy. "I stay away from fatty foods, I like to eat nuts, and I don't eat as much rice. I eat a lot of fruits and vegetables," says Piolo. It extends even to his drinks. "I don't do soda, I don't do colored drinks if it's not a fruit shake or if it's not a fruit drink."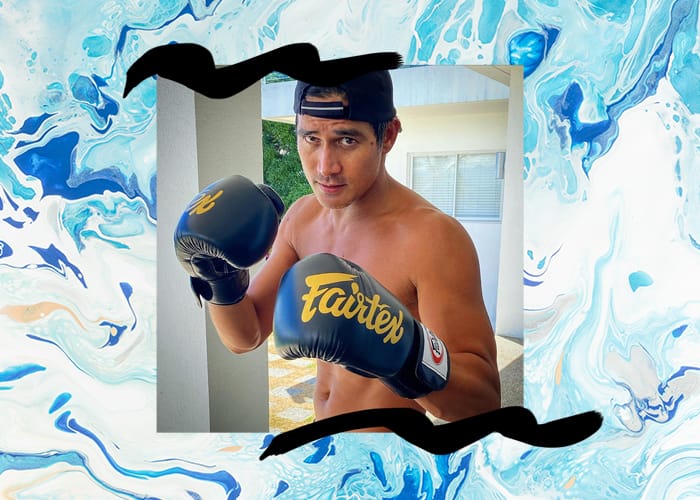 #Fitspiration: Piolo Pascual
SWIPE LEFT OR RIGHT
TO NAVIGATE BETWEEN PAGES
5. When it comes to health and fitness, he strives to create balance. "If you eat a lot, make sure to balance it out the next day. I love to sweat off the toxins," he continues. "I guess it's also important to use your energy to burn those fats. Don't live a sedentary life—that's downhill."
Lead photos via @piolo_pascual