K-Drama Pretty Boy Song Joong-ki Is As Fit and Youthful As Ever At 35
We spill his fitness secrets!
Song Joong-ki is everywhere these days—and we're certainly not complaining! This Daesang winner, humanitarian, childhood cancer advocate, and all-around pretty boy hit the ground running in 2021, starring in the sci-fi action flick Space Sweepers and playing the titular character in the dark comedy Vincenzo. He rose to prominence as Gu Yong-ha in Sungkyunkwan Scandal, and achieved international stardom for his roles in Descendants of the Sun and Arthdal Chronicles.
A former short-distance speed skater, Joong-ki represented his hometown three times in the national speed skating tournament. Unfortunately, he had to abandon his dream of becoming a professional athlete after suffering a knee injury in high school. However, his time in the military was perfect training for his stint as Yoo Si-jin in Descendants of the Sun, which was filmed shortly after his discharge. Does anyone remember his fighting scene with the American Special Forces leader? Or his famous workout scene? We do! In an old interview, he expressed regret to KBS 2TV's Entertainment Weekly, saying, "I don't have those same abs anymore."
That's definitely not true. A year after, he trained extra hard for his role as a Korean soldier in Battleship Island, working with his personal trainer, Danny Joe, on a quick two-week bulk program.
There's not much on Joong-ki's diet, but the actor mentioned in a Hi_High interview that he tried intermittent fasting by eating one meal a day, but gave up after a month. He revealed that he did it to delay the aging process, but we know he definitely doesn't need to—we all wish we could look just as youthful at 35! Joong-ki also does pilates every morning. It started as a means of aiding his recovery, but he fell in love with the exercise, sharing that his heart feels refreshed after each session.
While we wait for more news on his upcoming role in the crime thriller film Bogota, we're happy to watch him lawyer it up in his bespoke suits on Vincenzo! (PS There's a shower scene, and he's as lean as ever!)
Swipe through the gallery below for more SJK goodness. You're welcome!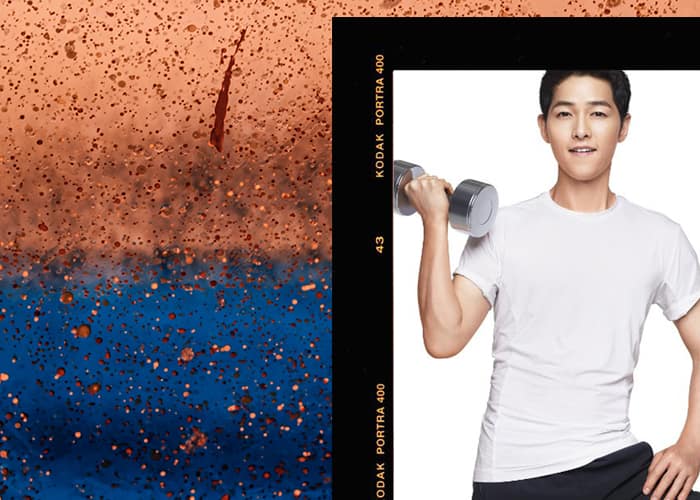 Song Joong-Ki Fitness
SWIPE LEFT OR RIGHT
TO NAVIGATE BETWEEN PAGES
Photo Credit: @hi_songjoongki
Photo Credit: Tencent/Hancinema
Photo Credit: Tencent/Hancinema
Photo Credit: Tencent/Hancinema
Photo Credit: TopTen10/Hancinema
Photo Credit: Marie Claire Korea
Photo Credit: Descendants of the Sun/Hancinema
Lead photos via @hi_songjoongki, Marie Claire Korea, and Tencent/Hancinema