Workouts For Every Season In Your Life
From toddler to pregnancy to senior life, there are so many benefits to staying fit and active
Did you know that exercising even just once or twice a week can reduce your risk of death from heart disease, cancer, and all other health causes?
Exercise is one of the most important things to keep our body in its healthiest shape, on top of good diet and sleep. But even though we are constantly reminded of this fact, many of us still fail to incorporate a healthy exercise routine in our daily lives.
For children and teens ages 6 to 17, the American Academy of Family Physicians recommend at least an hour of physical activity everyday. This could include playtime around the house, running around, or before Covid-19, even P.E. class and after-school shenanigans. Because classes are suspended because of the pandemic, the burden to keep kids active then falls on the parents and guardians.
For adults, around 150 minutes of moderate-intensity exercise is enough for a week. Even though adults are more preoccupied with a lot of responsibilities like school, work, and family life, making time for exercise makes all the difference.
In fact, even if you're a "weekend warrior" or someone who may not be hitting the recommended amount of exercise but would make time during the weekends to put in some decent physical activity, you're still 30% less at risk to die from heart disease, cancer, and other health causes compared to those who were completely inactive. This is according to a recent study published by JAMA Internal Medicine, whose bottomline was: "Doing something is definitely better than doing nothing: Any amount of activity helped cut the risk of dying of heart disease by about 40 percent compared to people who get no exercise at all."
Pregnant women also benefit so much from exercising regularly. If you are a healthy mother and your pregnancy is normal, regular exercise will help reduce back pain, ease constipation, may decrease your risk of gestational diabetes and preeclampsia.
The fact is that: exercise is good and healthy in every season of your life. And if that's convincing enough to get you off the couch and find something active you can do, allow us to walk you through some of the most optimal kinds of exercises to inspire you to get moving.
Take note that these activities are not hard rules for each age range. We are huge proponents of not letting age dictate the kind of exercise, activity, or hobby that you want to pursue. If you'd like to start roller skating at age 40, then go for it! If you're only discovering yoga at 50 years old, there are many variations that you can find to tweak every flow to your practice. What we're about to share are just suggestions and pockets of inspiration to motivate you to start moving or keep moving, whatever age or in whatever season you are in your life now.
Check out the gallery below for our list of workouts and exercises appropriate for toddlers to pregnancy to senior life.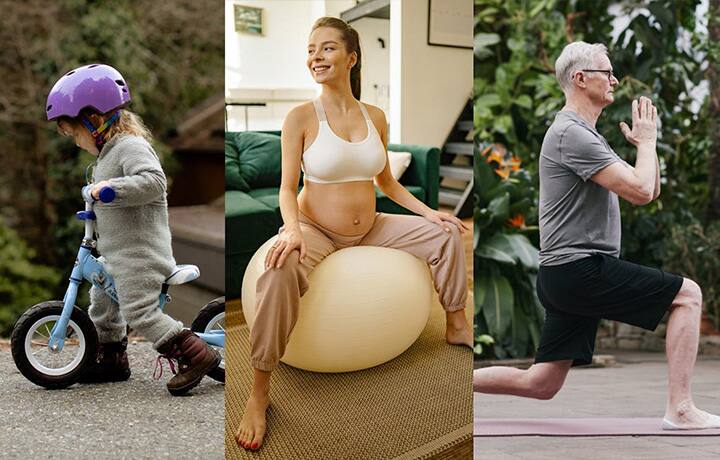 Workouts For Every Season Of Life
Workouts For Every Season Of Life