This Is How You Can Stay Healthy and Not Ruin Your Diet While Traveling

A vacation is never an excuse to let go of your hard-earned health and fitness!
You've been on an intermittent fasting diet for months now, or you've been religiously hitting the gym while having a diet meal service five days a week. Perhaps you're just trying to eat in moderation, not eating too much sugar or carbs to watch your weight. Whatever diet or fitness regimen you're on, you're most likely working on it day in and day out—so don't let a single trip ruin that and send all your hard work down the drain!
We asked AXA Philippines' Health and Nutrition Adviser (HANA) to give us some tips on how to have fun during our travel and still stay fit and healthy. Yes, this is possible!
Q: "I work out thrice a week but I'm going away on a week-long vacation. Considering my budget for accommodations, it's hard to find a hotel with a gym! Help!"
A: A gym is the city rat's no-brainer destination for working out, but exercise is not just limited to machines and treadmills! Remember, you're on that trip to explore new surroundings, so don't waste your time cooped up in a gym if you just want to keep your muscles working.
Instead of going for bus tours or jumping from one place to another on a chauffeured ride, go for guided walking tours, or tours where you can ride a bike, or hike. In fact, it won't even feel like exercise because you're seeing so many new things and places while you're at it.
Pro tip: Bring your trusty step counter gadget to make sure you clock in 10,000 steps per day or even more!
Q: "Traveling is supposed to be relaxing and invigorating. With the packed itinerary that I have, and with all the walking I'll do, I'm afraid I'll be too tired when I go back to work after!"
A: There are three things that you should keep in mind when you have a full day ahead. Pace yourself, stretch, and stay hydrated. Before you start off your day, stretch—just like how you would do it before a workout! And if you still can, sneak in a short, calming yoga before you sleep to stretch out all the muscles you've worked the whole day. You'll have a much better sleep that will recharge you for the next day.
It's also tempting to pack your itinerary with so many stops and side trips. But don't forget to give yourself lots of breaks in the middle, and allow yourself to explore one area before jumping on to another. And don't forget to always bring your water jug with you so you won't have an excuse to not stay hydrated. The last thing you want is getting dehydrated, especially when you're exploring a particularly hot or humid country.
Q: "Is it okay to break my diet during the trip? I'm afraid I'm going to lose all the progress I've made by trying out the local food…"
A: I always believe that having a "cheat meal" is okay, especially when you're on a diet most days of the week. Because when you deprive yourself too much, you're more prone to mindless binge-eating. In the same way that you allow yourself to have that cake or milk tea once in a while, allow yourself to have a good, satisfying meal when you're traveling. Food is one of the most important parts of a culture, and you'd want to try the cuisine of a country you're exploring—so don't waste that by eating junk.
The trick is to plan your intake of cheat meals: prepare for those indulgent meals. If you know you're going to splurge on a big, greasy meal for lunch, eat a lighter and healthier meal for breakfast and dinner. Fitness website Nerd Fitness has this rule to never eat two bad meals in a row so you space out the guilt-ridden meals with guilt-free ones.
Q: "I've once had traveler's diarrhea and it ruined my trip! The money I was supposed to use to enjoy the sights and eat the local food went to paying medical bills. How do I ensure I'm protected from health-related setbacks while on a trip?"
A: Medicine is one of the things you should never forget to pack. If you know you're prone to sea sickness, stomach acid attacks, asthma attacks, or allergies, make sure to keep your medicines with your person at all times because you'll never know when an emergency would arise— especially if you're in the middle of a trekking trip in the middle of the forest, and the pharmacy is three hours away.
Accidents and medical emergencies (knock on wood) are also unforeseeable things that you can never be too prepared for. If you're going traveling, especially abroad, make sure you're insured whatever happens.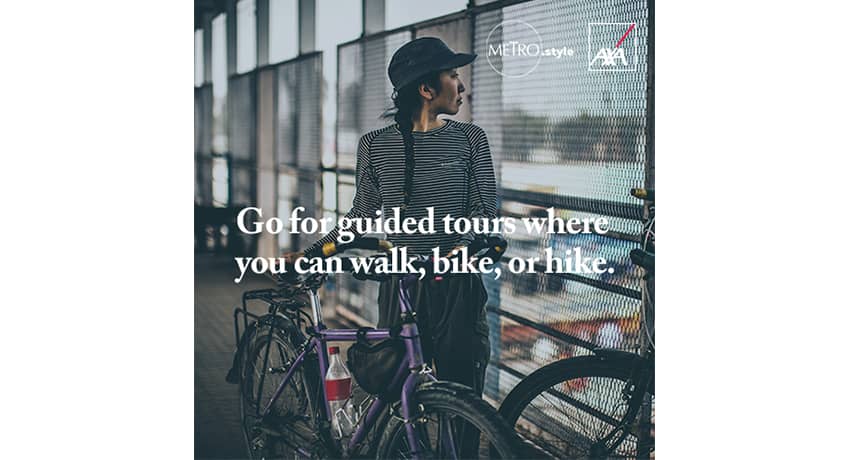 AXA is one of the leading life insurance companies in the country with health insurance products that can help you prepare for unexpected setbacks, wherever you are. If you travel frequently, AXA has Global Health Access, which is a comprehensive health solution that provides world-class medical coverage so you have access to the best medical treatment available to you anywhere in the world. That's up to Php150 million worth of extensive medical coverage.
You might also be interested in Health Max, a comprehensive health plan that provides lifetime coverage against 56 major and 18 minor critical illness conditions. This health plan can protect you until age 100 and can provide up to Php10 million in health coverage.
Live life to the fullest – travel while you can and keep your health in check. If you want to start your journey towards being more health-ready and more secure, you can check out these health insurance plans from AXA Philippines here.