Do You Smell? Causes Of Body Odor And Natural Ways To Treat It
We debunk the need to block sweat and find you natural ways to stay fresh all day
Everyone sweats. Especially with the peak of summer upon us, it's impossible to not sweat when you're working out, going out for errands, or even just when you're working in a non-air conditioned room.
But real talk: we should stop blaming body odor on our sweat. Because one, sweat is a regular response of the body to regulate its body temperature; and two, sweat is actually odorless.
So, who is the culprit for persistent body odor? There are three things that you might have to consider: hygiene, lifestyle, and possible medical conditions.
Hygiene and bacteria
While sweat is odorless, what makes our sweat stink is when it interacts with bacteria present in the surface of our skin. Our body is coated with tons of bacteria—both good and bad—creating a healthy skin biome. But areas like the armpits are one of the biggest concentrations of bacteria, with more than a million bacteria per square centimeter. This creates the perfect environment for body odor. And when sweat and bacteria interact, that's when unpleasant odors start to develop.
Lifestyle
Apart from the bacteria that naturally resides in our body, the things we eat and use may also have an effect on why certain parts of our body smell.
Joshua Zeichner, director of cosmetic and clinical research in dermatology at Mount Sinai Hospital in New York City, says that in many cases, when the body could not properly break down certain compounds in the food that we eat, these foods then find a way to evaporate through our skin. So foods like garlic, onion, spicy food, and alcohol may be increasing your likelihood to smell.
Apart from our diet, what we wear may also be contributing to the smell. Some fabric conditioners have been discouraged as they prevent clothes from airing out properly. Synthetic fabrics used for our clothes are also not as breathable as natural ones, which may be hindering sweat from evaporating properly.
And of course, it's also a matter of environment. If you live in a more humid country like the Philippines, expect that you're more susceptible to sweating out. It's just a fact of life.
Medical condition
Sometimes, however, body odor may be a signal of something more serious happening in your body.
"Digestive system body odors, in particular, can offer some clues as to health-related issues," says Tamara Duker Freuman, a registered dietician in New York City. Some medical conditions like fish odor syndrome, liver disease, diabetes, and kidney failure may also cause you to smell funky.
But before you go running to your doctor for a diagnosis, check out our gallery below for a list of natural remedies to see if your body odor is just a case of hygiene and lifestyle.
Natural ways to treat body odor
Swipe through the gallery below: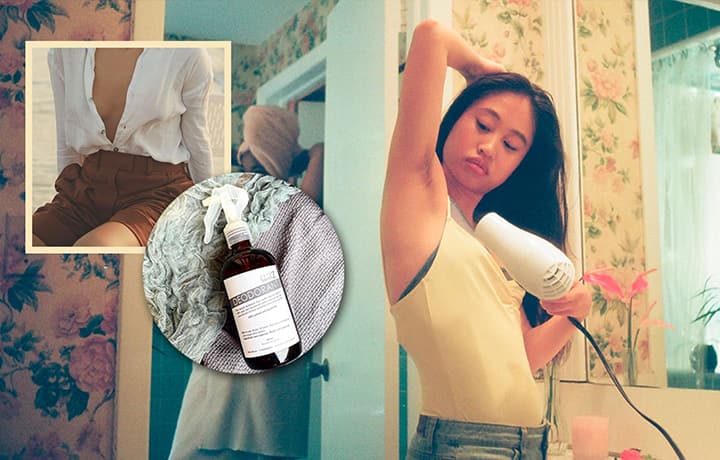 Natural ways to treat body odor
Natural ways to treat body odor