Face Masks Can Save Us From COVID-19. Here's Why.
Want to help flatten the COVID-19 curve? Wear a face mask. Contrary to what has been said about medical workers being the only ones needing it, the face mask is a vital item to preventing infection. Get on the face mask movement by making one at home!
Stay at home. Minimize the risk of COVID-19 infection. Practice social distancing. Wash hands. These guidelines have flooded our social media feeds, our television screens, and practically every chat group in the past three or more weeks. The COVID-19 outbreak in the Philippines has reached a confirmed whopping 2,311 cases, with 96 casualties.
This increasing number gets more alarming by the day, and for all of us at home patiently praying for the outbreak to end, there is more that we can do than just wait for the problem to solve itself: WEAR A FACE MASK.
Contrary to what has been going around in the past about leaving the face masks to health workers or frontliners, the Philippine government now officially asks everyone to wear a face mask, especially when stepping out of the house. The seemingly simple act of wearing one can and does save lives, and prevents the further spread of this deadly virus.
In the video that follows, the Czech Republic shares how they were able to significantly slow down the spread of the novel coronavirus in their country, compared to other European counterparts like Spain and Italy. It is high time we heed this call, and practice #Mask4All in our communities and in the entire country!
Our key takeaways:
1. Yes, you must practice social distancing and proper sanitation, but once you step out of the house, one thing you must be sure of is to wear a face mask.
2. Even if you do not exhibit COVID-19 like symptoms such as coughing or sneezing, a face mask is vital to slow down the spread of any virus and disease. As mentioned in the video, a face mask allows for 95-100% prevention of droplets from escaping your mask, thus protecting the people around you.
3. When you wear a mask, "I protect you, you protect me." Imagine being out, practicing social distancing, but still without mask and still have to talk, or have the occasional sneeze? These droplets scatter all over the place, spreading bacteria, germs, and possible virus to everyone else in the vicinity. This is irresponsible behavior at this point in a global pandemic.
4. Even if you do not suspect yourself to have COVID-19, wearing a mask is the safest way to go these days. In the video, they mention that "people are the most contagious first days without symptoms, that's why we need masks for all."
In a face mask campaign page dubbed "MASKS SAVE LIVES", they said that "Western countries are experiencing higher rates of COVID-19 infections compared to Asian countries because of the West's aversion to wearing masks.We need universal mask-wearing to aid in lowering COVID-19's virality." Let's follow in Japan, South Korea, Singapore, and Hong Kong's footsteps by making sure a mask is worn every single time!
The graph below exhibits the countries who have successfully slowed down the spread of COVID-19: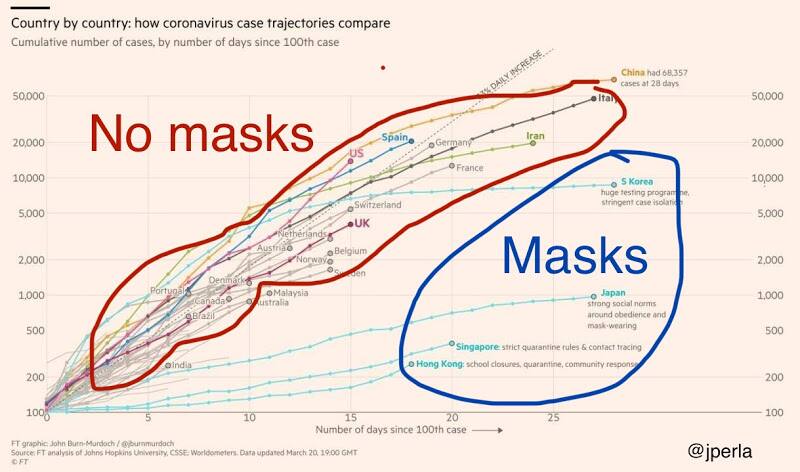 MASKS SAVE LIVES
But aren't face masks sold out?
Yes, the truth is, heading out to the local drug store or ordering online won't help these days—there just aren't stocks left for the public to buy these days. The medical-grade surgical masks as well as the N95 masks have been donated to the frontliners and other health workers, so it is our duty to find a way to make our own.
Yes! You read that right: make your own face mask at home! It's possible, and is easier than it seems. We at Metro.Style have published stories on how to make your own in a few easy steps, so you can get your DIY face mask project going. Check them out:
The video has shared scientific findings that have backed up their claim, and they are as follows:
- "We conclude that population-wide use of face masks could make an important contribution in delaying an influenza pandemic. Mask use also reduces the reproduction number, possibly even to levels sufficient for containing an influenza outbreak." Brienen, Nicole CJ, et al. "The effect of mask use on the spread of influenza during a pandemic." Risk Analysis: An International Journal 30.8 (2010): 1210-1218."
- "Any type of general mask use is likely to decrease viral exposure and infection risk on a population level, in spite of imperfect fit and imperfect adherence, personal respirators providing most protection." - van der Sande, M., Teunis, P., & Sabel, R. (2008). Professional and home-made face masks reduce exposure to respiratory infections among the general population. PLoS One, 3(7).
- Effectiveness of masks compared to respirators: Davies, A., Thompson, K. A., Giri, K., Kafatos, G., Walker, J., & Bennett, A. (2013). Testing the efficacy of homemade masks: would they protect in an influenza pandemic?. Disaster medicine and public health preparedness, 7(4), 413-418. PDF:
ResearchGate
- "However, during a severe pandemic when use of face masks might be greater, pandemic transmission in households could be reduced." MacIntyre, C. R., Cauchemez, S., Dwyer, D. E., Seale, H., Cheung, P., Browne, G., ... & Ferguson, N. (2009). Face mask use and control of respiratory virus transmission in households. Emerging infectious diseases, 15(2), 233. -
ResearchGate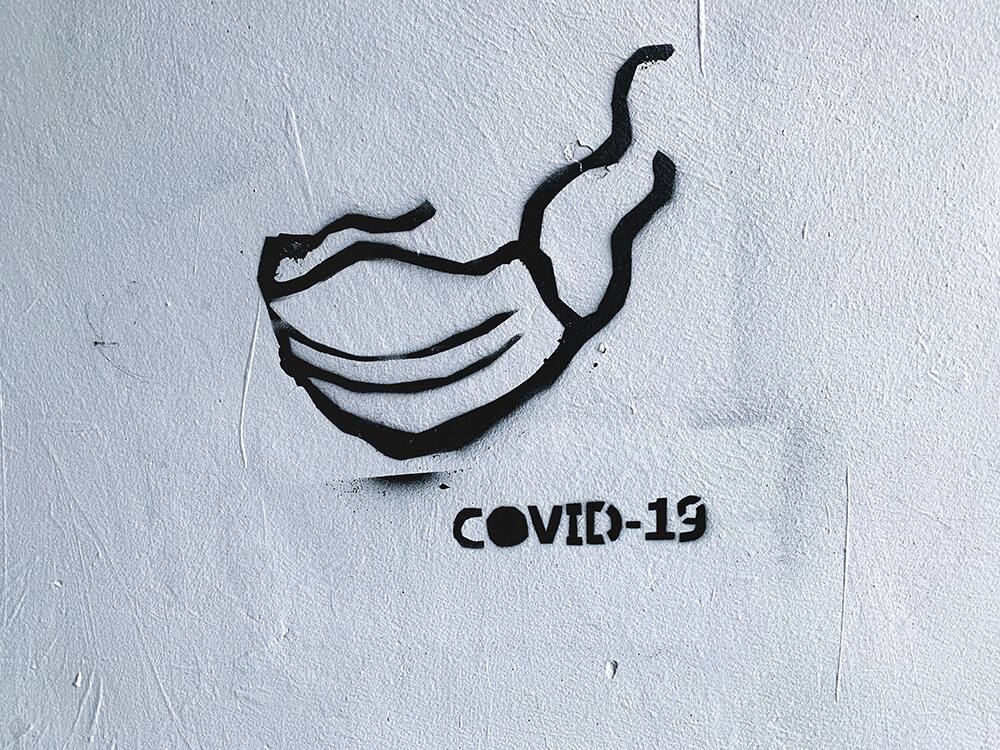 Flatten the curve. Stay at home. Stay safe. Practice proper sanitizing guidelines. WEAR A MASK. Together, we fight this pandemic!