Add to Cart: The Latest Face Masks To Try Today
Looking to upgrade your face mask game? Check these latest picks out!
Face masks—they're probably the number one item that's quickly become part of everyone's belongings this year. While we definitely don't find joy in the idea behind needing a face mask, we understand its importance and will continue to sport them until necessary!
Helping curb the spread of the dreaded virus is number one on everyone's responsibilities these days, and by wearing a face mask, the risk is already drastically lessened. Simply put: always wear a mask whenever you have to be out in public, or when welcoming outsiders into your homes. And while you're at it, go mask shopping!
Ahead, we round-up some of the latest face mask picks you can purchase, depending on what you need. Happy shopping!
UNIQLO AIRism Mask
Uniqlo is known for its AIRism line, and this month, they release their much-awaited line of face masks, perfectly useful for the times! The center of the AIRism mask has a filter that delivers bacterial filtration of 99%, blocking droplets and protecting one's skin from bacteria, virus-contaminated particles, and pollen. Each pack contains three masks, and is available in small (perfect for kids), medium, and large, and is available in black and white. The AIRism mask also boasts of a triple-layer structure that has UPF 50+ rating, which cuts 90% of UV rays. It's washable, and retains efficacy after twenty times of washing at 40 degrees using regular detergent. Available at all Uniqlo stores and in-app for P590/pack.
UNIQLO does not guarantee that the AIRism Mask safeguards completely against infection (infiltration). Avoid wearing the mask during strenuous exercise and physical activity or directly under the hot sun. The mask does not replace medical grade masks.
Fine Guard Superior Infection Prevention Mask (N95)
Here's a mask that also allows you to be mindful of the amount of single-use masks we've been consuming these days. Get more for your hard-earned money with a highly protective mask that's reusable and able to protect you from COVID-19. This imported brand is now available locally, and offers the Superior Infection Prevention N95 mask for P1,495. It employs Swiss technology for virus control, which offers self-disinfecting properties, a useful feature for masks! Check out the infographic below to see more of this pick's many advantages:
What's more? It is the only mask that's clinically proven to kill coronavirus. The Fine Guard N95 mask is available in blue and black in a comfortable design, via @fineguardphilippines.
The AMEN Mask
Want to protect yourself but also want to look good while you're at it? We pick AMEN for such a case. This brand doesn't only aim to create beautiful couture pieces that protect people from the virus, it offers help and hope to marginalized members of society, by sharing a portion of the proceeds of every sale. These masks aren't just aesthetically pleasing, they've passed the Crucial Mask Safety Test as well, which basically says it passed the particle suction test, light transmission test, breath test, and water repellent test, as well as being coupled with 10 PPE-Grade PureMasq filters that protects you from the unwanted elements. PureMasq filters are PPE-grade, and are made from non-woven fabric used in PPE suits. These are washable and reusable for up to five times.
AMEN masks range from P475 -P625 depending on design intricacy. To find out more, or to orders yours, log on here, and follow them on Instagram at @amen_ph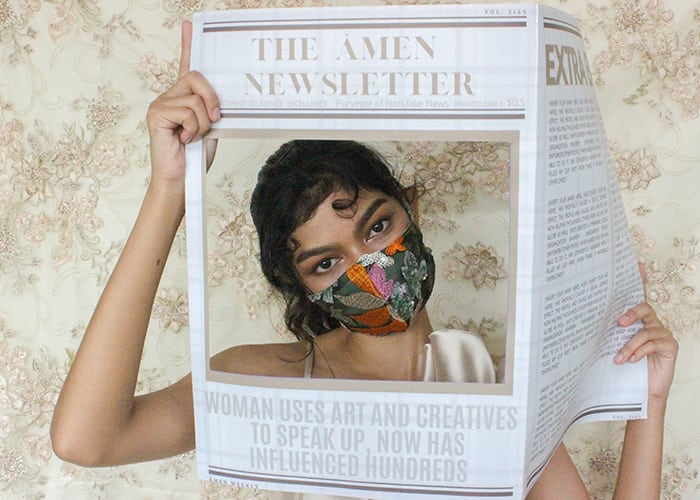 AMEN
AMEN