What To Eat And What To Avoid To Help Prevent Depression and Anxiety
Be smarter about what you eat
Maintaining overall health has become particularly challenging for many, especially in pandemic. While people stayed locked indoors to lower their physical risk for Covid-19, many people suffered from mental health challenges and illnesses as the world struggled to cope with the restrictions and anxiety brought by the pandemic.
The pandemic has indeed opened many people's eyes to the reality and the importance of mental health. Gone are the days that depression can be shrugged off and ignored. It's good that people are now more understanding and more vocal about mental health topics in general, whether it's overall well-being or dealing with mental illnesses.
This year, Unicef published The State of the World's Children 2021, which found that more than 13 per cent of the world's 1.2 billion adolescents (aged 10-19) suffered from a mental disorder. Tragically, almost 46,000 children of this age chose to end their lives in 2019, resulting in suicide as the 4th leading cause of death in children ages 15-19.
These are now realities we cannot ignore, and when it comes to mental health, since a lot of studies are still being made to really address the root causes and the possible courses of treatment, the best course of action is just to do whatever it takes to keep not just our children, but adults as well, as mentally sound as possible.
This is where food comes into play.
"Nutrients provide the fuel and building blocks that make up the structure of all our cells. And since our brains have never rested since it was created—within 8 weeks of conception—it has a very high demand for good nutrition," said Julianne Stefani Malong, the official nutrition and wellness coach of health and fitness app Rebel.
"As of date, there is no hard evidence that a poor diet can directly lead to the development of depression. However, a poor diet directly affects the structure and function of our brain, and ultimately, our mood. Which is why poor nutrition contributes to a downward spiral for individuals who are already suffering from anxiety and depression," she added.
Several studies have agreed that there is a relationship between poor nutritional choices, reduced day-to-day functioning, and emotional changes. These three elements can all affect and exacerbate each other, therefore causing a vicious cycle if left unchecked. This is why on top of good diet and nutrition, receiving support from a doctor or a qualified psychologist will go a long way not just in preventing mental imbalances like depression and anxiety, but hopefully, treating their symptoms as well.
We consult Julianne for some of her "must-eat" and "must avoid," and in addition to research conducted by Harvard Health Publishing, The Greater Good Science Center at the University of California, Berkeley, and Food For the Brain Foundation, we compiled a gallery of good and not-so-good food to consume when it comes to helping prevent depression and anxiety.
Swipe through the gallery below: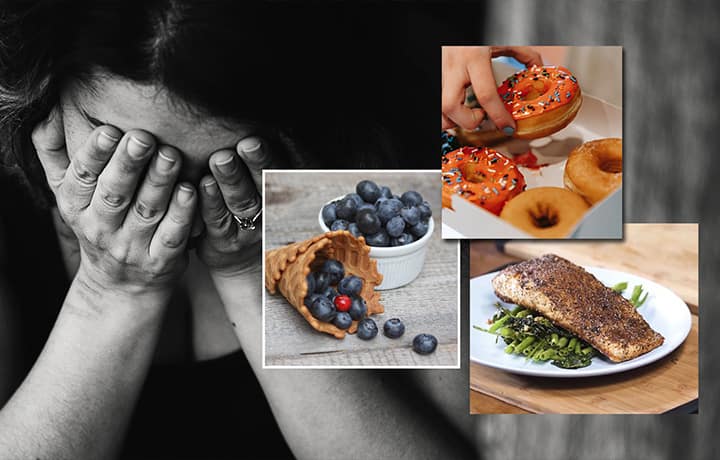 What to eat to Avoid Depression & Anxiety
What to eat to Avoid Depression & Anxiety