Practical Things To Do To Lower Your Risk For Breast Cancer
October is Breast Cancer Awareness month! Do your part and educate yourself and your loved ones about how to lower your risk for breast cancer
"Can I prevent myself from getting breast cancer?"
Technically, no, there is currently no sure way to prevent breast cancer. But just like the fact that there is no cure for cancer, there are many ways to reduce your risk of getting breast cancer through early detection methods, right diet, and maintaining good overall health.
Since October is Breast Cancer Awareness month, let's educate ourselves on what is breast cancer, why early detection is important, and what we can do to lower our risks for it.
The Centers for Disease Control and Prevention (CDC) defines breast cancer as a "disease in which cells in the breast grow out of control. Breast cancer can begin in different parts of the breast…and can spread outside the breast through blood vessels and lymph vessels."
There is no one sure way to prevent breast cancer, but the key to avoiding it is by understanding your own risks for the disease. This means there are risk factors that are just beyond your control, but there are things that you can control that may lower your risk to get breast cancer.
There are breast cancer risk factors that you cannot change.
A risk factor is something that makes you more predisposed to get a certain disease and when it comes to breast cancer, there are risk factors that you simply just cannot change.
Being born female, for example, automatically places you at a higher risk for breast cancer. According to the Breast Cancer Org, only 1% of breast cancer rates are detected in men. Did you also know that according to one study by the Philippine Obstetrical and Gynecological Society, the Philippines has the most number of breast cancer cases among 197 countries? In fact, 1 out of 13 Filipinas will develop breast cancer in her lifetime.
Apart from gender, age also plays a huge role in breast cancer risk. As you get older, your risk for breast cancer goes up.
Having a family history of breast cancer also increases your risk. About 5% to 10% of breast cancer cases are thought to be hereditary. And according to data from Cancer.org, if your mother or sister has breast cancer, that doubles your risk for getting the disease. In the world, about 15% of women with breast cancer typically have a family member with this disease.
Breasts are made up of fatty tissues and unfortunately, having dense breasts means you will have up to twice as much risk to get breast cancer than women with average breast density. Your exposure to estrogen also increases your risk, which means if you started menstruating early and menopaused later in life, you might have higher risk for breast cancer.
So what are risk factors that I can control?
Despite having a predisposition for breast cancer, you can still lower your odds by improving your lifestyle since many cancer risk factors are dependent on your personal behaviors, such as diet and exercise. Check out the gallery below for a list of all the things that you can do to lower your risk for breast cancer.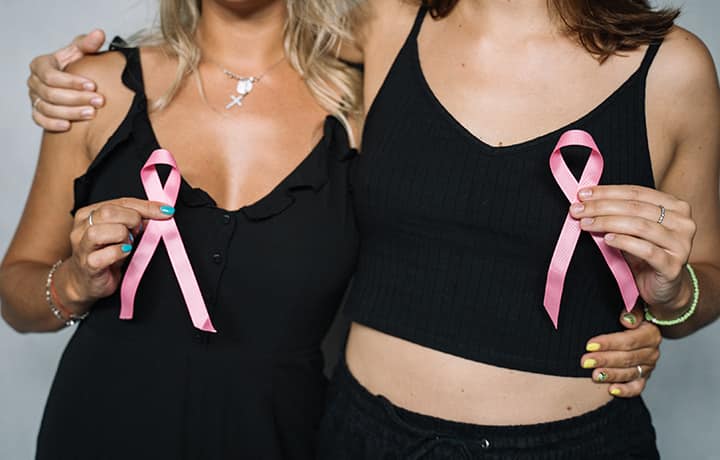 How To Decrease Breast Cancer Risk
How To Decrease Breast Cancer Risk
---
The importance of self-examination
Even in 2019, breast cancer continues to be the leading cause of mortality in Filipinas, says Manila Med. This is why if you've done everything you can to reduce your risk for the disease, the next best thing to do is to make sure you're diagnosed early if ever you get it.
Self-examination is the very first step in early diagnosis, and early-stage breast cancer is more likely to be treated successfully. While no single test can detect all breast cancers early, many organizations like the Breast Cancer Organization believe that breast self-examination increases the odds of early detection.
According to the Maurer Foundation, an organization dedicated to breast health education, breast examination should be performed monthly starting at age 18. Here is an easy-to-follow, step-by-step breast examination by the Maurer Foundation.