How Are Metro's Hip & Happening Moms Taking Care Of Their Kids Amidst This Pandemic?
We talk to supermoms Bianca Reinoso and Jackie Go to get some tips on how they're keeping their families safe and entertained at home
Dealing with the pandemic on your own is challenging enough; but having to surge through it with your family and kids' safety in mind puts it on a different level altogether.
It's been almost three months since Metro Manila was put under enhanced community quarantine (ECQ) and it's been weeks since we've been transferred to a more relaxed general community quarantine (GCQ). Despite this, the threat of the virus continues on for everyone, with fresh cases rising by the day.
We have seen many stories and examples of how families are dealing with the lockdown, coming up with their own versions of the "new normal" to help their kids survive through the many changes happening now in our lives. But how long will this persist? With the cure and vaccine far from sight, many of us are asking, "Is this the new world my child will have to get used to?"
Everyday, of course, is a challenge, and many of us are running out of creative ways to keep our kids occupied but safe at the same time. In the area of education, while some schools have started to transition to online learning, many are still lost as to what the next steps would be. In terms of family time, it's the first time for many moms to be spending this much time around their kids, without work or school to fill their time. When it comes to leisure, kids are left with so much energy in them but no outside world to channel it to.
With the world still unsafe, what can we do to make sure that our homes are sanctuaries for our kids to grow as healthy and well-rounded as they should?
We round up some of the things that can help moms adapt and adjust with their kids this pandemic season, and enlist the help of Metro's Hip & Happening Moms—Bianca Reinoso and Jackie Go—to answer these burning questions.
How do you explain the pandemic to your kids?
When the Covid-19 threat started, many of us thought it was going to be this short-lived health emergency that will soon subside and let us go back to our normal lives. But as days, weeks, and months passed, the more we understand that the world still has much to know about the coronavirus and how to stop it from spreading.
Despite the confusion and mystery that still surrounds the coronavirus, it is our task to help our kids understand as much as possible what little we know about it.
Jackie underlines how crucial the role is of the parents when it comes to educating the kids about important stuff like the Covid-19. She shares that even though they are aware of what's happening because of what they see on the news, she and her husband still has to make sure that they understand everything they watch.
For Bianca, it was important to look for the right materials that can be understood even by her younger kids. "Since my kids—especially my son, Juano who just turned 5 last May—are fairly young, I referred to online resources to help them understand more. My daughter, Liana, loved the podcast I made them listen to. Right after listening, she wrote what she learned from it on her diary."
Jackie also shares one of the best materials they've encountered to help explain the situation to their kids, Jasmine and Juro. "We also watched some documentaries and videos to further explain what's happening. One of the videos they enjoyed was The Great Realization by Tom Foolery."
What are the challenges of spending so much time with your kids and how do you turn those challenges into opportunities?
Missing the people you normally spend your time with is a common challenge for everyone, especially kids. In Bianca's case, since her kids were very close to her extended family and saw them everyday before the ECQ, not being able to visit and be with them proved difficult in the beginning.
"My kids are so close to my family. I remember one lunch, my daughter broke down in tears and blurted how much she misses them all," Bianca shares. To answer to her kids' needs, "My dad gave her (Liana) my late mother's phone line so she can get in touch with them anytime. I believe my dad was being strategic because he misses the two kids so much as well."
In Jackie's case, one of her biggest challenges was working and doing chores while taking care of her kids. "For the first few weeks, I was putting pressure on myself to keep them busy since they're usually enrolled to summer activities they want. Eventually we got the hang of staying home and being together 24/7."
Jackie has also come up with a solid routine for her kids so they can avoid hearing "I'm bored" inside the house. Creating a routine helps because it gives everyone a sense of structure in their lives, making things a little less chaotic than it can be, and gives Jackie time to work on her own stuff, too.
"On weekdays, after lunch, they stay in their room until 3 or 4 pm to read. If they're done with the book, we let them watch educational videos on YouTube to refresh their math skills and grammar. This also serves as my 'me time' a.k.a. folding clothes while watching an episode of my current series on Netflix/HayU/HBO or catching up with work and shooting content," she shares.
And instead of focusing on the challenges, Jackie says to appreciate even more the time that you now have with your family. "The perks of the quarantine is seeing my kids grow (literally, we measure their height by their door!), getting to know them, seeing what they like, and encouraging them to develop new interests, and just spending time with them!"
How do you deal with technology?
Unlike us, kids nowadays are exposed to so much technology right off the bat. This is why one of the hardest things for parents to balance is the right amount and quality of content that they can let their kids get online or from the television.
In Bianca's house, she lets her son, Juano, use technology responsibly by staying in touch with his buddies from school. This is one way of making sure that her son grows up without being alienated from the world and his friends. "My son has requested for video calls numerous times with his best friend. Who would've thought video calls would be the new play dates! I know he misses his buddies terribly and I can see he is also just trying to adapt to this new set-up."
In Jackie's house, she may let her kids browse through good and educational content online, but she has imposed a no-gadget day once a week. "Since they're tech savvy, we all agreed to have one day of no gadgets, where they can play and do whatever they want just to keep the balance."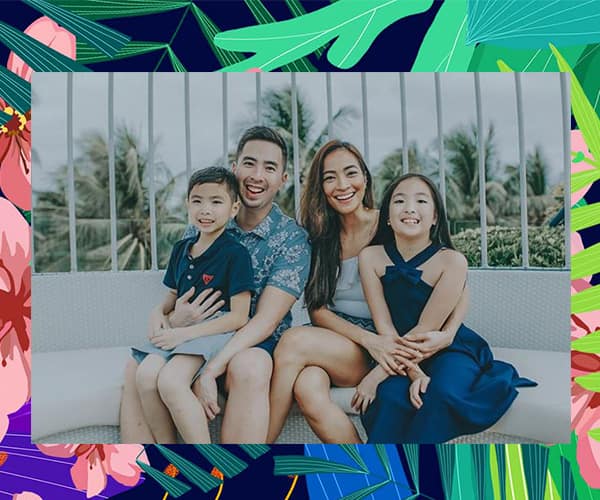 Jackie Go
Jackie Go
What kinds of activities do you do with the kids?
A huge lesson this quarantine: don't take this time with your family for granted, and grab the opportunity to make good memories with your kids. In Bianca's household, one of their bonding activities is that they would set a family movie night where they'd watch Bianca's all-time favorites from way back.
"My kids now love The Mighty Ducks series, School of Rock, The 3 Ninjas and ET," she shares. They're also introducing new activities to their kids like sports and fashion. "My husband and son have picked up on football—and I think he has the makings of an amazing athlete! Recently, I've also decided to take a break from my worksheets and told my daughter that the day's lesson is on style. We made an Instagram video on how to style a dress, 7 ways. I styled, she modeled."
Jackie, as well, is very excited that they now have time to play games with the kids. Apart from movie nights, "We've been doing after-dinner activities like playing board games or drawing."
Since both Jackie and Bianca are very active themselves, they've taken this opportunity to influence their kids to join in on their workouts. Bianca and her daughter Liana would do yoga together, which serves as a self-care routine and bonding activity for them. Jackie, on the other hand, has inspired her kids to start running on the treadmill or do basketball drills at least once a week.
Have you made any dietary changes or introduced new habits to protect your kids?
Since Covid-19 doesn't have a cure just yet, the best defense against it, really, is keeping a strong and healthy body. And since kids are always munching on candies and snacks, introducing healthy food into their diet early on is very crucial to help them develop good eating habits.
Bianca says she's lucky that her kids have always loved eating vegetables. So even though they didn't change anything major, she shares, "We've increased their intake of veggies and fruits. We also tweaked their vitamins for added protection."
In Jackie's household, she admits that during the first leg of the quarantine, they used food to keep themselves happy and distracted from the pandemic. "We're serial snackers so whatever we see online, we want try! But eventually, when May came and I realized this isn't a temporary set-up we're having, I had to consciously make sure we eat better than we did two months prior. So more fresh produce, less processed food."
Jackie adds that they might be more conscious now, but it's all about making sure that the kids are not robbed of the chance to eat what they enjoy, once in a while. "From time to time, we do indulge in treats because that's just how life is supposed to be lived. My goal is to make sure my family is healthy that when and if we need to go out, our immune system won't be compromised. So I feed them with nutrient-dense food. Nothing fancy, just good old home-cooked meals like chicken tinola or sauteed broccoli and carrots."
What are some of the lessons that the pandemic taught you and your children?
The pandemic has indeed taught us to become more resilient against any challenges, creative in solving new problems, and grateful for the things that we have and enjoy in our lives. And for moms Jackie and Bianca, they have learned so much about themselves and their families through this journey.
"I love my family so much and the pandemic made me punctuate this feeling even more," says Bianca. "It made me realize that when the excesses get stripped down, the things left reveal to be the most important ones in our lives—and my husband, my kids, my extended family, and my best friends are my needs. I have learned to be grateful for every minute and to make the most out of it because life is fleeting. That's why we should continue to make happy memories so that when all of this is over, we come out equipped and recharged."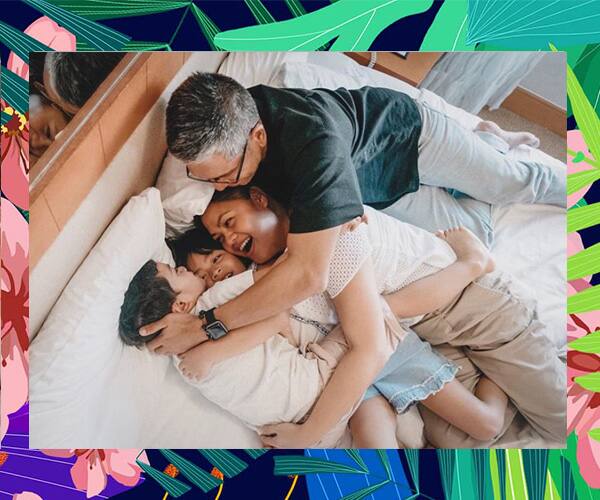 Bianca Reinoso
Bianca Reinoso
Jackie, on the other hand, has started to embrace the fact that the best thing you can do for your kids is not to shelter them, but help them become strong on their own.
"The pandemic made me realize that as a mom, I can only protect my kids so much. That there will always be things beyond our control and the best way to protect our kids is to prepare them for it, not shield them from it. Equip them with information and ask them for input on how they see what's going on and what they can do about it. I've learned from my kids as much as they've learned from me during these uncertain times and it feels so good to know that even though they're young, they're aware of what's going on," Jackie says.
She adds, "Cling to what is good. I appreciate this line all the more now. We were so busy living our fast-paced lives that when the pandemic happened, we were forced to slow down and take it easy. It may be tough at first because being confined pretty much goes against human nature, but through this time we were able to think about what's really important—whether it's learning about ourselves more or spending time with the people we love. At the end of this season in our lives, we all hope to come out of it as better people as we can slowly work our way to a new beginning."