How To Deal With Hot Flashes And Mood Swings The Natural Way
We give you more reasons to live a more natural way of life!
You start spending your nights drenched in your own sweat, and your days are filled with erratic emotional outbursts. Surprise: you're most likely nearing perimenopause or menopause.
Hot flashes and mood swings are two of the most common symptoms of menopausal transition. This is the time when your ovaries stop releasing eggs, your periods become more irregular and eventually stop, and your hormones start to go whack. Menopause transition usually lasts about seven years and even up to 14 years, so it's important to know how you can handle or even lessen the symptoms that come with it to make your life a little less uncomfortable.
When it comes to treating menopausal symptoms like hot flashes and mood swings, a lot of people will recommend hormone supplements and antidepressants. While taking these medicines have been found by various scientific studies to lessen hot flashes and mood swings for menopausal women, some women still fear the side effects of taking medications for a prolonged period of time. There are also some women like those who've had a prior history of invasive disease or a strong family history of breast cancer who are advised against taking hormones.
This is why more natural ways have become popular to aid women in this challenging period of their lives. Living a more natural and earth-centered life has resonated with a lot of people recently, as the world becomes saturated with chemicals and metals that are harming not just the human body, but the environment. And when it comes to menopause, generations of women before us have successfully lived through this hormonally crazy period of their lives without the need for western medicine interference, so we turn to their wisdom and experience to help us through ours today.
Check out the gallery below for natural ways and tips to deal with hot flashes and mood swings caused by menopause: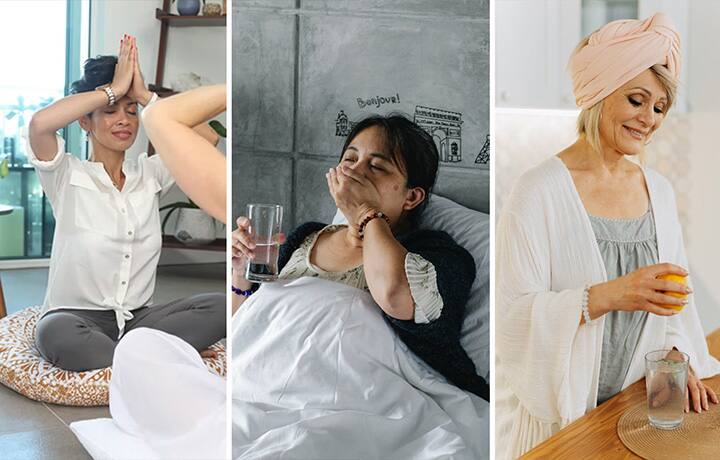 Natural ways to deal with menopause
Natural ways to deal with menopause