Let's Understand The New Covid-19 Patient Classifications And Your Risk For Contracting The Disease
How do you know if you're a Suspect, Probable, or Confirmed case based on your symptoms and who you've had contact with?
The terms Person Under Investigation (PUI) and Person Under Monitoring (PUM) have now been scrapped by the Department of Health, replacing it with a more straightforward classification system based on the recommendations by the World Health Organization (WHO)
in a recent report.
So how do you know if you fall under these new classifications? Check out the full definitions of Suspect, Probable, and Confirmed below.
Suspect
There are three scenarios where you can be classified as a suspect.
1. You have the following symptoms:
Fever
Coughing
Sore Throat
And experienced either of the two within 14 days since the start of your symptoms:
You came from a place or a barangay with community transmission
Have had contact with a Confirmed or Probable patient
2. You have the following symptoms:
Fever
Coughing
Difficulty in breathing
And you are/have:
60 years old and above
A sensitive pregnancy
A health worker
A preexisting condition
3. You suddenly develop a respiratory-related disease with severe symptoms and unknown reasons
In these cases that you're a Suspect, you may call your nearest hospital or the Covid-19 hotlines 1555 or 02-894-COVID to seek medical attention.
Probable
You will be considered a Probable Covid-19 case when you are a Suspect with the following conditions:
1. Your test results are not clear
2. Your test was not administered in an official laboratory using the RT-PCR test (reverse transcription polymerase chain reaction, considered the "gold standard" in COVID-19 testing)
These conditions have been included because there are antibody tests that have been approved by FDA for use in the Philippines, but these tests are not as accurate as the RT-PCR tests and can churn out false-negative results.
Confirmed
You will only be deemed a Confirmed Covid-19 case if the result of your RT-PCR test turns out positive.
As of yesterday, the progressive mass testing has started, and Suspect case patients are being prioritized. Currently, 15 subnational laboratories can now conduct COVID-19 tests nationwide and the DOH is trying to fast track the approval of 28 additional institutions to be able to offer mass testing. By April 20, the goal of the government is to conduct up to 9,800 tests daily.
As of writing, the Philippines now has 5,453 confirmed cases, 349 deaths, and 353 recoveries.
Risks associated with contact
Apart from experiencing the symptoms, it is also important to note that having contact with Covid-19 Suspects, Probable, and Confirmed patients increasingly puts you in danger of contracting the disease as well.
WHO has also defined "contact" as a person who has experienced the following exposures within 14 days of experiencing symptoms:
Face-to-face contact with a Probable or Confirmed case, within 1 meter or for more than 15 minutes
Direct physical contact with a Probable or Confirmed case
Direct care for a Probable or Confirmed case without the proper PPE
Making sure that you don't have contact with any Suspect, Probable, or Confirmed case is very important in staying Covid-free, especially with the news that broke out last week where a woman who hasn't left her house in three weeks still tested positive for the disease.
In a report by WCNC, despite staying home for three weeks, Rachel Brummert tested positive for Covid-19 when she started experiencing headaches, cough, fever, loss of smell and taste, and shortness of breath. The only person she's had contact with in the three weeks that she self-quarantined was her husband, who was temporarily living in a separate room, and a woman who volunteered to drop off groceries at her doorstep once. The said woman who brought her groceries later tested positive for Covid-19.
This underlies the importance of staying away from people and disinfecting every bit of item that comes from outside your home—groceries most especially.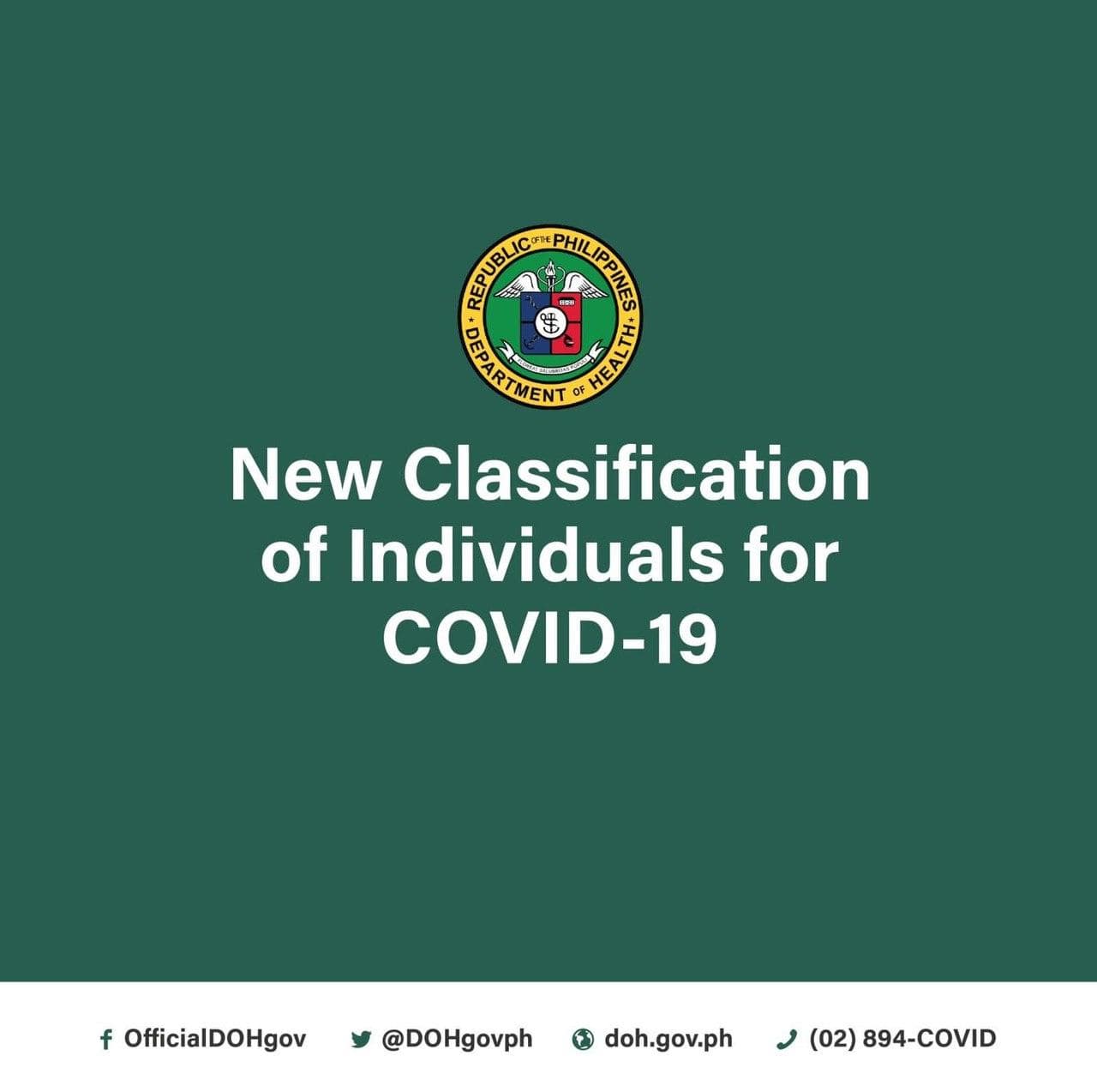 New COVID-19 Classifications
New COVID-19 Classifications
Are we doing well?
The Philippines currently has the highest number of Covid-19 Confirmed cases in the Southeast Asian region. We also have the second highest number of deaths, next to Indonesia, who has just reached a total of 469 deaths.
In a virtual presser that aired on PTV-4, Cabinet Secretary Karlo Nograles said that an estimated 8.3 million Filipinos would have contracted the virus if not for the enhanced community quarantine. However, many expect the number of cases to spike again as the government slowly rolls out mass testing nationwide.