Treat Your Beau to a Healthy Getaway for Valentine's Day
The Farm at San Benito offers the "Vitality of the Hearts" package, a memorable wellness offering for lovers looking for a unique experience out of town
Valentine's Day is coming up, and while oftentimes this means couples opt to wine and dine in the city's top restaurants serving some of the most luxurious fare (think steak and foie gras), we're here to present you an alternative idea for love day: a relaxing, healthy getaway at The Farm at San Benito! Curious about what they have in store for lovers this year? Keep reading!
Not far off Manila, The Farm at San Benito is located in Lipa, Batangas which is 90 minutes away from the city. It is a serene and secluded holistic medical wellness resort that is COVID-free as a result of their highest level of excellence in safety and sanitation protocols. It has its own COVID testing center on-site that administers antigen nasal swab tests to ensure the safety and well-being of all its guests and employees making it your ideal place to spark love not only with your loved ones but with yourself too.
Dubbed "Vitality of the Hearts", The Farm's offering for couples features a package to celebrate Cupid's day in a much more healthy, refreshing, and re-energizing way. It's a four-hour treatment journey designed to cleanse the body of negative energy, and restore vitality.
It starts with acupuncture to release energy blocks, followed by a traditional Filipino couple's treatment called "Hilot Kasuyo" that strengthens the body's bio-energy fields, eliminating tiredness, fatigue, and disharmony. It is one of the many offerings at The Farm to introduce the true essence of Filipino wellness – nurturing touch, healing from within, and natural treatment that preserves the cultural antiquity of traditional Philippine healing while incorporating evidence-based and results-driven approach to optimum health through the expertise of some of the country's best integrative doctors. Spend quality time together and participate in mindful movements such as yoga sessions, mandala flower meditation, wellness talk with afternoon tea, sound healing, functional fitness, organic farm tour, nature walks, and more.
Come sundown, enjoy your daily dose of romance in an intimate dinner where healthy food combined with the splendor of nature creates a perfect backdrop to fall in love. The Farm also offers "Dinner Under the Stars" where you can make that healthy choice from any of our wellness cuisine of 5-course nutrient-rich meals with a glass of wine for two. The Farm's wellness cuisines—vegan, vegetarian, and pescetarian are essential components of the healing food concept which advocates plant-based, locally sourced, organically-grown, and farm-to-table philosophy. The dishes are rich in phytonutrients, enzymes, and antioxidants that nourish the body while boosting the immune system.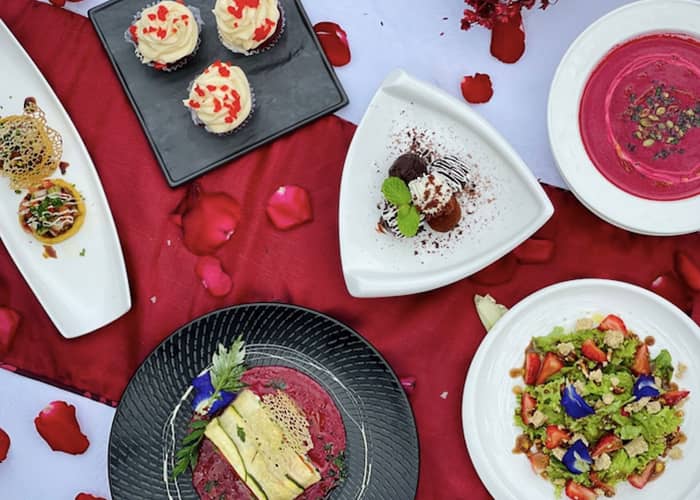 Valentine's Day at The Farm
Valentine's Day at The Farm
Interested in booking a special getaway for you and your beau? Call +63 918 884 8080 / +63 917 572 2325 / +63 917 572 2223 /+63 917 572 2977 or e-mail reservationsteam@thefarm.com.ph. Visit www.thefarmatsanbenito.com for more information.