It's Okay To Not Be Okay
Amidst uncertain, stressful times, it's okay to allow ourselves to not be okay, and to know when to ask for help. Here, we let you in on real people's thoughts and emotions, and teach you how to love yourself through it.
Uncertainty, anxiety, stress, fear—just some of the overwhelming emotions we encounter more often these days, as we continue to battle a worldwide pandemic that shows no sign of ending anytime soon. As human beings, our emotions play a big role in our overall well-being, and during this time, allowing ourselves to feel all it is that we're feeling is valid, and normal.
Social media may pressure us to perform, or outdo ourselves by being hyper-productive during all this time we spend at home, as we put so much pressure on ourselves to achieve so much, because of the notion that this is a time we must be producing, evolving, or getting better at something. In reality though, being able to just survive, and get through this is enough. With this campaign, we wish to tell everyone that we are all collectively experiencing this, no matter what circumstances we're in, and that it is truly okay to not be okay sometimes. It's okay to admit that we don't have it all together.
In this campaign, we gather various professionals from different fields, as they share with us their honest emotions about how they're also not okay, and how it's okay to not be perfect during this time. Led by Mental/Emotional/Spiritual Inner Child Therapist and Integrative Nutritionist Saps Uttam, she shares with us her expert advice on how to navigate these trying times, in a way that's loving to one's self. After watching the video, scroll ahead for more of Saps' professional advice on how to manage not being okay:
Watch the full It's Okay to Not be Okay video here:
Metro.Style: There is pressure to be productive, to try new things, and to get through this lockdown perfectly. What are your thoughts on this?
Saps Uttam: There should never be any pressure to do anything especially during this period. There is no perfect way to be in lockdown at all. Many different emotions are rising and what we see on social media isn't the truth at times. I say let's remove the pressure and let us just breathe for a second and do things at your own pace. While it is great to be productive we have to check in with ourselves and make sure that we are okay, and we do things that we genuinely want to do and not that we are forcing ourselves to be productive just because it will look good on social media.
MS: What is the danger of trying to project a perfect quarantine experience? What are some of the bitter realities people face during this time?
SU: There will never be a perfect quarantine experience because every single person is going through something or the other, and many aren't talking about it as there is this fear of being judged. I think what we shouldn't do is compare ourselves to others and compare our experiences with others. Fear of not accomplishing anything or much during the quarantine period is whats playing on peoples' mind a lot.
MS: A lot of people are not okay right now. Why is that so? And why is it perfectly normal to not be okay?
SU: As human beings we need to know what is going to happen next, that is who we are, and if we don't know, then that leads one to go through bouts of anxiety which is fearing the future. No one knows what tomorrow will bring, and when we focus and fixate on the negative because of whats happening around us, then we will always be in fight or flight, which is the brains natural response to possible threat.
Now, if we know this we can then have dialogues within our own self and the emotion of not being okay or fear or whatever it is has to come out and we have to acknowledge that feeling and be aware of our feelings. See it for what it is and try and understand where this is coming from. Just breathe and say "it is okay for me not to be okay at this moment, I still love and accept myself despite all the emotions that's coming up." Focus on your mental, emotional and physical health to start with and take it one day at a time.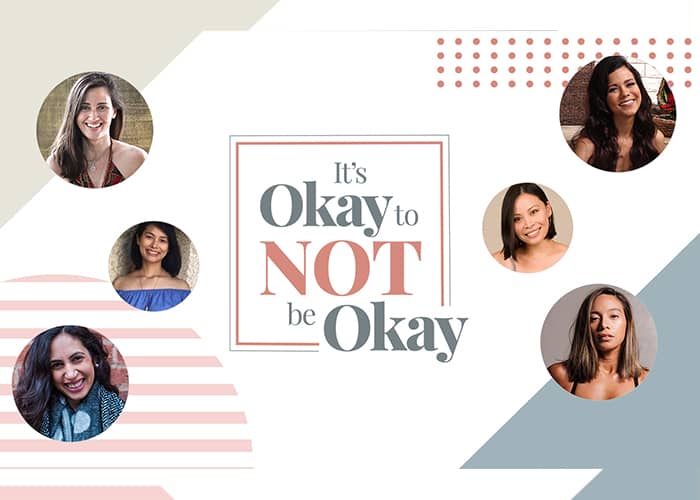 Personal Quotes
Personal Quotes
MS: Anxiety has heightened over the last few weeks. What are your expert tips to reducing such stressors in our lives?
SU: Identify what gives you anxiety is a great place to start. It is very easy to pinpoint what we think gives us stress, but we should learn to identify so that we know how to handle such situations in our lives. I can easily say lessen social media, but there are many that need it and feel informed by social media. I would say since we are in such a situation at the moment maybe we can practice breathing, mediation and perhaps anything that will bring a smile to your face and make you calm or calmer. Try the art of journaling and reading a great book or listen to an audible book. Connecting with supportive friends and family is vital. No one wants to ever feel alone.
MS: What lessons should we bring with us to the other side once all this is over?
SU: To be kinder and to be grateful for all that we are and all that we have. To be compassionate and less judgmental towards others. Having said that, to love ourselves and treat ourselves with compassion is high up on that list as well.
Lastly, Saps tells us to take it one day at a time and remember to treat yourself with utmost love and care.
To listen to more of Saps' wellness classes, check out Heilen Medical Wellness Clinic on Facebook for her live sessions, as well as the 'Maxicare From ME to WE' podcast on Spotify. Tune in to her podcast on "Why don't we talk about our emotions?" with Renu Ravalia here. Follow her on Instagram at @innerglowbysaps.
Video produced by Joan Ko and Kate Paras-Santiago
Video Editing by Giancarlo Escamillas
Motion Graphics by Amper Melo
Special thanks to Saps Uttam
Gallery and banner artwork by Raff Colmenar