Metro Gift Guide: Crystals To Give Yourself, Friends, and Family During the Holidays
Gifts from Mother Nature themselves, crystals make some of the most perfect and intimate gifts you can share with someone you love
There is so much power in intention. You will know this in the depths of your heart if you regularly meditate or practice yoga—flow, kundalini, yin, or any other type. And, even if you are still a novice, it cannot be denied that energy goes where attention flows so keeping your calm and, well, carrying on, really is a constant effort and practice.
As carefully created gifts by Mother Nature, crystals make wonderful reminders to be mindful and to focus on good energy. Whether you're thinking of gifting crystal jewelry or some larger pieces for the home, crystals can make a really beautiful gift. It shows how much you really know the person—what your relationship is like with them, what's happening in their life, and what kind of energy or vibe you think can best help them improve their spirit. After all, even when adopting a crystal for yourself, you are using your intuition. It is really about feeling and paying attention to energy.
In the same way that deciding to adopt a crystal for yourself requires mindfulness and intuition, giving someone a crystal is another level of in depth reflection and intuition. So, where to start?
Note: Now, before we go on some tips of finding the right crystals for your loved ones (including yourself) and where to adopt them, I need to say that I am still relatively new to crystals having only discovered their wonderful healing energy in full force this year. While I had crystals—mostly tumbled stones, charm bracelets, or decorative home pieces—I didn't really truly appreciate them up to this year. I am still learning and growing in my knowledge, but these are things I've learned along my own yogic and crystal journey… things I hope will help others discover their magic, too. I also write this story having just received a beautiful amethyst cluster from a good friend as a gift. I have received crystals as gifts several times and yet, none have really stood out quite like this recent energy exchange. The amethyst cluster was that of her late mother's, and she felt that it should be with me… she listened to her intuition and it has since found its home in my hands. I'm thrilled and honored at the same time!
How to Choose a Crystal for Someone Else
More than anything else, it's important to really reflect and think about the person you are gifting the crystal to. All gifts should be given with intention but crystals more so—from selecting it to wrapping it to sending it over to the person. Crystals and stones can make deeply intimate and powerful gifts because they reflect your relationship with the person you are giving them to.
If you're looking for some crystal ideas to start from, we're listing eight crystals that will make perfect additions to the lives of your nearest and dearest: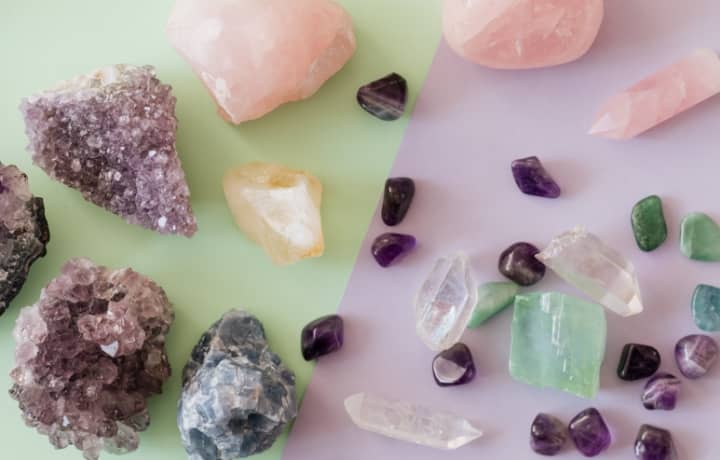 Metro Gift Guide: Crystals
Metro Gift Guide: Crystals
I've been blessed to have met a lot of energy healers and reiki practitioners who happen to also have crystal shops in the past year. I have been lucky to have entered a crystal shop once before the pandemic, in Lake Tahoe no less, but I unfortunately have yet to visit a physical one in the Philippines. As such, finding these good energies through online stores have been my own little happy discovery throughout quarantine. Here are three of my favorite ones:
1. @chakras.ph on Instagram
Jimmy has been so helpful with me finding my perfect crystal babies. It's actually his Instagram page that really sparked my interest in crystals anew in quarantine when he posted some great crystals sets (I chose tumbled stones sets for love, abundance, and creativity) that I found myself reading until the wee hours of the morning on crystals and their metaphysical benefits! His tumbled stones sets and even his standalone clusters and raw cluster sets are beautifully curated and all are infused with healing reiki energy. Through him, I've been able to also source difficult to find crystals to add to my growing crystal family.
2. @illiumacrystals on Instagram
Isha is amazing and helpful with beefing up my knowledge on crystals and how they can help me! She would send me YouTube links or book recommendations to help me really understand their power a little more. While she doesn't post a lot of crystals, she does handpick and post selected crystals for sale—all are lovingly cared for and infused with good energies, too. In addition to crystals, she sells jewelry (with crystals) and wooden crystal grids (for manifestation and intention work.) I also should note that all the crystal babies I've adopted from her are some of my collection's prettiest—definitely a plus for aesthetic!
3. @warrioroflightcrystals on Instagram
It was through this online store, through Tony, that I found my first "big" or "major" crystal adoption in the form of a beautiful rainbow fluorite that just called me. What I loved about Tony is that a lot of the pieces he puts up for adoption are raw or freeform polished crystals, and are big pieces which really hold within them so much positive energy. He also helped me further understand each crystal baby I adopted from him, by sending me ebooks and YouTube links that would enlighten me further on their benefits and healing properties.