This Is Why Olympic Gold Medallist Tom Daley Says Knitting Is His Secret Weapon!
The crafty hobby often associated with old ladies is in fact a huge help for our mental health!
We're still in the middle of Olympics fever, and as we've kept our eyes on the games like a hawk, one particular athlete that caught our eye is gold medallist Tom Daley, a 27-year-old British diver. Recently, he has been spotted on the stands with knitting kit in tow, working on projects as he watches the games. One would wonder: why would an elite athlete like him be bothered by a crafty hobby often associated with old women?
It turns out, Daley has been an avid knitting and crochet fan for some time now. In September of 2020, he even came up with an Instagram account dedicated solely for his love for the crafts. In his first post, the caption reads, "I made this account (@madewithlovebytomdaley) to share with you my knitting and crochet creations! I started knitting at the beginning of lockdown and have been obsessed ever since. I have started to crochet now also! Share this page with anyone you know that likes knitting and crochet!"
What could be so special about knitting and crochet that got this Olympic gold medallist hooked? It turns out, knitting and crochet are much more than just 'old lady hobbies'. According to Mental Health America, knitting can help you cope with mental health challenges. Knitting doesn't only bring you joy, it has benefits like the following too: lowered blood pressure, reduced depression and anxiety, slowed onset of dementia, distraction from chronic pain, increased sense of wellbeing, and reduced loneliness and isolation.
Obviously, this hobby came at the best time, especially for Tom Daley who is also human and was also affected by the pandemic and increased time in isolation. Preparing for a feat such as the Olympics could not have been a walk in the park too, so attributing his sanity to knitting is something we all admire!
And just recently, Daley took to Instagram to credit knitting, crochet, and all things stitching. He says in a post, "The one thing that has kept me sane throughout this whole process is my love for knitting and crochet and all things stitching." Check it out below:
Surely, the amount of mental focus needed to gain the skills needed to win medals at the Olympics is great, and a Herculean effort is required in order to be prepared and ready for the big day. While other athletes have their own way of preparing, we're loving Daley's chosen hobby! This definitely means we too can take a crack at knitting—in the hopes of it helping us cope with this pandemic too!
Swipe through the gallery below to check out some of the amazing knitting and crochet projects Tom Daley was able to accomplish throughout the pandemic: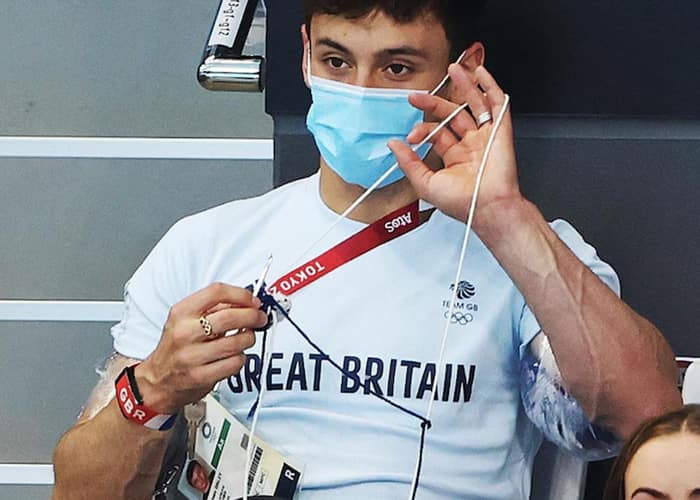 Made with Love by Tom Daley
Made with Love by Tom Daley
Lead photos via @harpersbazaarhk and @withlovebytomdaley