Indulge In These Zero-Guilt Christmas Gift Selections For You And Your Loved Ones
From all-natural food choices to organic beauty products, there's really something at Healthy Options for everyone
Steadily, year by year, Healthy Options has extended their reach as the go-to choice of a discriminating demographic, who places a premium on all-natural and organic merchandise, from food choices to beauty products.

Over the last decade, the premium on choosing all-natural and organic products has spread, and become more popular. What was back then perceived as a fringe predilection or inclination has become second nature to a growing number of consumers. And let's be honest, if not for price points sensitivities, the number of all-natural consumers would exponentially rise. So many are now well read, and are aware of the benefits of natural and organically-grown products; but budget realities have prevented a good number from making the shift.

A pioneer in the retail arena of natural and organic within a supermarket/grocery set up, Healthy Options has always made the Christmas Holiday season a cornerstone of their marketing initiatives. It's when their loyal customers take advantage of the promotional items, when new products are introduced; and if there's something the all-Natural crowd like to do, its to spread the word and share the Joy. So some of the specially packed gift items and collections really are the ideal gift ideas. With this year themed as Joy to the World, I dropped by the new Healthy Options at the Uptown Mall in BGC, and bumped into so many friends.
The Christmas gifts preview was turned into a shopping challenge that the very game guests were ready to indulge in. I arrived late and kept myself ensconced in the new section, the Baking Therapy area, where yummy (some gluten-free, some keto-friendly!) desserts, and a wide selection of breads, were arrayed. All these selections made use of natural ingredients, as found on the shelves of Healthy Options. And this early on, I'll vouch for the Chocolate Flan Tart as one of my favorites.

Gourmet treats, decadent desserts, healthy snacks, and beauty essentials; it seems there's no limit to the kind of products we can now find at Healthy Options; and I loved spacious floor layout of this new Uptown Mall outlet. Each Christmas box is festooned with special Christmas decor - a Snowman, reindeers, and snowflake design cutouts.

The Hamper called The Christmas Feast is the biggie, the one that's loaded with organic foodstuffs, wine, and specially made juices. There's a Gluten Free Gift Box, an Organic Gift Box, and even a Heart Smart Gift Box—with low sodium and low sugar products. The Merrymaker Gift Box comprises of nutrient packed selections. And there's Wholesome Grocery Gift Sets, Natural Beauty Gift Sets, and a Create Your Own Box option.

The Natural Beauty Gift Sets are super ideal for friends who Travel: the variations are Energizing, Invigorating, and Relaxing, and all the products are in small volume containers that won't be questioned when passing through Immigration & Passport Control.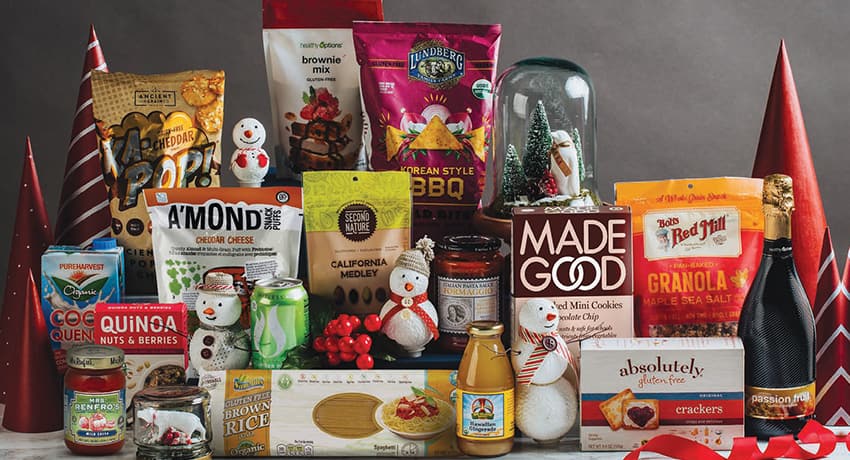 The big takeaway from the event organized by Healthy Options is how the variety of products, the diversity of selection has only further expanded at the store. How there's literally something for everyone, and how going Natural and/or Organic doesn't mean you're missing out or deprived. Healthy now means more, when you're at Healthy Options.