Healthy Happy Hour: Boost Your Immune System With These Drinks
Yes, you can have fun minus the alcohol. Beat the heat, increase your immunity against disease, and have fun while you're at it!
If reaching for a glass of wine or a gin & tonic is your cup of tea, by all means have one glass every now and then if it helps you relax and unwind, especially during these stressful times. You have to be mindful though, that excessive consumption of alcohol may cause bigger problems in the future.
According to a feature on The Huffington Post, chronic drinking may damage the immune system in the long run. Because of this, it may put you in greater risk of infection, which is what we are trying to avoid in the midst of a coronavirus pandemic. Certified nutritionist Weizel Gulfan also warns us against alcohol consumption, saying that this damages our gut's healthy bacteria, making it harder for our bodies to ward off disease.
What then should we be drinking during happy hour (or any hour of the day for that matter)?
Ever since the lockdown began, my family and I have been religiously sipping on ginger-turmeric-calamansi-honey drink every morning, believing it would be a big help in boosting our immune system amidst the threat of COVID-19. Vitamins and supplements do help, but these days, adding power-packed, nutritious drinks are also welcome!
While sipping on ginger tea is great for our health, it sure doesn't sound as fun as having margaritas over virtual happy hour with the gang. We then propose a 'healthy happy hour'—one that gives you the fun of having tasty drinks minus the hangover, headaches, and potential risk to your health! Who's with us?
Mocktails, while completely free of alcohol, can sometimes be bad for your health too, as they contain a lot of soda and more added sugar. If you're watching your waistline, it might even be a better idea to skip the mocktail and drink one straight up simple plain gin with tonic water and lemon!
So if mocktails are out of the picture, what exactly are we supposed to drink at healthy happy hour? Simply put, opt for drinks that do your health good, and make it look pretty! We're talking infused water, lemonade, iced (non-powdered) tea, herb-infused drinks, smoothies, green juices, and health shots!
We've put together some of the best immune-boosting ingredients you can add to your healthy happy hour drinks, so you can stock up on your next grocery run or delivery! Have fun with these and see how they can impact your immune system:
Immune-Boosters
Immune-Boosters
And because half the fun is in how the drink looks, we've gathered some inspiration for your next healthy happy hour in the gallery below. Scroll away!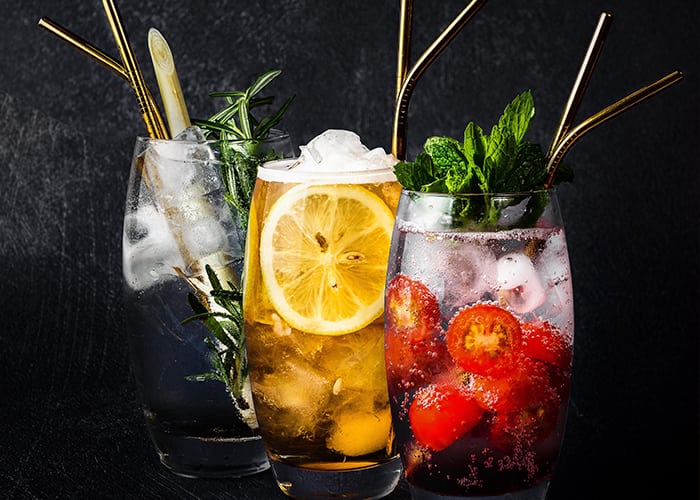 Healthy Happy Hour Inspiration
Healthy Happy Hour Inspiration
Check out some of our favorite videos on how to come up with your own healthy drinks. Let the DIY happy hour begin!
Ed's note: We recommend substituting the white sugar ingredient in these drinks for healthier sweetener options such as raw honey, coconut sap sugar, coconut sap syrup, muscovado sugar, etc.
1. If you want to avoid soda, but want the same vibe:
2. If you're into smoothies:
3. If you are into refreshing lemonade drinks: