This Lifestyle Wellness Brand Boasts Of Being 'Radically Honest'—With You And The Planet!
For Keeps offers affordable, sustainable body care goods for the discerning Filipino consumer
Now, more than ever before, we have become more mindful of what we consume, and that includes body products such as bath and cleansing essentials. We're lessening, if not entirely avoiding our intake of anything harmful, and we've also become a lot more mindful of how our actions impact the planet we live in. Gone are the days of mindless spending, especially amidst a pandemic, when every Peso matters.
One brand that encourages wise consumption is For Keeps, a proudly Filipino wellness lifestyle body care brand that advocates love for people and the planet. They value honesty at the very core of their business, from how ingredients are sourced, to how each product is able to serve the consumer. Having in mind the fact that customers are more discerning than ever before, For Keeps champions transparency in their brand, to allow for a truly positive impact on the community and on the planet. Their intention is to produce biodegradable products that do not, in any way or form harm the soil, seas, and atmosphere.
"FOR KEEPS was brought together by our shared goal to create a radically honest brand of body care products made with ingredients that are gentle on the skin and friendly to the planet. And we bring that honesty and transparency from top to bottom, from the source to the receiver as we make an effort to integrate kindness to self, to others, and to the planet in our business practices," says Pia Sy, President and Founder.
Getting to know the For Keeps line of products immediately convinces you of good things to come. From their body washes, to bath bars, and sanitizers, there is a For Keeps product for each one out there, seeking for a more conscious choice in the market.
First off is the Cleanse and Protect collection, which features a cleansing bar soap, a hand and body wash, and a liquid hand soap that are infused with tea tree, peppermint, lemongrass essential oils, and a hand sanitizer that is made up of 70% ethyl alcohol and tea tree, peppermint, eucalyptus, and lemon essential oils.
The Arise and Unwind collection on the other hand consists of two cleansing bar soaps, and hand and body wash product lines, one with a blend of citrusy essentials oils and the other, with lavender essential oil. All are made with responsibly-sourced, all-natural, biodegradable, cruelty-free, and environmentally-friendly ingredients. Oh, and did we forget to mention that all products are formulated with cold pressed VCO and extra virgin olive oils that provide a gentle but effective cleansing experience?
The best part about this line is its affordability—nothing goes over P700, which allows you more bang for every buck you spend. Friendly to you, your pocket, and the planet. Definitely for keeps!
Swipe through the gallery to check out the products and start adding to cart today!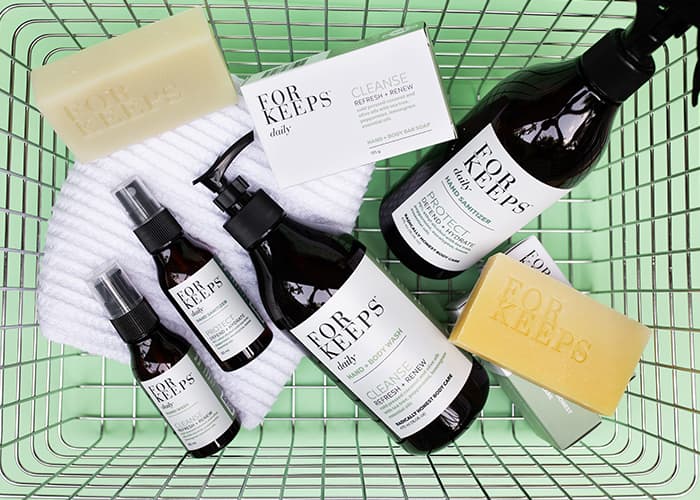 SHOP For Keeps
SHOP For Keeps