How To Lessen Waste During The Holiday Season
It may be the most wonderful time of the year, but it's also one of the most wasteful! Here are some tips to help you go through the holidays more sustainably!
The holiday season is fast approaching, and it only means we'll be deep in get-togethers, gift shopping, dinner party planning, and everything in between very soon! While this may be the merriest and most wonderful time of the year, and while it truly is the season to give ourselves a break and an extra treat or two, it can also become one of the most wasteful seasons of the year.
Tons of slightly used wrapping paper, too much food on the table, excessive use of electricity—you name it! According to some of the statistics mentioned in a news website edie article, "more than five million tons of Christmas wrapping paper are landfilled every year", and "4.8 million British Pounds worth of leftover festive food is thrown away every year in the UK", among many more shocking numbers. And according to The Boar, a Stockholm Environment Institute study revealed that Christmas festivities could release as much as 650kg of carbon dioxide emissions per year. Yes, every single gift wrapper you throw, and every plate of food you don't finish contributes to this shocking number!
Surely there is a better, more sustainable way to celebrate the holidays, right?
When we say better and sustainable, of course we don't mean that you shouldn't have fun! Being more aware of how much we consume, and how much we waste, can do us, and our planet much good. This holiday season, we get another chance to celebrate wiser, be friendlier to the Earth, and do it all in a much more meaningful way. Swipe through the gallery for our list of tips of lessening waste during the holidays: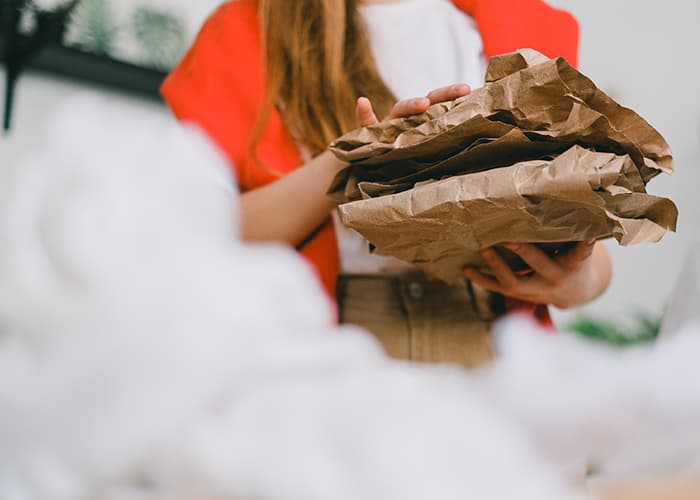 Sustainable Holiday Tips
Sustainable Holiday Tips