All Shades And Shapes: Pia Gladys Peréy Is All About Inclusivity
To celebrate her 15 years of fashion, Filipina designer Pia Gladys Peréy launches her Spring/Summer 2023 Collection and celebrates every shape and size
In a sneak peek launch at Amorita Resort in Panglao, Bohol, Philippines, Pia Gladys Peréy pays homage to her heritage and cultural roots in her most recent collection. Marking her 15 years of fashion milestones alongside Amorita's 15th anniversary in the hotel industry, PGP hosted a three-day trip to the Visayan island in partnership with industry players Cebu Pacific Air and Rustan's Department Store.
Pia Gladys Peréy's accommodation of choice in her home country, Amorita Resort, is also toasting to an important time as they reach their 15 years of fruitful moments and memories. With the signature guest treatment, grand-scale facilities, fine cuisine, and world-class experience that Amorita provides, its exquisite resort has earned a reputation of being one of the best staycation sanctuaries amidst the Philippine archipelago.
Tucked in Panglao, this Pia-approved travel destination is an absolute daydream with the seascape as a neighboring sight. Its stretch of greenery, sea, sand, and sky renders the luxury resort a lush breather from the urban buzz, making client stays a core memory. A true charmer in the tropical belt, this Bohol-tiful getaway spot is a gem of a scenery and topnotch service combined. It is nothing short of a nature retreat that reinvigorates the senses and the soul.
The fashion affair at Amorita Resort, which is followed by the brand's bridal collection show at the New York Fashion Week catwalk last October 12 and 13, lends insight into inclusive fashion. The Filipina womenswear designer, who is dedicated to championing a cause that embraces every female form and sculpt, remains resolute in her fight for progressive fashion. A stalwart of inclusivity, Pia interests her clientele and fellow creatives in the fashion circuit.
"The brand believes that there's more to women than meets the eye. You are more than a size number, and you are more than the sum of your parts. The Pia Gladys Peréy brand embraces all the faces of a woman—whatever frame and figure she has; whatever shade and shape she embodies. A woman's form is her power. She's comfortable with who she is. She is confident yet feminine; smart yet sensual. She's a woman of style in any shape," Pia shares with pride.
Since its debut in 2007 at the Mercedes-Benz Australian Fashion Week, Pia Gladys Peréy has sprung incessantly as an international label worn by A-list women like Angelina Jolie, Demi Lovato, and H.R.H. Princess Theodora of Greece and Denmark. PGP's timeless pieces, too, have already alighted the global stage as star patrons graced prestigious events such as U.S.A.'s Golden Globes, Emmys, and Grammys, and the Cannes Film Festival in France.
A go-to destination for gowns, evening, and elegant bridal wear, Pia Gladys Peréy boasts a wardrobe of wrinkle-free and flowing dresses that dignify a modern twist to its make. Made of select materials spanning velvet, silk jersey, neoprene crepe, and now mulberry silk, the meticulously-cut ensembles are creatively hand-draped and honed to its finest form. A brand of becoming, PGP is a visual send to just anyone who aspires to radiate confidence in the raw.
Reaping worldwide recognition, Pia Gladys Peréy is available in some areas of the United States of America, United Kingdom, South Korea, Australia, Canada, Saudi Arabia, Hong Kong, and of course—her homeland—the Philippines. PGP's catwalk appearances include some of the most sought-after international fashion weeks and festivals in Paris, New York, Miami, Los Angeles, and Australia.
Browse through the gallery below and check out the Spring/Summer 2023 collection: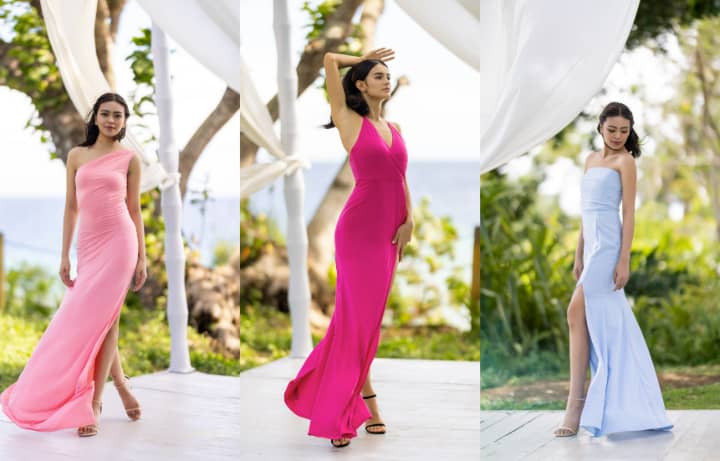 Photo Gallery
Photo Gallery
Photos courtesy of Pia Gladys Peréy