Where To Go For A Lighter, Flavorful Ramen Experience
From the guys who gave us Ramen Yushoken and Mendokoro Ramenba
If you clicked on this story, we're pretty sure you've lined up at Mendokoro Ramenba or Ramen Yushoken once or twice. We have tested our patience with the long lines more than we're proud to admit, but one sip of that rich broth is enough to melt away the stresses of standing in line for hours.
So when we found out that the guys behind two of the best ramen joints in the metro have opened another ramen restaurant, you know we're all up in it faster than you can say "Itadakimasu!"
Marudori officially opened its doors on February 12, 2022 at 8 Rockwell, welcoming hungry and eager diners into the gorgeous restaurant with its minimalist industrial design with warm wooden accents. The layout reminds one of their Ramen Yushoken branch in Alabang with an open kitchen flanked by a long sitting bar. With the changing times due to the pandemic, Marudori also has an al fresco dining area overlooking the Rockwell garden.
The new ramen concept is the third brand under Nippon Hasha Inc. and the culmination of the company's decade-long experience in the food and beverage industry. Together with Japanese Ramen Champion, Hideaki Aoyama, founder and CEO Ryan Cruz and his four business partners brought authentic ramen to the Philippines and both Ramen Yushoken and Mendokoro Ramenba became famous for their tonkotsu (pork-based) ramen. But the six men knew it's time to try something new. Armed with the realization that "there is not a single culture, religion, or country that forbids the consumption of chicken [and] the craft of creating tori paitan has been existing in the Japanese culture" for ages, they came up with Marudori, a ramen place based on chicken.
The name says it all: "Maru" means whole and "dori" comes from "tori", the Japanese word for chicken. Without compromising authenticity or quality, Marudori boasts of using all the parts of the chicken — preferably locally sourced in order to support local farmers and suppliers while ensuring freshness — to create a gravy-like broth that's packed with flavor but still relatively lighter than the tonkotsu we've all known and loved.
Aside from the chicken-based broth, Marudori's Tori Paitan Ramen features freshly made noodles, a selection of toppings, and a selection of taré sauces to breathe new life to your bowl of ramen: Shio (salt-based taré served with chicken breast, yuzu peel, leeks, and menma), Shoyu (soy sauce-based taré with grilled chicken thigh), Ebi Miso (taré made with miso and grilled ebi or shrimp and served with chicken breast and vegetables), and Tantanmen (a creamy and spicy base made with sesame paste, two kinds of chili, garlic peanuts, and tomato jam). Diners can also try Hiyashi Chuka Ramen, a cold ramen option with chicken breast, spinach noodles, a variety of vegetables, tiger prawn, and dashi ice — perfect on a warm day.
Fans of Tsukemen (or chilled dipping noodles) are also in for a treat at Marudori. They can try three dipping broths with chilled noodles: Yuzu, which contains seasoned shio taré with freshly grated yuzu, served with chicken breast and crunchy fried chicken balls, with a side of lemon and yuzu kosho to delight and cleanse the palate; Ebi Miso, which uses a variety of ebi interpretations mixed with miso to bring complexity to the broth, then topped with fried shrimp balls, chicken karaage, and grilled prawns and served with yuzu vinegar on the side; and Gyokai, using their housemade fermented skipjack tuna flakes simmered in chicken broth and Marudori's signature shoyu, served with gyokai chicken, lemon, yuzu vinegar ,and yuzu kosho on the side.

Marudori's side dishes are definite must-tries as well, like their signature crispy-at-the-bottom, juicy-inside chicken Gyoza, their new Garlic Chicken Chahan (Japanese-style fried rice cooked in their signature shoyu seasoning with chicken chunks, egg omelette, corn, and spring onions, then drizzled with mayu and topped with more grilled chicken), Shiro Miso Karaage (chicken marinated in their house seasoning and deep fried 'til golden brown and served with honey ponzu sauce), Tsukune (grilled minced chicken with our house-made seasoning, served with organic egg and teriyaki sauce), Grilled Shrimp (served on top of coleslaw with sesame dressing), and of course, their Aji Tamago (62-degree marinated hard-boiled egg served on the side or in the soup).
And don't forget about their secret menu items! Ask the server about their secret offers when you visit and make sure to give them a try. Just take note that they do not allow take-out for their cooked ramen and gyoza because "temperature plays a huge role in your ramen experience, it's at its best the moment it's served". They also do not allow any modifications to the dishes and only serve chopsticks and spoons because they "encourage guests to have a genuine dining experience".
Check out the dishes in the gallery.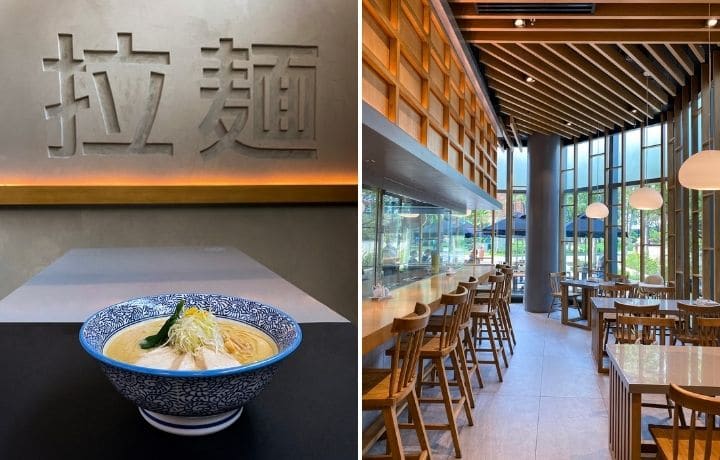 Marudori
Marudori
Marudori is located at the Ground Floor of 8 Rockwell, Hidalgo Drive, Rockwell Center, Makati City. For updates, follow Marudori on Facebook (@ramen.marudori) and Instagram (@ramen_marudori