Chef Tatung's Lore In BGC Is Cool Filipino Fine Dining
Lore plays with our expectations of what a fine dining restaurant should look like or what a Filipino restaurant should serve
When I think of a typical Filipino restaurant, I imagine a casual setting, bright and noisy, with bandehados or serving platters of crispy pata or inihaw na isda or kare-kare laid out on the table for sharing, with unlimited rice and make-your-own sawsawans included. It's a familiar experience that most Filipinos can relate to—comforting, delicious and always filling (nakakabusog).
And then there's Lore, Chef Myke "Tatung" Sarthou's ambitious new Filipino restaurant that aims to be all of the above—comforting, delicious and always filling—but on his own terms.
Located at One Bonifacio High Street Mall in Bonifacio Global City, Lore seems to require a bit of explaining. It's fine dining but with bare wooden tables and paper placemats instead of the usual white tablecloths, fine crystal and silverware. It serves Filipino food but in individual portions via five-, seven- or 10-course tasting menus, rather than family style. Ranging from P2,600 to P4,800, the menus may seem pricey but aren't completely out of reach. However, before you get too worried, rest assured that Lore handles its multiple personalities with confidence, thanks to Chef Tatung's deep knowledge of Filipino cooking and storytelling prowess.
Chef Tatung may be most well known as the jovial persona behind his Simpol cookbooks and YouTube videos. But for Lore, he taps into his more "serious chef-y" side, one I had the privilege of working with as editor of his award-winning Philippine Cookery: From Heart to Platter published in 2016.
In a way, Lore is the natural offspring of Philippine Cookery where he creates and innovates dishes using the traditional techniques, dishes and ingredients he so meticulously describes in the book. He does so using the template of a degustation—a fancy French term for a well thought-out progression of small plated dishes—to bring structure to the many ideas he plays with throughout the menu.
The meal starts with Sari-saring Palaman at Tinapay, a call back to our memories of just-baked pandesal from the neighborhood panaderia. Homemade buns, served still warm, come with a tray of spreads—chicken galantine with raisin jam, chicken liver pâté, calamansi mostarda and tinapa butter—gently easing diners into the meal with something familiar and comforting.
More personal memories abound throughout the meal. Chef Tatung showcases lots of fresh seafood as an homage to his growing up years in Cebu near the sea, whether it's raw tuna and sea urchin livening up his Kinilaw, or crab and shrimp beneath a squid ink crepe in his Lumpia Fresca.
The chef reminisces about Chinatown in the form of Camaron Relyeno, prawn stuffed with sausage, wrapped in caulfat, and served with a sauce made from haw flakes, a favorite Chinatown candy he enjoyed as a kid.
In keeping with the holidays, Chef Tatung creates "Christmas on a plate" with his Bringhe of coconut-infused adlai (instead of the traditional malagkit), homemade jamon de Bulacan, with a luxurious add-on of seared foie gras and clam foam. It's an indulgent dish in all its fatty-salty glory, befitting how Pinoys celebrate Christmas to excess.
Chef Tatung doesn't just dig deep into his own food memories for inspiration, but looks to culinary history as well. His Mariscos con Sarsa Verde brings Iberian flavors to the forefront, with Mexican pipian in the mix, by way of the famed Sulipan kitchens of old Pampanga. The Spanish-Mexican influence is also present in his Pato con Salsa Tsokolate, duck served with a Mexican mole-like tablea sauce and grilled corn salsa. The dish was inspired by a recipe for "Pollo con salsa de chocolate" culled from the seminal cookbook, Condimentos Indígenas, written by Pura Villanueva Kalaw in 1918.
Perhaps his most spectacular dish (and my favorite), Moros y Kristianos delves deep into Muslim Mindanao and its contentious history with the Christian majority, via slow-braised short ribs served with both a spice-laden Tausug-style black burnt coconut gravy and a creamy white coconut sauce, showing how harmony can be achieved through contrast.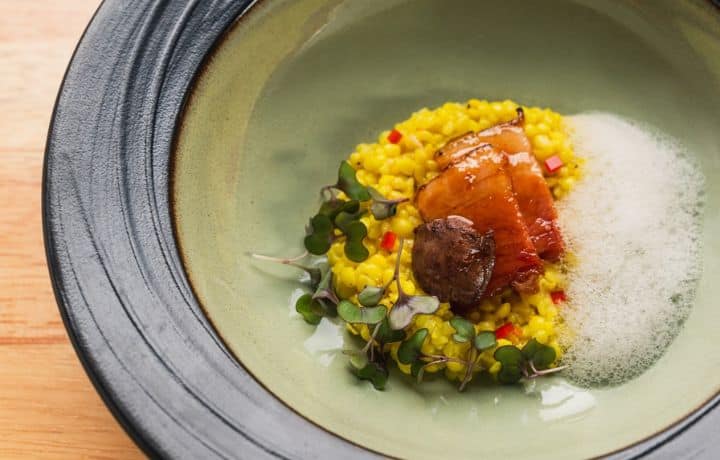 On The Menu
On The Menu
After traversing various regions and historical eras, for the end of the meal, Chef Tatung brings us back to a familiar place, with the ever iconic Mango Jubilee, ubiquitous in most any restaurant dessert menu. This flambéed mango and vanilla ice cream combo gets an upgrade, though, with tres leches-soaked sponge cake and a lemon sabayon.
I mentioned earlier that Lore displays the "serious" side of Chef Tatung. But after the meal, perhaps I misspoke. The food is serious because the dishes have been well thought out, researched, and tweaked to achieve that balance of texture and tone expected of fine dining fare. But it's a pretty fun experience too. The tropical-themed interiors give off a relaxed vibe, where loud, boisterous families can feel just as welcome as serious food snobs. And the must-try signature cocktail menu helps liven the mood, as attested by how much I enjoyed my Halimuyak cocktail of jasmine tea-infused gin with dalandan and strawberry.
Lore plays with our expectations of what a fine dining restaurant should look like or what a Filipino restaurant should serve. It certainly is both, but doesn't care to stay too strictly within those bounds. Nor is it trying to be avant-garde or experimental. Lore simply moves the notion of the classic Filipino restaurant forward, bringing refinement, intelligence and imagination to the food we so love.
So the real question is: does the food taste any good? The quick answer: yes it most certainly does. The meal I had was comforting, delicious, and after 10 dishes and a few cocktails, definitely most filling.
Lore | Contact: (0977) 804-9888 | Email: reservations@loremanila.com | FB or IG: @LoreManila | Address: 3rd level, One Bonifacio High Street Mall, 5th Avenue corner 28th Street, Bonifacio Global City.