New Restaurant Alert: A Japanese-Peruvian Robatayaki
The perfect place for dinner and drinks, Nikkei Robata is where the magic of the grill combines with superb craft cocktails and Japanese beers
Good food will always find its way to our bellies, even in the midst of a pandemic. Which explains why, in spite of all the challenges, we're now seeing some of the best food spots cropping up in the metro. Whether virtual or brick-and-mortar restaurants, these establishments ensure that whatever it is you're currently craving, there will be someone serving a really delicious version of it somewhere. All you need to do is look.
A new favorite is the recently opened Nikkei Robata in BGC. We're calling it when we say this will be your next favorite post-work hang! The original Nikkei opened in 2015 in Rada Street, Makati, and became known for its fabulous Peruvian-Japanese cuisine. To this, Nikkei Robata adds the element of fire via the robatayaki, a centuries-old cooking style originally from Hokkaido, which imbues dishes with a deep and earthy flame-kissed flavor that's completely irresistible. The dishes on Nikkei Robata's menu pair harmoniously with their selection of craft cocktails, Japanese beers, and other specialty drinks. And, as an ode to longtime patrons, you can expect to find Nikkei's popular signature dishes on the menu as well.
This concept flip is a trademark move by the Nikkei Group, says public relations and communications manager Monica Modomo. No Nikkei restaurant is exactly like another. Each of the five branches offers a different iteration of the Nikkei experience, while still winking back to the past with a few classic touches.
If you find yourself looking for that perfect spot where happy hour slides effortlessly into dinner, then eases gently into dessert-and-drinks with a party vibe, then Nikkei Robata should be your go-to. This place is so sexy, it's a thirst trap, just of the culinary kind.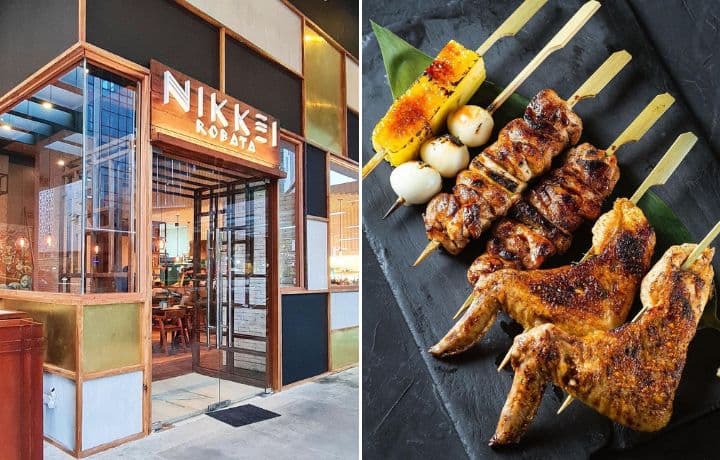 Sneak Peek At The Menu
Sneak Peek At The Menu
Nikkei Robata is located at the Ground Floor of The Uptown Ritz, 36th Street, Uptown, Bonifacio Global City. For reservations, call (0975) 087-0428 or (0945) 593-7143 or click here.
Lead photos: Nikkei Robata