G-Dragon Buys What Is Now The Most Expensive Penthouse In South Korea
Known for his badass art collection, the King of K-Pop's property portfolio also increases in value
Just before the pandemic, the "King of K-pop," Big Bang's G-Dragon was named by ARTnews as one of the "50 Art Collectors To Watch," along with T.O.P. A 10-slide Instagram house post by the Hallyu celeb gives us clues as to why he would be named in the prestigious list.
Geeking out on this, Hypebeast's TAGGED identified gems that span decades of contemporary art and modern design, including the Bibliotheque book case by Charlotte Perriand, Valentine Loellman's One Piece dining table, Jean Pouve's Standard Chairs and one of twenty Bookworm tables by Ron Arad. There's even a window shade printed with Matisse's 1949 lithograph, La Vierge et L'Enfant. Among his most exciting pieces are a rare chessboard by Man Ray, a 1960 Alexander Calder mobile entitled Four Black Petals In The Air, Jonas Wood's Untitled (Big Yellow Dot), Anthony Rianda's Muhammed Ali painting after the boxer's LIFE Magazine cover and one of Song Dong's hanging sculptures from his Usefulness of Uselessness series.
Neighbors With BTS
A few days ago, reports of the rapper's next big purchase surfaced, a penthouse in the Nine One Hannam development in Seoul's Yongsan-gu area. BTS Armies know the neighborhood, popular for being the site of the BTS dorm. Last year, it was also reported that RM and Jimin purchased units in Nine One Hannam.
It doesn't surprise that G-Dragon's 224 sq. m. penthouse property also came with a hefty price to the tune of 16.4 billion KW or a little over 13 million US dollars. The celebrity was one of six parties who signed the contract for the same amount in the property.
According to the building's engineering firm, WSP, Nine One Hannam is a "a high-grade apartment complex consisting of 9 buildings and 335 houses ranging from 249 to 334 square meters. Each house will be equipped with its own private elevator and yard. Nine One Hannam is a luxury residence that is designed and constructed as a stand-alone housing concept and in full swing and is expected set a new record for pre-sales prices in Korea."
Currently, G-Dragon's Nine One Hannam penthouse bests what the South Korean Ministry of Land, Infrastructure and Transport listed as the highest price paid for an apartment at 14.5 billion KRW. This price tag was attached to the exclusive Penthouse Chengondam in Cheongdam-dong, Gangnam-gu, Seoul. Thus, G-Dragon's new crib is the most expensive apartment property in the country to date.
Previously a housing project for US Military personnel on assignment to Korea, the Hannam Village is in close proximity to the Han River and Mount Nam. The Nine One Hannam development by Daishin F&I was designed by Ratio Architects and DKAU. Each of the 340 villas here feature underground parking, secluded, private yards, personal elevators, and luxury finishes. High end retail, parking and F & B surround the enclave.
Let's take a look at the amenities G Dragon and his neighbors will be enjoying: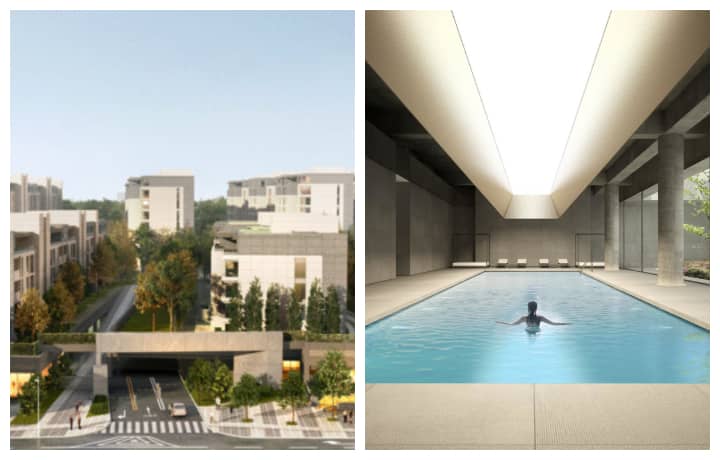 Photo Gallery
Photo Gallery