Equal Parts Careless And Notorious: James Reid Gives The Annex House A Facelift
The actor-singer-music producer's design team employed Neo-retro forms to renovate an old Poblacion complex
The Careless Complex - which houses the offices of Careless Music and Notorious Concepts - sits on the former location of popular Poblacion haunt Annex House (their name is still embedded by the gate). It now sports a terra cotta colored perimeter wall with a metal screen with the word "careless" perforated on it. As Poblacion is dotted with restaurants by Notorious Concepts - such as Japonesa and Alamat - it was a logical decision to base their headquarters in the area as well.
Architect of Careless Complex Kat Encorporado shares, "The old Annex House had been on our radar ever since Notorious Concepts had set foot in Poblacion. When we found out it was up for grabs, Jeff [Oh] saw the potential despite it being run-down." According to Encorporado, one of the biggest challenges of building was realizing mid-construction that the place was more dilapidated than originally assessed.
The structure now keeps much of the original facade of the old house with a patio that features a desert-inspired patio with cactus and organic forms as openings. "I opted for the burnt-orange terracotta smooth stucco vs a cement finish since Careless has a hip yet down-to-earth vibe. The music Careless was producing at this time was also very neo-retro, and I wanted to express that through curved lines and a funky but earthy color. Originally, we were going to go for a tropical theme for the landscape since the garden in front of the gazebo transitions to the outdoor lounge where we envisioned a tropical Bali vibe. After seeing the orange backdrop for the garden, we decided a desert vibe would fit it better," Encorporado explains.
She was briefed for this space to be of several uses. "James [Reid] and Jeff brought me to the site and briefed me with the program of an office, a studio, a multi-use room for shoots, live performances and a pantry. It had to be a place for serious work and creative play. They told me to run free. With that premise, my base point was how I see Careless as a brand and James as a person. To me, both James and his label are carefree and laidback but also daring and audacious enough to push boundaries."
To help in reaching this vision, Encorporado tapped PJ Almera of Studio Almera to help with the interiors of the complex. Almera describes his style as mid-century eclectic with influences from 60s-80s aesthetics. "It was a very direct to the point yet complex direction because we had to decipher the Brand DNA, the artists' personalities, the music, as well as their fashion and artistry, and incorporate it into a lifestyle-oriented work space. Coming from my art & contemporary design background, I was taught to investigate and understand identities and be able to apply them to design," Almera says.
The foyer is Almera's favorite part of the project with its black walls and ribbed wainscoting, heavy drapery to divide the space, sconces, and an Ikea PS pendant lamp. Black steps with a honeycomb tile lead to a terrace. Behind the drapes is the main office with glass walls that double as whiteboards for writing notes on and a wood and resin communal table. "The wood and resin table was the OG Careless war table. There's definitely a lot of good productive energy there. It was our table where we crafted most of our dream projects, and to see it continue its purpose is really fascinating," Encorporado reminisces.
The rooms make good use of the Ikea Skädis peg board to hold small items and to keep organized. The anteroom between the office and the studio have a wall of metal and glass shelving for the coffee machine and other decor. A neon "Hello" sign welcomes you through gold painted doors that lead into the studio. Once you open the door, you will notice intricately painted artwork on both doors in neon colors. "The neon paintings by the ultra-talented Froilan Calayag filled the whole third floor ceiling of James' house. James had this brilliant idea of transferring the two paintings which were on canvas to this space," Encorporado mentions.
The outdoor areas in the back offer relaxing areas for employees to lounge and can double up as event spaces as well. There is a laidback feel to the complex that only a former home can offer. Almera adds, "We want people to see and feel that it's more than an office and a studio. We want them to be inspired and resonate with the space."
Meanwhile Encorporado encourages those designing their own office spaces to make it fun, "A chill nook and some plants can automatically switch the vibe from a dull and monotonous office into a bright and dynamic workplace. Places of coordination and interaction also create experiences outside of the mundane cubicles, inducing creativity, motivation and productivity."
See the corners of the Carless and Notorious Poblacion complex in this gallery: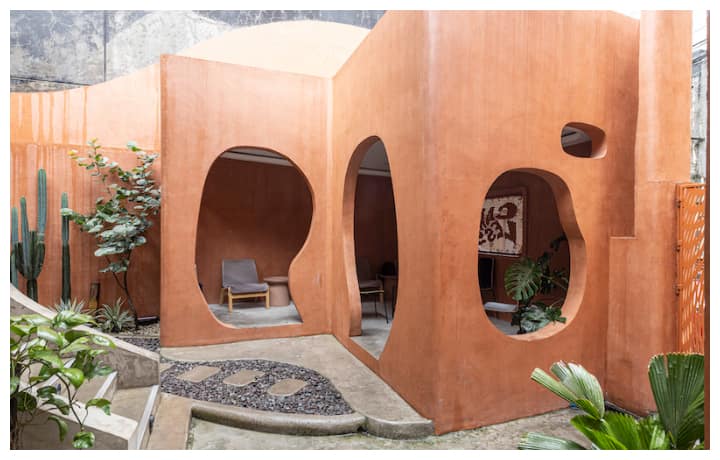 Photo Gallery
SWIPE LEFT OR RIGHT
TO NAVIGATE BETWEEN PAGES
Inside The Careless and Notorious Complex
Photo Credit: Jar Concengco
Inside The Careless and Notorious Complex
Photo Credit: Jar Concengco
Inside The Careless and Notorious Complex
Photo Credit: Jar Concengco
Inside The Careless and Notorious Complex
Photo Credit: Jar Concengco
Inside The Careless and Notorious Complex
Photo Credit: Jar Concengco
Inside The Careless and Notorious Complex
Photo Credit: Jar Concengco
Inside The Careless and Notorious Complex
Photo Credit: Jar Concengco
Inside The Careless and Notorious Complex
Photo Credit: Jar Concengco
Inside The Careless and Notorious Complex
Photo Credit: Jar Concengco
Inside The Careless and Notorious Complex
Photo Credit: Jar Concengco
Inside The Careless and Notorious Complex
Photo Credit: Jar Concengco
Inside The Careless and Notorious Complex
Photo Credit: Jar Concengco
Inside The Careless and Notorious Complex
Photo Credit: Jar Concengco
Inside The Careless and Notorious Complex
Photo Credit: Jar Concengco
Inside The Careless and Notorious Complex
Photo Credit: Jar Concengco
Inside The Careless and Notorious Complex
Photo Credit: Jar Concengco
Inside The Careless and Notorious Complex
Photo Credit: Jar Concengco
Inside The Careless and Notorious Complex
Photo Credit: Jar Concengco
Inside The Careless and Notorious Complex
Photo Credit: Jar Concengco
Inside The Careless and Notorious Complex
Photo Credit: Jar Concengco
Inside The Careless and Notorious Complex
Photo Credit: Jar Concengco
Inside The Careless and Notorious Complex
Photo Credit: Jar Concengco
Inside The Careless and Notorious Complex
Photo Credit: Jar Concengco
Inside The Careless and Notorious Complex
Photo Credit: Jar Concengco
Inside The Careless and Notorious Complex
Photo Credit: Jar Concengco
Inside The Careless and Notorious Complex
Photo Credit: Jar Concengco
Inside The Careless and Notorious Complex
Photo Credit: Jar Concengco
Inside The Careless and Notorious Complex
Photo Credit: Jar Concengco
Inside The Careless and Notorious Complex
Photo Credit: Jar Concengco
Inside The Careless and Notorious Complex
Photo Credit: Jar Concengco
Inside The Careless and Notorious Complex
Photo Credit: Jar Concengco
Inside The Careless and Notorious Complex
Photo Credit: Jar Concengco
Inside The Careless and Notorious Complex
Photo Credit: Jar Concengco
Inside The Careless and Notorious Complex
Photo Credit: Jar Concengco
Inside The Careless and Notorious Complex
Photo Credit: Jar Concengco
Inside The Careless and Notorious Complex
Photo Credit: Jar Concengco
Inside The Careless and Notorious Complex
Photo Credit: Jar Concengco
Inside The Careless and Notorious Complex
Photo Credit: Jar Concengco
Inside The Careless and Notorious Complex
Photo Credit: Jar Concengco
Inside The Careless and Notorious Complex
Photo Credit: Jar Concengco
Photographs by Jar Concengco
Banner image by @james and Jar Concengco